The Indonesian native is starting from the scratch in the states, and her Cool & Hip (I-POP) musical image breaks the Hollywood stigma of Asian Musicians in the industry.
by Adam MS, editing by Alex JS
It is universally acknowledged that Hollywood is the gatekeeper to what is considered cool and hip for mainstream pop-culture. And this might have happened unintentionally in terms of cultural development in music (and seems to be only in music)—but Hollywood has unspokenly decided that Asian Americans are neither cool nor hip. This is why people in the states don't know much about Asian-American musicians, or non-American musicians of Asian origin, and the latter is of course, including Ms Agnes Monica—whose wonderful talents, musical swag and I-POP (Indonesian Pop) image—currently breaks the stigma of Asian musicians (Americans/non-Americans) in Hollywood. The singer appears to be honestly yet arguably just so cool and too hip, to resist.
Agnes Monica is now mostly known with her current alter ego of a stage-name, Agnez Mo—a change seemingly she made in honoring her English and modern dance skills and in chiseling her body. The Indonesian super talented singer was born in Jakarta on July 1, 1986. She's the youngest of two to Ricky Muljoto, a former basketball player, and Jenny Siswono, a former table tennis player—both are world-champion veteran athletes. Agnez has started singing professionally at the age of 6—YES.. SIX!!!—back in her hometown, Jakarta. She already went DOUBLE-PLATINUM with her teen debut album "And the Story Goes" before she finished high school. Ever since, Agnez has become the most awarded Indonesian singer, ever—with numerous prestigious recognition, nationally and Internationally.
But Agnez Mo isn't just about music and dance, she's really great in acting too, or being a host for children-music program on TV. She played the leading roles in several successful soap operas and even appeared in Taiwanese dramas alongside the famous boyband "F4″. Her acting skills has made her as one of the highest paid actresses in her home-country.
In terms of celebrity appearance, Agnez' American debut might started back in 2010, when one of the producers of American Music Awards (YES, folks.. the AMAs) reached Agnez' representative to invite her as a part of the International red-carpet host for the event, alongside Chinese singer Ye Liu, and Mexican singer-song writer Christian Chavez. The later of course was Agnez' duet partner in performing the infamous "En Donde Estas" (where are you?) at the event, and years after during one of Chavez' concerts in Brazil.
That AMAs timing couldn't be more perfect for Agnez Mo. During her visit in the states, she got the chance to meet the legendary producer Timbaland who eventually agreed to work with with her. A year later Agnez signed into SONY/ATV (now is under the label The Cherry Party of SONY Music Global), and since then, she has been working with names behind Madonna's or Justin Timberlake's success, for her English debut studio album.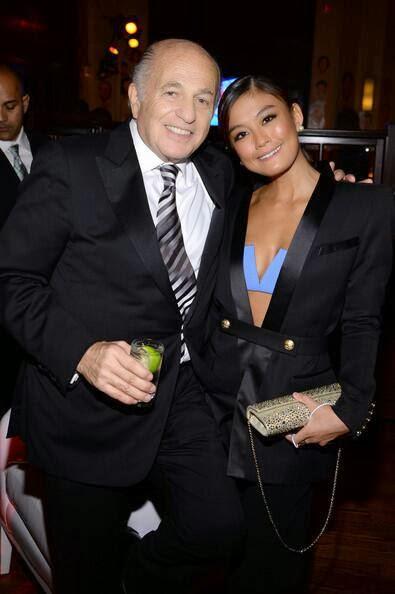 (Agnez Mo and Sony Music Global's CCO, Clive Devis at the Grammy 2014 After-Party)
Agnez has made another appearance by performing at the GRAMMY week back in 2013 along with Timbaland—at the very same night and at the very same stage, Justin Timberlake made his first comeback-performance in music. Months later, Agnez' first ever International single "Coke Bottle" was finally released—a swaggy fresh '80s hip-hop featuring Timbaland himself, and T.I. The music video premiered on March 2014, and it was making a huge worldwide buzz on social media during the release on MTV and Vevo.
Even though it didn't simply give away the spotlight to Agnez Mo, "Coke Bottle" was getting mostly positive reviews from the critics and fans alike, and it was more than enough to be a pretty solid introduction of Agnez Mo to Hollywood. But most importantly, it was a very important and bold statement to show American audiences just how cool and hip her musical image is (I dare you to watch the Coke Bottle MV if you disagree). And as far as creating an artistry impression or publicity awareness for a new comer goes—that really worked. Now more and more Americans are more familiar with Agnez and her cross over hit "Coke Bottle" (more than 8 Million viewers on Vevo).
But the last more concrete and promising sign, is when Wright Entertainment Group officially announced in November 13, 2014 that Agnez has joined the talent management agency. Agnez will be handled by Johnny Wright, a name who's been publicly and successfully known to manage big names in the business such as Britney Spears, Janet Jackson, Akon, Ciara, Jonas Bothers, and of course, Justin Timberlake. During this year's Canadian Music Week, Mr Wright even genuinely expressed to the Canadian public about his impressive admiration of Agnez' story as a mega superstar in Indonesia who's now trying from the scratch to make it in Hollywood.
See, in an interview with Oprah years ago, the wonderful Neil Patrick Harris explained that Hollywood is an industry that will prove to you that being good is just never enough. No matter how famous you were before, or you are now, in Hollywood there will always be something that makes you ask yourself, "Am I really good enough? Am I really gonna make it? Do I really fit in this business?" and something like that. And the reality is, that is even more challenging and probably frightening as well for new comers like Agnez Mo. So to be having someone like Johnny Wright on board to make her professional establishment in Hollywood, is something beyond great.
Back in Indonesia, Agnez is also widely known and acknowledged for her taste in fashion. She likes to do experiments with her outfit, which including of trying stuff people would seem to avoid. Two years ago, Buzzfeed readers-poll put one of Agnez' wardrobe as one of  the top-5 worsts during her performance at the Grammy Week event. A year later The Huffington Post' style expert mentioned that Agnez' outfit didn't pan out so well with such overdose on lace when she attended the LA premiere of Tom Cruise's OBLIVION. But then again, if you follow her on Instagram you will be amazed just how swaggy the Indonesian singer really is. Or if you watch the Coke Bottle Music Video, that perfectly fit body image wrapped by the stunning "BATIK", is more than a proof to show you that Agnez is indeed, an A-List when it comes to fashion.
Even though one of Agnez' real concrete dreams is to get her first Grammy, for me as a critic, as far as I can see—Agnez Mo actually already did—make it in Hollywood. Well, she may not be as sensational as the short-live Korean juggernut PSY, or the unbreakable Filipino young diva, Charice Pempengco—at least NOT YET, but does she have what it takes to break into the states? Hell yeah. I even dare to say—more than the later two have combined. In terms of pop-culture or musical image, Coke Bottle really worked for Agnez Mo. It's cool, and it's hip, and as far as Hollywood's standard goes—that's already being considered popular. So does that break the stigma that Asian musicians can't be cool? Or hip? HECK YES. And what's more even important is, Agnez' musical image will improve the diversity that remains bleak in Hollywood. America is an immigrant nation, it's the land of social diversity, and Agnez' racial and cultural representation will give nothing but a huge triumph for this very diverse country—especially in the music industry of Hollywood.
At the end of the day, there might be some struggles, many obstacles to make a more solid establishment in Hollywood. But Agnez is now in a really really great stewardship, and as long as she's moving forward, keeping up the good work, it will all be happening real soon. And I personally won't be surprised, at all.
Happy Birthday, Agnez Mo. God Bless You—Always. I'll be dancing to "Coke Bottle" and drinking some Tequila when you get your first Grammy, ha! xoxo
(Adam MS is a Research Associate @Yahoo! based in Jakarta-Singapore-New York, and Founder/Co-Editor in Chief @TheAdamsCorner. Image:Getty/Rolling Stone Indonesia)