(Below coverage sorted from the latest to the original)
(7/16) The Latest: Greece: Banks to reopen Monday with restrictions
ATHENS, Greece (AP) — The latest on Greece's financial crisis (all times local):
9:55 p.m.
Greece's government says the country's banks will reopen Monday after being closed for three weeks but cautioned that restrictions on withdrawals would only be lifted gradually. Deputy Finance Minister Dimitris Mardas made in the announcement Thursday evening on state-run ERT television.
Banks were closed June 29 to stop mass cash withdrawals from triggering their collapse. The decision to reopen them was announced hours after the European Central Bank increased its emergency cash support to Greek lenders. Mardas said banks would likely to switch to a more relaxed weekly limit after reopening, instead of imposing a daily ATM withdrawal cap. Greeks now can only take out 60 euros ($67) a day.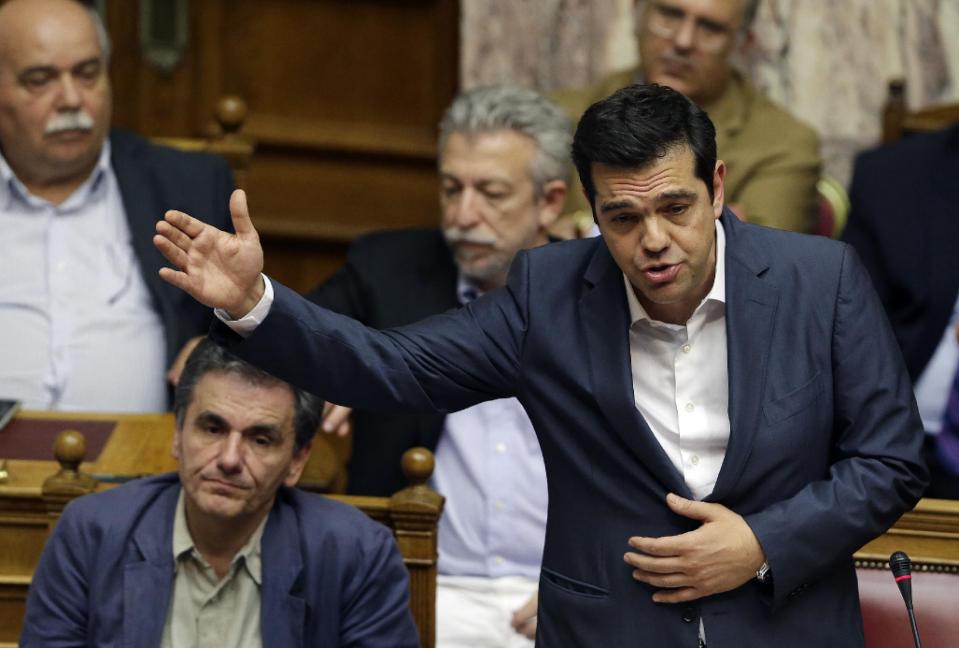 8:00 p.m.
Britain's Treasury chief says the country has agreed to allow emergency funding for Greece through an EU bailout fund after receiving guarantees for protections for the U.K.
European Commission President Jean-Claude Juncker had earlier announced that the European Union had agreed on a short-term loan to help Greece cover its debts until mid-August.
Britain had been reluctant to allow the use of an EU fund for what it considers to be an issue of the smaller 19-country eurozone. Britain is not in the eurozone.
George Osborne says Thursday that no taxpayer money will be at risk as Britain and other non-euro states received "protections" for their contributions to the EU fund.
He said: "These have been tough talks, but the agreement announced this evening means an impregnable ring-fence around British taxpayers' money, which will not be at risk in any way in this emergency financing for Greece."
___
7:15 p.m.
A Greek government official says an expected Cabinet reshuffle will not be announced on Thursday.
Prime Minister Alexis Tsipras is expected to reshuffle his cabinet after a Parliamentary vote on an austerity bill early Thursday saw large numbers of his radical left Syriza party lawmakers vote against him, including prominent ministers.
Those who voted against the bill included Energy Minister Panagiotis Lafazanis and Deputy Welfare Minister Dimitris Stratoulis, while the alternate finance minister, Nadia Valavani, resigned ahead of the vote saying she could not support the bill.
___
6:55 p.m.
The eurozone's top official, Jeroen Dijsselbloem, says a short-term EU loan to Greece would allow the country to pay arrears it owes to the International Monetary Fund so the IMF can rejoin negotiations on a third bailout for the country.
Dijsselbloem was speaking to Dutch lawmakers Thursday, as European Commission President Jean-Claude Juncker announced that the European Union had agreed on a short-term loan to help Greece cover its debts until mid-August. Juncker didn't specify how much Greece would receive.
Dijsselbloem says that with the loan in place Greece will be able to pay back arrears it owes the IMF by Monday at the latest.
"That means the IMF will again be fully engaged."
Greece has been in arrears to the IMF since June 30, when it failed to make a loan repayment.
___
5:35 p.m.
Greece's interior minister says the government is likely to call an early election in the fall, after losing support in parliament for an austerity law.
Nikos Voutsis said the left-wing government narrowly avoided collapse in the vote early Thursday that was a key requirement for a third Greek bailout.
Voutsis told Sto Kokkino radio that elections are "very likely" and that if they don't take place in September, then it'll be October.
The austerity bill was approved with opposition party support, but the ruling Syriza party saw 38 of its 149 lawmakers defy Prime Minister Alexis Tsipras by either voting against or abstaining.
Voutsis said the government could have collapsed if the number of dissenters had risen to 42 — that would have made it more difficult for Syriza to legislate.
___
5:05 p.m.
The European Commission president says the European Union has agreed on a short-term loan to Greece until mid-August.
Jean-Claude Juncker says European finance ministers on Thursday hammered out the deal that will help Greece meet its immediate financial needs and debt obligations. The deal involves the EU's emergency funding program — the European Financial Stabilisation Mechanism, or EFSM.
Juncker didn't specify how much Greece would receive.
Without that loan, Greece didn't have the money to make a 4.2 billion-euro ($4.6 billion) payment to the European Central Bank that is due Monday.
(Corrects that Juncker said loan is from European Union, not eurozone members).
___
4:55 p.m.
The European Commission's top official says he believes the deal that Greece has reached with its creditors will eventually pull the country out of its financial abyss.
Jean-Claude Juncker says the deal will be successful "under the assumption that the whole program will be implemented." Junker also said "others should take note" of Cyprus' full implementation of its 2013 bailout deal that "paid off."
___
4:15 p.m.
In its statement saying it had made the decision to start 'in principle' talks on a three-year bailout of Greece, the eurogroup of finance ministers made no mention of any short-term bridge loan to the cash-strapped country.
Greece doesn't have the money to make a 4.2 billion-euro ($4.6 billion) payment to make to the European Central Bank on Monday.
European authorities, including the eurogroup, are working out how to get it some short-term cash to make that payment and avoid a default. How to get Athens the money is proving difficult.
The eurogroup said bailout talks could begin in the wake of the Greek parliament's decision to back a raft of austerity measures early Thursday.
Still, a few hurdles need to be cleared including parliamentary votes elsewhere in the eurozone. Greece also has to adopt a second set of measures on July 22.
___
4:05 p.m.
Greece got a double dose of good news Thursday when the European Central Bank decided to raise the amount of emergency liquidity available to Greek banks and the country's creditors in the 19-country eurozone formally said bailout discussions could begin.
European Central Bank President Mario Draghi said at a news conference in Frankfurt, Germany that emergency credit to Greek banks has been raised by 900 million euros ($980 million) over one week. Greek banks have been closed since June 29 after the ECB opted against raising the credit it makes available.
Separately, the eurogroup of finance ministers said it had made the decision to start discussions on a three-year bailout of Greece from Europe's bailout fund, the European Stability Mechanism. The decision comes after the Greek Parliament's overnight passing of austerity measures but is subject to other parliamentary votes required in Europe.
___
3:00 p.m.
Dutch Prime Minister Mark Rutte's Liberal Party is reserving judgment on the bailout deal intended to save Greece from bankruptcy and a messy exit from the euro single currency.
Rutte conceded after the deal was struck in Brussels Monday that if implemented, any bailout will mean he will have broken an electoral promise to send no more money to Athens.
Mark Harbers of the Liberal Party deflected criticism of the broken pledge by telling lawmakers in a debate Thursday that he can only give an opinion on the deal once all details have been pinned down by eurozone negotiators and Greece.
The Dutch parliament does not have to vote to approve the deal.
Junior Dutch coalition partner the Labor Party welcomed the agreement as a key show of solidarity in a Europe beset by crises at its borders.
___
2:45 p.m.
The European Central Bank will shortly face questions on when it can help Greece's banks reopen in a news conference, following its decision to keep interest rates unchanged.
ECB President Mario Draghi will chair Thursday's news conference after the bank decided to leave its main interest rate unchanged at a record low of 0.05 percent.
As well as commenting on the broad economic situation, Draghi will likely be quizzed over when the ECB will increase emergency credit to Greek banks. It capped the amount on offer over two weeks ago, a move that forced Greek banks to close as they were unable to meet demands for withdrawals by fearful depositors.
The ECB says it can only lend to banks that are solvent. So it first needs a clear prospect of a bailout deal for Greece to restore the finances of the government and banks.
___
2:20 p.m.
The European Union is hailing the austerity package adopted by Greek lawmakers as a significant step toward rebuilding trust and fulfilling preconditions for a new financial bailout of the country.
EU Commission spokeswoman Annika Breidthardt said in Brussels that the Greek parliament "has spoken with a very loud voice." Greek lawmakers backed the package by 229 votes to 64.
Breidthardt said experts from the Commission, International Monetary Fund and European Central Bank have come to a unanimous agreement that the Greeks had "legally implemented the first set of four measures agreed at the euro summit" on Monday.
Greece's 18 eurozone partners agreed to provide it with around 85 billion euros ($93 billion) in financial assistance, but only if the Greek government committed itself in advance to a raft of measures and reforms.
___
2:10 p.m.
Finland has given its backing to the start of Greek bailout negotiations and for a short-term loan to be sorted out for the financially strapped country.
Finnish Finance Minister Alexander Stubb said a committee of Finnish lawmakers has backed both, hours after the Greek Parliament approved an austerity package demanded by creditors in return for a bailout from Europe's bailout fund, the European Stability Mechanism.
Stubb said in a tweet that the so-called Grand Committee has given the government "a mandate for bridge financing and beginning of ESM-negotiations on Greece."
Finland has taken a hard line over Greece in recent weeks.
___
12:35 p.m.
Credit ratings agency Moody's says Greece's approval of austerity measures "averts an immediate disorderly default and potential exit from the euro" but warns that "risks remain elevated" given substantial skepticism within the country on the bailout conditions.
The Greek parliament's approval of the economic measures paves the way for eurozone finance ministers to open talks on a third rescue package for the country worth some 85 billion euros over three years.
Moody's notes, however, that "judging by recent events and the deep economic problems and social divisions within society, it is highly uncertain whether the Greek authorities have the capacity to achieve agreed objectives and to abide by its creditor's conditions."
___
12:25 p.m.
European stock markets are up after the Greek parliament voted through a bill of budget savings needed to start official negotiations on a new bailout.
The Stoxx 50 index of top European companies was up 1.4 percent in late morning trading. Germany's DAX and France's CAC-40 were up by the same rate. Greece's stock market has been closed since late June, when banks were shut.
The Greek parliament's approval of the economic measures paves the way for eurozone finance ministers to open talks on a third rescue package for the country worth some 85 billion euros over three years.
___
12:00 p.m.
The head of the eurozone's rescue fund says failure to conclude a bailout deal for Greece would lead to the collapse of the country's major banks, which he says would affect the rest of the eurozone.
Greece wants to tap the European Stability Mechanism. To use the fund, officials must establish the existence of a risk to the financial stability of the entire eurozone, which many question.
ESM chief Klaus Regling told Germany's ARD television Thursday that failure to reach a final agreement would mean the collapse of Greece's banking system.
He said the four biggest Greek banks are "system-relevant," code for significant to the international financial system, and that if they fail that would have "severe effects not just for Greece itself … but for the eurozone as a whole."
___
10:15 a.m.
Germany's finance minister says the eurozone must keep to its rules as it negotiates a new bailout with Greece, which Berlin says rules out an outright debt cut for Athens in the eurozone.
Wolfgang Schaeuble told Deutschlandfunk radio Thursday negotiations will determine whether a new package is possible given Greece's increased needs.
He added: "We will open negotiations, we will make every effort, but we must keep to the rules because Europe is based on the principles of democracy and the rule of law"
Schaeuble has taken a hardline approach. Last weekend, a paper from his ministry suggesting the possibility of a voluntary, temporary Greek euro exit emerged. The minister said Thursday "it would perhaps be a better way for Greece, and many say that — increasingly in Greece too."
___
10:00 a.m.
Germany's finance minister says the Greek Parliament's approval of an austerity package is "an important step" but is warning that talks on a final bailout deal will be tough — and that an outright debt cut would be incompatible with Greece keeping the euro.
Greece's creditors demanded the Greek vote before opening full bailout negotiations. Eurozone finance ministers must approve opening those talks, as must Germany's Parliament in a vote expected Friday.
Finance Minister Wolfgang Schaeuble told Deutschlandfunk radio Thursday that making Greece's debt sustainable will be tough. Germany says a debt cut would be illegal.
Schaeuble said: "No one knows at the moment how it's supposed to work without a debt cut, and everyone knows that a debt cut is incompatible with membership in the currency union."
(7/15) Greece makes historic decision to stay in the eurozone after fiery night of tear gas and protests
Nobody really wanted to do it, but most realized they had to.
Greece has agreed to terms for a third bailout, with the country's parliament passing the necessary measures on Early Thursday morning in Athens.
Speaking before the vote, Greece Prime Minister Alexis Tsipras struck a mixed tone — at times defiant, at others expressing regret at how things had progressed — before stepping down to loud applause from the ministers of parliament (MPs) that had assembled.
Numerous MPs spoke strongly in opposition of the deal, although many also said they had resigned themselves to voting for a deal that they did not necessarily endorse. Voting against the deal would have almost certainly put Greece on a path to exit the European Union and abandon the euro as its currency.
While the measures were approved by a margin of 229 to 64 (with 6 "present" votes), the vote wasn't without intrigue, including indications of some dissent within Tsipras' Syriza party.
Debate preceding the vote went on for hours as protests outside made for a dramatic contracts. Many of the protestors were peaceful, but some threw molotov cocktails at riot police that had mobilized near the parliament. Police fired tear gas in an attempt to disperse the protests.
Greece's approval of the plan is a crucial step forward for the $92-billion bailout that had been struck in the early-morning hours in Brussels on Monday. It moves forward despite significant opposition from Greece, some European countries and even the International Monetary Fund, which said it would not participate in the bailout unless the plan included some relief of Greece's considerable debt.
The plan that Greece has agreed to will force the country to raise its retirement age, chase down all of its tax cheats, and sell off 50 billion euros worth of ports, islands and airports — and then hand nearly all the money over to the European Union.
The plan is still not a sure thing. It must still be approved by many EU countries including Germany and Finland. Once through, the actual, legal bailout terms will be written and signed.
Time is of the essence. Greece has a $3.8 billion debt to the European Central Bank that comes due on July 20. It needs money from the bailout or it will miss that payment and officially go into default.
What's next
One of the biggest hurdles will be the IMF, which came out strongly against the terms of the deal and has said it is necessary to provide Greece with debt relief — either forgiving some of the money the country owes or giving it a longer time period to pay it back. It argued that Greece's more than $328 billion in debt was unsustainable and would only doom the country to continued problems.
The IMF put it plainly — it would not participate in any new bailout without debt relief. And the IMF's funds are badly needed to keep Greece afloat.
Debt relief has been the most contentious part of the negotiations over Greece's future. Germany, the most powerful member of the EU, has been strongly against forgiving any Greek debt. Greece, on the other hand, had been adamant that debt relief should be part any agreement.
The deal that Greece is voting on continues no debt relief, only a promise to have more talks about it.
If the deal fails, Greece will have few other options that a Grexit, or leaving the euro. That would likely result in a humanitarian crisis as Greeks already learn to live without money and live with hardship, including giving up meat and sex.
What would happen after that is unknown, as no country has ever left the euro. Germany's Finance Minister Wolfgang Schauble over the weekend introduced the first language about a possible Grexit, proposing a five-year "time out" for Greece from the EU. Many analysts believe that this would end up with Greece's permanent exit.
(7/15) Greek anti-establishment protesters threw petrol bombs at police at an anti-austerity protest close to parliament on Wednesday and police responded with tear gas.
ATHENS, Greece (AP) — The latest on Greece's financial crisis (all times local):
___
9:15 p.m.
Clashes have broken out at an anti-austerity rally by thousands of protesters outside Parliament in Athens.
Riot police used pepper spray and tear gas Wednesday night to fight back youths in the crowd who were hurling Molotov cocktails and rocks at police.
Police said about 12,500 people were at the rally at Syntagma Square. The clashes broke out just as lawmakers were starting to debate an austerity bill that includes consumer tax increases and pension reforms.
Prime Minister Alexis Tsipras, who has faced strident opposition to the bill from his own radical left Syriza party, says it's the best possible deal he could get to prevent Greece from being forced out of Europe's joint euro currency.
___
8:50 p.m.
Thousands of anti-austerity demonstrators are marching through Athens for a rally outside of Parliament ahead of a debate and vote on a new austerity bill that Greece must pass before it can start negotiations with creditors on a third bailout.
Lawmakers are to vote on the tax increases and pension reforms — but the vote could be held after midnight Wednesday.
Prime Minister Alexis Tsipras is facing strident opposition to the bill from his own radical left Syriza party, where members are furious at his backtracking on party promises to repeal austerity. Tsipras has insisted this was the best possible deal to prevent Greece from being forced out of Europe's joint euro currency.
8:30 p.m.
Greece's parliament speaker has called a meeting that is delaying a Parliament debate on austerity cuts demanded by creditors.
Parliament Speaker Zoe Konstantopoulou has called a chairmen's conference — a meeting of the speaker, her deputies and committee chairmen — pushing back the expected start of Wednesday night's austerity debate for more than two hours. Konstantopoulou had earlier urged lawmakers to try to obstruct or block the vote, describing it as the result of "blackmail" by international lenders.
Prime Minister Alexis Tsipras is being openly defied by dissenters in his governing Syriza party who are urging him not to sign up for a third bailout.
___
7:50 p.m.
French legislators have approved the bailout deal meant to prevent Greece's economy from collapsing.
Speaking before the vote Wednesday in France's National Assembly, Prime Minister Manuel Valls said the 85-billion-euro ($94 billion) bailout "is vital to give Greece the breathing room it needs to imagine a future that's not only about paying back its debt."
Valls said the eurozone is considering measures to help Greece, including lengthening the payback period on its debt or lowering the interest rate.
___
3:55 p.m.
The German government is arguing that one possible way to help Greece meet its financial obligations in coming days, before a full bailout program is established, is for the country to issue IOUs for domestic needs.
Finance Ministry spokesman Martin Jaeger said Wednesday that "we have included this element in the discussion" among eurozone nations on how to keep Greece afloat while talks proceed on the details of a full bailout deal. The talks are expected to last weeks.
Jaeger says that IOUs are just one of "various conceivable approaches."
Greece needs short-term financing among other things to repay a loan to the European Central Bank due next week and to clear arrears with the International Monetary Fund.
3:45 p.m.
More than half of the governing left-wing Syriza party's central committee has signed a statement slamming the agreement Greece reached with its European creditors earlier this week, describing it as a coup against their nation by European leaders.
The statement, signed by 109 of the committee's 201 members, says the agreement was "the result of threats of immediate financial strangulation" and is a new bailout with "humiliating terms of supervision, destructive for our country and its people."
Greece's parliament is expected to vote Wednesday on the austerity bill required to get a new bailout package.
"On July 12 a coup was carried out in Brussels that proved that the aim of the European leadership was the exemplary annihilation of a people who envisaged that another path could be followed beyond the neoliberal model of extreme austerity," the statement says. "A coup that goes directly against any kind of notion of democracy and popular sovereignty."
___
3:15 p.m.
Germany says eurozone leaders were aware of the International Monetary Fund's analysis of Greece's debt situation when they drew up a preliminary bailout package and that, while Berlin takes the IMF's conclusions seriously, its position isn't new.
The IMF said Tuesday that Greece needs debt relief going "far beyond what Europe has been willing to consider so far." Germany says an outright debt cut would be illegal under European law and argues that there's only limited room for maneuver on lesser forms of debt relief.
Finance Ministry spokesman Martin Jaeger says that the European approach of making countries' debt sustainable by getting budgets in shape has worked well elsewhere.
He says Germany still believes that approach can work in Greece with the help of economic reforms and a privatization fund.
___
2:55 p.m.
The European Commission says there are "serious concerns" about the sustainability of Greece's debt load amid a worsening in its economy.
The Commission says in a report that its main forecasts are for debt to reach 165 percent of GDP in 2020, 150 percent in 2022 and 111 percent in 2030. In an 'adverse' scenario, in which the economy does worse than expected, the debt load would hit a massive 187 percent, 176 percent and 142 percent, respectively.
The left-wing government of Prime Minister Alexis Tsipras took office in January. The Commission says that since the end of last year, there was a "very significant weakening of commitment to reforms and backtracking on previous reforms" which quickly led to a "significant deterioration of debt sustainability."
The Commission has cut its growth estimates and expects up to a 4 percent contraction in Greece's economy this year, compared with a 0.5 percent rise predicted early this year.
___
2:30 p.m.
Greece's Alternate Finance Minister Nadia Valavani has resigned from government in protest over the austerity measures the country is asked to implement in exchange for a bailout.
Arriving in Parliament, Valavani said she was not going to vote in favor of the agreement, and that this meant she could not stay on as part of the government.
Earlier, Greece's finance ministry released a letter she had sent to the prime minister on Monday morning, saying that if he returned from Brussels having made commitments for harsh austerity measures she would be unable to continue as a member of the government.
Prime Minister Alexis Tsipras agreed to a deal Monday morning under which Greece must pass through parliament harsh austerity measures his left-wing government had long battled against in return for the start of negotiations on a third bailout of about 85 billion euros.
___
1:50 p.m.
The European Commission is proposing to give Greece 7 billion euros in loans from a special fund overseen by all 28 EU nations so it can meet debts due in coming days.
The loan would be made pending the start of a full bailout program agreed on between the 19 eurozone leaders on Monday.
Since Greece needs to meet debt payments as soon as next week, eurozone nations have been looking for a way to give it a first, quick loan. They are considering tapping a fund, the EFSM, which is backed by all 28 countries in the EU. The problem is that non-euro nation Britain does not want to help pay for Greece, which it considers a eurozone issue.
EU Commissioner Valdis Dombrovskis says that dipping into the EFSM "is not an easy option" but says there are no other obvious options.
Once the full bailout package is operational, the initial loan could be repaid with money from the new program.
Domvrovskis adds that the Commission is looking for guarantees to protect non-euro nations on such a loan.
___
1:15 p.m.
An independent United Nations expert on foreign debt says Greece's creditors may break international law if the austerity measures they demand lead to undue hardship.
Juan Pablo Bohoslavsky says he is concerned about reported shortages of medicines and food caused partly by restrictions on money transfers.
He says in a statement Wednesday that European institutions, the International Monetary Fund and the Greek government must ensure that any bailout deal safeguards the right to health care, food and social security.
Bohoslavsky says "there is real legal risk that some of the harsh austerity measures could be incompatible with European and international human rights law."
He is scheduled to visit Greece Nov. 30 to Dec. 7.
___
11:45 a.m.
Greece's finance ministry says the banks will remain closed through Thursday.
The ministry says the transactions that can be carried out at the few bank branches that are allowed to open are being broadened. Apart from allowing pensioners without bank cards to withdraw 120 euros per week, they will also process payments for credit card bills, debts to the state like taxes and utility bills, and the payment of insurance company bills.
They will also allow the transfer of funds between accounts in the same bank.
Banks have been shut in Greece since June 29 and capital controls have been imposed restricting ATM cash withdrawals to 60 euros per day, and to 120 euros per week for pensioners and the unemployed without bank cards. Credit and debit card payments within the country are allowed, as are electronic banking transactions within the country. Bill payments abroad or sending funds abroad require special permission.
___
11:40 a.m.
Spanish Prime Minister Mariano Rajoy says he will put the new Greek rescue plan up for debate and vote in Parliament, even though it is not obligatory.
The proposal is more symbolic than anything. Rajoy backs the rescue deal and his conservative Popular Party's absolute majority in Parliament guarantees its approval.
Rajoy made the proposal Wednesday saying Spanish taxpayers were being asked to guarantee a lot of funds under the deal. He did not set a date for the vote.
He announced the measure during a parliamentary debate on the recent European Union summit.
Six EU countries are obliged to submit the plan to parliamentary vote.
___
9:30 a.m.
A German official says criticism by Greek Prime Minister Alexis Tsipras of the preliminary bailout deal with creditors isn't helpful.
Tsipras told state TV that "the policies imposed on us were irrational" but the deal was the best Greece could get. Creditors are demanding that the Greek Parliament pass initial legislation on Wednesday.
Germany led eurozone countries pushing a hard line. Deputy finance minister Jens Spahn criticized Tsipras' comments, telling ARD television: "This is not just about saving (money); it is about this country needing an idea of how it wants grow economically again, how it wants to be successful, change structures and win trust."
He added: "If someone then says, 'I don't actually stand by what I'm doing now,' I find that difficult. That doesn't necessarily create trust."
(7/13) Welcome to Brussels, the new capital of Greece
BRUSSELS — This is a truly wonderful time of the year to be in the Greek capital again; the typical soft summer rain; the lovely cobbled squares with carefully tended shuttered houses in the Flemish style; the aroma of steak and frites and the multi-lingual conversations of the suited hordes of Euroland staffers.
Yes, welcome to Brussels the new capital (double entendre, permettez-moi) of Greece, as of Monday morning.
The men staggered before the camera looking haggard, showing every bit of the overnight talkathon they had gone through.
Not so, Mutti. Angela Merkel (Mutti or mum to the Germans), had simply changed into a white no-nonsense jacket, reapplied lipstick and subtle eyeliner and marched in to announce to the cameras how Brussels would now run much of the Greek economy.
Her next door neighbour President François Hollande made a big play of the all-nighter talks and how he was used to it. Yeah – tough stuff – Légion d'honneur is in the post, mate.
And Mutti? Well she didn't even mention it – that's how you do it, François.
Tellingly, Greece's "leader" Alexis Tsipras did not offer a formal press conference. Too many tricky questions perhaps, such as: "What about that overwhelming referendum rejecting more austerity Alexis?" Mutti had her way. Over France. Over Greece.
Ultimately, when Greece signed up to the euro, time caught up on its culture of corruption, backhanders, tax as a lifestyle choice and payments for public sector workers who came to work on time.
The euro is a currency. It's also a North European neo-liberal economic mindset and in the end you play by the rules if you want to stay in the club, as the Greeks do.
So Alexis heads to Athens, the former capital of Greece, having undergone what one official here described as a "mental water boarding" through the long night, to push through an economic revolution in three days that would make Margaret Thatcher blench.
By Wednesday pensions will be "overhauled" – as Brussels puts it. Result: less money and beginning later in life.
Privatization will invade almost everything anywhere within hours it seems, from the electricity grid system through ports and ferries to the very banks themselves.
Trade unions? Forget it brothers and sisters. Well they will still exist but strike action and collective bargaining is going to come under the kind of legal restraints they have in post-Thatcherite Britain i.e. lots and stringent.
Brussels wants to get into detail – right into it. Oh yes! The status of bakeries and the density of how many pharmacies exist in given areas are not above Brussels reach – not that of Mutti herself.
All of it will be rushed through the Athens parliament – though nothing is sure. The northern-European neo-lib privatisation drive all whacked through Greece by force by Wednesday midnight. In theory.
Of course it is humiliating for Greece even if Mutti stressed it is not, but boy they had a party for generations before the hangover set in (let's be honest) and many will be wondering why they bothered to turn out in such numbers to vote "No" to any further Mutti-medicine so very recently.
Watch now for the detail and a spectacular spin operation from Tsipras who will claim he has concessions such as debt restructuring. That may be so: new payback rates for sums Greece cannot repay. A lot of it kicked off years into the future.
But immediately, it means real pain after the years of Never Never Land graft and corruption.
In immediate terms some Greek newspapers have on Monday vented the most revolting racism, invoking the Holocaust and Nazism as they whine over a mess the Greeks mostly brought on themselves. One likened Germany's Finance Minister Wolfgang Schauble to Hitler. Really.
Because of recent history, German statesmen and women from Angela Merkel down are quite defenceless against this filth. Others however should defend them from it: Jewish leaders and commentators globally.
They should call out this odious affront to modern Germans and modern Germany and to Jews for that matter, for the filth that it is.
Germany gave more than any other county to keep Greece in the club and is yet poised to do so again.
Matters shouldn't be decided in the gutter like this. Though when it comes to Greece, it looks like a habit beginning to take hold.
(7/13) Greece debt agreement: the eurozone summit statement – in full
The agreement reached in Brussels covers everything from VAT reforms and a civil service shake-up to who owns pharmacies and how milk and bread is sold
The Euro Summit stresses the crucial need to rebuild trust with the Greek authorities as a pre-requisite for a possible future agreement on a new ESM program. In this context, the ownership by the Greek authorities is key, and successful implementation should follow policy commitments.
A euro area Member State requesting financial assistance from the ESM is expected to address, wherever possible, a similar request to the IMF1. This is a precondition for the Eurogroup to agree on a new ESM program. Therefore Greece will request continued IMF support (monitoring and financing) from March 2016.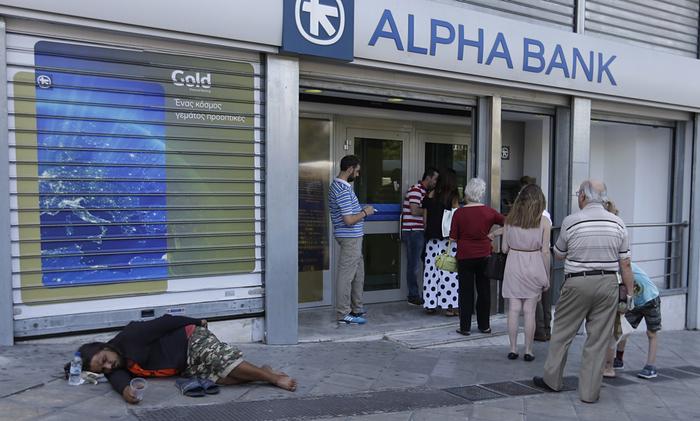 Given the need to rebuild trust with Greece, the Euro Summit welcomes the commitments of the Greek authorities to legislate without delay a first set of measures. These measures, taken in full prior agreement with the Institutions, will include:
by 15 July
the streamlining of the VAT system and the broadening of the tax base to increase revenue;
upfront measures to improve long-term sustainability of the pension system as part of a comprehensive pension reform program;
the safeguarding of the full legal independence of ELSTAT;
full implementation of the relevant provisions of the Treaty on Stability, Coordination and Governance in the Economic and Monetary Union, in particular by making the Fiscal Council operational before finalizing the MoU and introducing quasi-automatic spending cuts in case of deviations from ambitious primary surplus targets after seeking advice from the Fiscal Council and subject to prior approval of the Institutions;
by 22 July
the adoption of the Code of Civil Procedure, which is a major overhaul of procedures and arrangements for the civil justice system and can significantly accelerate the judicial process and reduce costs;
the transposition of the BRRD with support from the European Commission. Immediately, and only subsequent to legal implementation of the first four above-mentioned measures as well as endorsement of all the commitments included in this document by the Greek Parliament, verified by the Institutions and the Eurogroup, may a decision to mandate the Institutions to negotiate a Memorandum of Understanding (MoU) be taken. This decision would be taken subject to national procedures having been completed and if the preconditions of Article 13 of the ESM Treaty are met on the basis of the assessment referred to in Article 13.1.
In order to form the basis for a successful conclusion of the MoU, the Greek offer of reform measures needs to be seriously strengthened to take into account the strongly deteriorated economic and fiscal position of the country during the last year. The Greek government needs to formally commit to strengthening their proposals in a number of areas identified by the Institutions, with a satisfactory clear timetable for legislation and implementation, including structural benchmarks, milestones and quantitative benchmarks, to have clarity on the direction of policies over the medium-run. They notably need, in agreement with the Institutions, to:
carry out ambitious pension reforms and specify policies to fully compensate for the fiscal impact of the Constitutional Court ruling on the 2012 pension reform and to implement the zero deficit clause or mutually agreeable alternative measures by October 2015;
adopt more ambitious product market reforms with a clear timetable for implementation of all OECD toolkit I recommendations, including Sunday trade, sales periods, pharmacy ownership, milk and bakeries, except over-the-counter pharmaceutical products, which will be implemented in a next step, as well as for the opening of macro-critical closed professions (e.g. ferry transportation). On the follow-up of the OECD toolkit-II, manufacturing needs to be included in the prior action;
on energy markets, proceed with the privatization of the electricity transmission network operator (ADMIE), unless replacement measures can be found that have equivalent effect on competition, as agreed by the Institutions;
on labor markets, undertake rigorous reviews and modernization of collective bargaining, industrial action and, in line with the relevant EU directive and best practice, collective dismissals, along the timetable and the approach agreed with the Institutions. On the basis of these reviews, labor market policies should be aligned with international and European best practices, and should not involve a return to past policy settings which are not compatible with the goals of promoting sustainable and inclusive growth;
adopt the necessary steps to strengthen the financial sector, including decisive action on non-performing loans and measures to strengthen governance of the HFSF and the banks, in particular by eliminating any possibility for political interference especially in appointment processes.
On top of that, the Greek authorities shall take the following actions:
to develop a significantly scaled up privatization programe with improved governance; valuable Greek assets will be transferred to an independent fund that will monetize the assets through privatizations and other means. The monetization of the assets will be one source to make the scheduled repayment of the new loan of ESM and generate over the life of the new loan a targeted total of €50bn of which €25bn will be used for the repayment of recapitalization of banks and other assets and 50% of every remaining euro (i.e. 50% of €25bn) will be used for decreasing the debt to GDP ratio and the remaining 50 % will be used for investments.
This fund would be established in Greece and be managed by the Greek authorities under the supervision of the relevant European Institutions. In agreement with Institutions and building on best international practices, a legislative framework should be adopted to ensure transparent procedures and adequate asset sale pricing, according to OECD principles and standards on the management of State Owned Enterprises (SOEs);
in line with the Greek government ambitions, to modernize and significantly strengthen the Greek administration, and to put in place a program, under the auspices of the European Commission, for capacity-building and de-politicizing the Greek administration. A first proposal should be provided by 20 July after discussions with the Institutions. The Greek government commits to reduce further the costs of the Greek administration, in line with a schedule agreed with the Institutions;
to fully normalize working methods with the Institutions, including the necessary work on the ground in Athens, to improve program implementation and monitoring. The government needs to consult and agree with the Institutions on all draft legislation in relevant areas with adequate time before submitting it for public consultation or to Parliament. The Euro Summit stresses again that implementation is key, and in that context welcomes the intention of the Greek authorities to request by 20 July support from the Institutions and Member States for technical assistance, and asks the European Commission to coordinate this support from Europe;
With the exception of the humanitarian crisis bill, the Greek government will reexamine with a view to amending legislation that were introduced counter to the February 20 agreement by backtracking on previous program commitments or identify clear compensatory equivalents for the vested rights that were subsequently created. The above-listed commitments are minimum requirements to start the negotiations with the Greek authorities. However, the Euro Summit made it clear that the start of negotiations does not preclude any final possible agreement on a new ESM program, which will have to be based on a decision on the whole package (including financing needs, debt sustainability and possible bridge financing). The Euro Summit takes note of the possible program financing needs of between €82bn and €86bn, as assessed by the Institutions. It invites the Institutions to explore possibilities to reduce the financing envelope, through an alternative fiscal path or higher privatization proceeds. Restoring market access, which is an objective of any financial assistance program, lowers the need to draw on the total financing envelope. The Euro Summit takes note of the urgent financing needs of Greece which underline the need for very swift progress in reaching a decision on a new MoU: these are estimated to amount to €7bn by 20 July and an additional €5bn by mid August. The Euro Summit acknowledges the importance of ensuring that the Greek sovereign can clear its arrears to the IMF and to the Bank of Greece and honor its debt obligations in the coming weeks to create conditions which allow for an orderly conclusion of the negotiations. The risks of not concluding swiftly the negotiations remain fully with Greece. The Euro Summit invites the Eurogroup to discuss these issues as a matter of urgency.
Given the acute challenges of the Greek financial sector, the total envelope of a possible new ESM program would have to include the establishment of a buffer of €10bn to €25bn for the banking sector in order to address potential bank recapitalization needs and resolution costs, of which €10bn would be made available immediately in a segregated account at the ESM.
The Euro Summit is aware that a rapid decision on a new program is a condition to allow banks to reopen, thus avoiding an increase in the total financing envelope. The ECB/SSM will conduct a comprehensive assessment after the summer. The overall buffer will cater for possible capital shortfalls following the comprehensive assessment after the legal framework is applied.
There are serious concerns regarding the sustainability of Greek debt. This is due to the easing of policies during the last twelve months, which resulted in the recent deterioration in the domestic macroeconomic and financial environment. The Euro Summit recalls that the euro area Member States have, throughout the last few years, adopted a remarkable set of measures supporting Greece's debt sustainability, which have smoothed Greece's debt servicing path and reduced costs significantly.
Against this background, in the context of a possible future ESM program, and in line with the spirit of the Eurogroup statement of November 2012, the Eurogroup stands ready to consider, if necessary, possible additional measures (possible longer grace and payment periods) aiming at ensuring that gross financing needs remain at a sustainable level. These measures will be conditional upon full implementation of the measures to be agreed in a possible new program and will be considered after the first positive completion of a review.
The Euro Summit stresses that nominal haircuts on the debt cannot be undertaken.
The Greek authorities reiterate their unequivocal commitment to honor their financial obligations to all their creditors fully and in a timely manner.
Provided that all the necessary conditions contained in this document are fulfilled, the Eurogroup and ESM Board of Governors may, in accordance with Article 13.2 of the ESM Treaty, mandate the Institutions to negotiate a new ESM program, if the preconditions of Article 13 of the ESM Treaty are met on the basis of the assessment referred to in Article 13.1.
To help support growth and job creation in Greece (in the next 3-5 years) the Commission will work closely with the Greek authorities to mobilize up to €35bn (under various EU programs) to fund investment and economic activity, including in SMEs. As an exceptional measure and given the unique situation of Greece the Commission will propose to increase the level of pre-financing by EUR 1bn to give an immediate boost to investment to be dealt with by the EU co-legislators. The Investment Plan for Europe will also provide funding opportunities for Greece.
(7/12) Greek bailout: Europe strikes deal after marathon talks
Europe has offered Greece a new $96 billion bailout after its government agreed to enact deep economic reforms under close supervision by its creditors.
The rescue — Greece's third since 2010 – should secure its place in the euro, for now. If the country had crashed out of the currency union, the unprecedented event would have shaken Europe to its core.
"Eurozone leaders have agreed in principle that they are ready to start negotiations on a [new bailout]," said Donald Tusk, who chaired an emergency summit of all 19 nations that use the euro.
The leaders hammered out the agreement at the marathon overnight meeting in Brussels, after weeks of frantic diplomacy sparked by Greece walking away from a previous bailout program.
That decision left it without the cash to make a payment to the International Monetary Fund, triggered the closure of its banks, and sent the economy into free fall.
Fast running out of money, Greece faced an awful choice: Accept the conditions demanded by the only people willing to lend it money, or leave the euro.
Speculation about the currency should now fade, but it's not clear how soon the money the country desperately needs will flow, and when its banks will reopen.
Finance officials will reconvene later Monday to talk about how to support Greece while the details of the bailout are being negotiated. That process could take weeks.
The agreement means the Greek government must now go way beyond a reform proposal it submitted last week, by making much more profound changes to pensions, energy, labor and product markets, and by scaling up a program of privatization. It also has to overhaul its public administration and justice system.
The conditions are particularly tough for two main reasons.
First, the economy has deteriorated sharply in recent weeks, damaging Greece's already fragile finances still further.
Second, there was a complete breakdown in trust between Greek Prime Minister Alexis Tsipras and other European leaders. That was largely because of a series of U-turns he performed, and his decision to call a referendum to reject reforms he then signed up to days later.
That made for hard talking this weekend. The summit ran for 17 hours, and that was after finance officials had spent 14 hours preparing the ground.
Under pressure from skeptical voters, some European leaders wanted ironclad guarantees that they wouldn't be throwing good money after bad. Europe and the IMF have already lent Greece about233 billion euros since 2010.
Monday's deal requires Greece to give access to bailout monitors on the ground in Athens — including officials from the IMF, a point Tsipras resisted to the last.
He was elected on promises to reverse austerity and end intrusive monitoring, and the agreement will raise questions about whether he can continue in his post.
But without a new bailout, Tsipras knew Greece's descent into economic chaos would accelerate, bringing the country ever close to exit from the euro.
Greece's banks have been shut for two weeks, and cash withdrawals are capped. The vital tourism industry is suffering. People are spending less, some public services have stopped charging, and thehealthcare system is running out of imported medicines.
Greece needs to pay pensions and wages this week, and make a big debt repayment to the European Central Bank next week. Without an injection of funds fast, it would have to issue IOUs, a first step to printing its own currency.
The country isn't home and dry yet. Tsipras has to push a first package of reforms — including tax changes and pension reforms — through parliament by Wednesday.
And it's not clear whether that will be enough to persuade the ECB to ease restrictions on funding for Greek banks imposed after the government walked out of talks in late June.
Assuming Greece accepts a broader overhaul of the economy, there are still other potential roadblocks standing in the way of a third bailout.
A handful of other eurozone countries, including Germany and Finland, will need to win votes in their parliaments this week on a new rescue. Only then can formal negotiations begin.
(image:Getty)
(7/12) More iCloud, please: Apple offers help to Greeks during crisis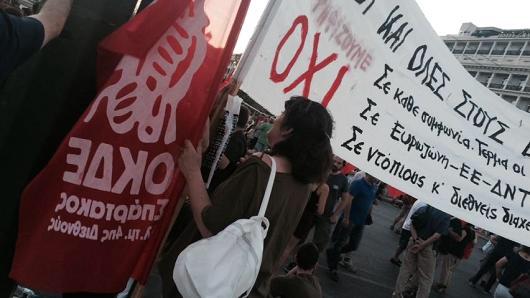 Greece has been hit by bank holidays and capital control, but Apple is offering a bit of help to its Greek customers in a way only a technology giant can.
In an email to Greek users of its iCloud service, the tech behemoth offered to extend their storage plans for an extra 30 days without any extra costs.
Here's the message obtained by CNBC:
Dear iCloud customer,

To prevent interruption in your iCloud service during the current fiscal crisis, and to make sure you have access to your content, we've extended your iCloud storage plan for an extra 30 days at no additional cost.

We won't attempt to charge you for your plan until 30 days after your original renewal date. If we are unable to renew your plan, you may need to reduce the amount of iCloud storage you use.

The iCloud Team
Apple did not immediately respond to CNBC's request for comment.
(7/7) Want to help Greece? Go there on holiday
(this is an feature written by Alex Andreou on The Guardian)
Showing solidarity through tourism is a win-win situation: you get a cheap holiday in a beautiful country; Greece gets a much-needed injection of cash
overing the Greek crisis for the past few months, the question I am asked most commonly is: "Why won't Greece just stop whining and pay its debts?" It is quite depressing to realise there are so many people out there who think there is a mattress somewhere in Greece stuffed with a trillion euros, which we are refusing to hand over simply out of radical leftism. The second most commonly asked question, however, cheers me up significantly: "Is there any way we can help?"
There is: visit Greece. The weather is just as stunning as it ever was this time of year; the archaeological sites just as interesting; the beaches just as magical; the food just as heart-healthy. The prices are significantly cheaper than usual. It is one of those rare everybody-wins situations.
The people are even more welcoming, more hospitable and more grateful than ever. The reaction to difficulty has been a broader smile, a wider embrace. We understand that you have a choice and we understand why you have chosen Greece right now. Tourism is liquidity. Tourism is solidarity.
If you are thinking of helping my country in this way, there are ways to do so perfectly safely and to maximise the benefit. It is important to say that there has been no violence, at all, anywhere. And whenever there has been any trouble in the past, it has always confined itself in a very small and easily avoidable area, in the very centre of Athens. If you are feeling even a little nervous about it, plenty of airlines fly directly to dozens of resorts and stunning, out-of-the-way destinations.
A British friend, Kris, who just came back from Athens, says: "It would be very easy not to know that anything was even going on … There were some queues at ATMs, but no more than in the centre of London during a busy weekend. There is no rationing or shortages. The only exception was the night of the rival rallies, for Yes and Oxi; I was absolutely amazed that they were held less than half a mile apart and there was no trouble whatsoever. From our hotel terrace, it was like listening to democracy in stereo … I would go back in a heartbeat."
Take euros with you, in cash, to cover your stay's expenses (and possibly a backup of sterling). This way, you inject paper money directly into our economy. Hard currency is what is lacking. Keep most of it in your room safe or the hotel safe. It is sensible to split the remainder among you. Travel insurance companies have recognised that this will be the case, and most have increased the total amount of cash for which you are covered.
The best thing to do is book flights (ideally with one of the Greek airlines – there is a 40%-off sale right now on aegeanair.com) and hotels separately. If your best option is a package deal, then that is great too. The local Greek economy will still benefit when banks reopen. But the most direct way to help, in terms of injecting liquidity, is to book your accommodation directly and pay with cash once there. Prices are reported to be significantly cheaper than they usually are this time of year. Your cards will work normally everywhere, but cash is better, as people have difficulty accessing money in their account.
Try to spread the solidarity around: instead of going for very popular destinations, check the smaller islands to which you can fly, or mainland destinations in the Peloponnese, Macedonia and Thessaly. Stunning beaches (and much quieter ones) are never too far, and some of the sites you can visit are breathtaking. Olympia, the ancient theatre of Epidavros, Delphi, Vergina, Meteora (which you might remember from the climactic scene in For Your Eyes Only), Tempe, Mount Olympus – there are so many. You can find a good guide at greeka.com.
Most importantly, spend your money with small local businesses whenever possible, rather than large multinationals (although even that helps – they still employ Greeks). Your tourism is a form of resistance. You will have the time of your life while helping a nation brought to its knees by international monetary interests.
Greek people and businesses are suffering because of restrictions on international transfers. People who have children studying abroad may have problems sending them money. Greeks who have gone abroad to work may not be able to send money back home. Businesses may not be able to pay for their internet hosting packages if they are based outside Greece. Academics are losing access to scientific journals.
Reach out to any family, friends or business contacts you might have in Greece, or connected to Greece. You may be able to help them in a small but vital way. You might be able to share your access to an academic journal or pay a small stipend for someone's internet hosting as a deposit for a future holiday. People who need to send money to Greece for any reason can form reciprocal networks through social media with people in Greece who need to send money abroad.
Together we can get over this bump in the road. Together we can prove that solidarity and democracy may have fizzled out as institutional concepts, but they are stronger than ever within people's hearts. I thank you in advance. My country thanks you.
(7/7) Greece urged to come up with 'serious' proposals
BRUSSELS (AP) — The latest on the Greek financial crisis (all times Brussels local):
___
12:10 p.m.
Dutch State Secretary for Finance Eric Wiebes says Greek representatives need to come up with a serious package at the meeting of eurozone finance ministers if fresh bailout talks are to make any progress.
"I hope they bring a very serious proposal in their luggage," Wiebes said as he arrived an hour early for the start of the meeting in Brussels. "Because it is only worth continuing to talk on the basis of a very serious proposal. I can't imagine the proposal would be less serious than the proposal that was already on the table."
Wiebes, a junior Dutch minister, attends the eurogroup meetings because Dutch Finance Minister Jeroen Dijsselbloem is the group's chairman.
The Greek government is expected to make fresh proposals at the meeting in order to secure a bailout deal so it avoids leaving the euro.
Two workers stand on a lifting platform during renovation works at the Euro sculpture in front of the old European Central Bank in Frankfurt, Germany, Monday, July 6, 2015. The sculpture will be renovated during the next four days. (AP Photo/Michael Probst)
11:55 a.m.
Rarely, if ever, has any leader gone to Brussels for a summit with as much as stake as Greek Prime Minister Alexis Tsipras.
With his country on its economic knees and facing the prospect of a disorderly exit from the euro, Tsipras knows that Greece's future for years if not decades could hinge on how talks later pan out.
Neil MacKinnon, global macro strategist at VTB Capital, spelled out what's at stake.
"The Greek economy is in danger not just of imploding but of falling into a nightmarish dysfunctionality where what we consider as the normal economic functions of society collapse," he said. "This is a recipe for anarchy and social disorder."
__
11:30 a.m.
As Europe's leaders gear up for an emergency summit on Greece, the big euro sculpture euro in front of the former European Central Bank headquarters in Frankfurt is being given its first overhaul after 13 years.
The blue euro sign surrounded by yellow stars has become a popular photo motif for visitors.
The long-planned work started Monday, coinciding with the aftermath of the Greek referendum that many fear could lead to the first exit of a country from the 19-nation currency.
Workers took down the blue and yellow glass Plexiglas plates that cover the sculpture, which are to be replaced. New lighting also is to be installed, and work is due to be completed by Friday.
The sculpture by Ottmar Hoerl is owned by a private group, the Frankfurt Culture Committee.
A butcher makes calculations inside his shop in central Athens, Tuesday, July 7, 2015. Greek Prime Minister Alexis Tsipras heads Tuesday to Brussels, where he will try to use a bailout referendum victory to obtain a rescue deal with European leaders. (AP Photo/Emilio Morenatti)
11:10 a.m.
While Europe's leaders headed for Brussels for what could be a make-or-break summit for Greece's future in the euro, Greeks continued to struggle with the strict controls on their bank withdrawals.
Amid signs that the banks were fast running out of cash, there are growing concerns about what will happen to people's savings. Banks have been shuttered for over a week and cash withdrawals have been limited to 60 euros a day.
Giorgos Stathopoulos, a 46-year-old civil servant said many ATMs had run out of 20-euro notes, effectively reducing the daily limit to 50 euros.
"The problem is for those of us who don't have big deposits, what happens with our savings, that is the concern," he said.
And Giorgos Kafkaris, a 77-year-old pensioner, is hopeful about improvements. "I believe something better will happen," he said.
___
9:35 a.m.
European Commission President Jean-Claude Juncker has tempered expectations of a swift solution to the Greek crisis, saying "a solution is not going to appear overnight."
Juncker told lawmakers at the European Parliament in Strasbourg that any solution later at a meeting of the eurozone's 19 leaders in Brussels would likely be "overly simplistic."
He said one of the purposes later is to "restore order to the situation." He also displayed his anger at attacks on the European Union's executive branch.
"I think it is unacceptable for the European Commission to be deemed terrorists by the Greek government," he added.
Greek Prime Minister Alexis Tsipras and new finance minister Euclid Tsakalotos are on their way to Brussels for meetings aimed at restarting bailout talks.
"Quite clearly the ball lies in the court of the Greek government," said Juncker.
___
9:10 a.m.
European stock markets have opened solidly ahead of an emergency meeting of eurozone leaders in Brussels, where Greek Prime Minister Alexis Tsipras is expected to reveal fresh proposals to the country's creditors.
Germany's DAX index was up 0.4 percent while the Stoxx 50 index of leading European shares rose 0.2 percent.
With Greece's banks shuttered and cash reserves run dry, time is running out for a bailout deal. Some investors hope the resignation of Yanis Varoufakis on Monday may well help smooth discussions.
Still, few are optimistic and many analysts think that a Greek exit from the euro remains possible.
"It seems untenable that Greece can slide out of the Eurozone with barely a whimper being heard in financial markets, but right now that's what it looks like," said Tony Cross, market analyst at Trustnet Direct.
___
8:50 a.m.
Germany's biggest-selling newspaper knows who it wants to see at Tuesday's emergency summit of eurozone leaders in Brussels: the Iron Chancellor.
The Bild daily's front page Tuesday featured an image of Chancellor Angela Merkel in a Prussian-era spiked helmet. "No new billions for Greece," its headline read. "Today we need the Iron Chancellor."
That's how Otto von Bismarck, the 19th-century leader under whom Germany was unified, was known.
___
8:40 a.m.
Germany's EU commissioner says he's optimistic that a new Greek finance minister and opposition parties' backing for Prime Minister Alexis Tsipras could smooth negotiations between Athens and its European creditors.
Tsipras' polarizing finance minister, Yanis Varoufakis, resigned Monday and was replaced by Euclid Tsakalotos. Three opposition parties offered backing for Tsipras in the bailout negotiations.
Commissioner Guenther Oettinger told Deutschlandfunk radio Tuesday that Tsakalotos "doesn't have the same attitude as his predecessor. He knows the figures, the facts, he knows our reform proposals … and he knows that we are flexible."
German officials insist that, even after its voters rejected more austerity in a referendum, Greece must accept conditions for any new aid.
___
8:19 a.m.
French Prime Minister Manuel Valls says his country will do everything possible to keep Greece in the eurozone, saying its exit would be a "risk for global economic growth."
In an interview with the RTL radio network Tuesday, Valls denied that Greece's "no" vote was a rejection of Europe or its values but rather an expression of pride. He called on Greece's prime minister to put forward a plan and said France would be open to rescheduling Greece's debt.
Valls says: "The eurozone must stay coherent, reliable. Europe is not just a currency. It is a conception of the world."
Greek Prime Minister Alexis Tsipras is headed Tuesday to Brussels to negotiate a rescue deal with European lenders.
(7/6) Greeks struggle to buy bread and medicine as leaders negotiate
There were many gripping pictures from the Greek referendum this weekend: The woman doing a victory lap through the streets while carrying a large Greek flag after the country voted overwhelmingly against a bailout. The handwritten banners proclaiming: "Austerity Game Over." Greece's finance minister resigning and taking off on his motorcycle.
Years from now, however, it's the heartbreaking picture of Giorgos Chatzifotiadis that may come to be seen as the defining image from this pivotal moment in modern Greek history.
Chatzifotiadis, a 77-year-old retiree, was photographed crying on the floor outside a bank in the Greek city Thessaloniki on Friday after trying and failing to withdraw his modest daily pension allotment (120 Euros) from four different banks. The full weight of the latest Greek tragedy could be seen on his grieving face.
"I see my fellow citizens begging for a few cents to buy bread. I see more and more suicides. I am a sensitive person. I can not stand to see my country in this situation," Chatzifotiadis told theAgence France-Presse. "Europe and Greece have made mistakes. We must find a solution."
The people of Greece may be divided politically on whether and how to negotiate with European officials to solve the country's long simmering financial collapse, but there is broad agreement that citizens have suffered as a result of the dire financial situation.
Austerity measures, put in place following the global recession of 2008, effectively slashed budgets for hospitals and pensions, affecting the care and livelihood of millions.
Worse still: these efforts did little to curb unemployment. A quarter of the working age population is now without work. To say that the Greek people are now caught between a rock and a hard place understates the situation: the country has been crashing into both the rock and the hard place for years.
With the country now quickly running out of money, banks closed to the public and no firm plans for a financial rescue in place, Greek citizens face the dire possibility of vital food and medical supplies running out. Suicides have already risen markedly, according to a recent study.
One pharmacist in Athens admitted to The Economist that she had just one week's worth of insulin supplies remaining to treat diabetics. A hospital doctor told the publication that his facility was running low on cancer drugs and stents for heart surgery, potentially putting lives at risk.
"It was already bad," the hospital worker said, "but it has become much worse this past week and the time ahead really frightens me."
On Monday, pharmaceutical companies pledged to continue providing medicines to Greece "for now." But these same companies are owed more than one billion Euros by the country's hospitals. Goodwill alone won't pay the bills.
Meanwhile, elderly Greek citizens like Chatzifotiadis continue to wait in long lines by ATM machines in the hopes of withdrawing their 120 Euros a day to support themselves and often their families. Non-pensioners wait in line to withdraw the maximum 60 Euros a day, only to be told they must take even less than that already small sum.
By the end of this week, Greek citizens who work in the public sector will need to be paid — and the government may have little choice but to issue IOUs. If so, Stathis Kalyvas, a political science professor at Yale, predicts that this could cause a whole new round of chaos in the country.
The extent of the hardships in Greece is subject to some debate. For every photograph of a supermarket in the country with barren shelves, another image is shared on social media of a fully stocked grocery store. The reality, as one journalist on the ground tweeted, is that these stores are often well stocked, but certain essentials are in comparatively short supply.
The citizens who voted against a European bailout did so in large part to push for better terms and out of national pride not to have foreign powers dictate their way of life. These are citizens like Julia Kaldeki, a 57-year-old mother, who admits the Greek quality of life has declined, but who nonetheless prefer to endure the unknown risks of saying "no" to Europe and potentially leaving the European Union and the Euro behind.
"Until now, our standard of living has been slowly diminishing bit by bit. Layers have been shaved off," Kaldeki told The Wall Street Journal. "So what if we do return to the drachma? Real change takes time, and as long as my children and I are healthy, we can weather anything."
(7/6) Expert predictions on what lies ahead for Greece
Greek debt is running at 197% of GDP.
On Sunday, Greek voters decisively rejected a proposal from the nation's creditors to swap new refinancing of Greece's 342.5 billion euro in debt in exchange for tax increases and deep cuts in public spending, especially on pensions. With the unemployment rate stuck near 26 percent and the economy sinking deeper into a depression that has already cut gross domestic product by 30 percent since 2010, Greeks decided not to bet on the idea that more austerity would return their country to prosperity.
Nonetheless, Greece missed a 1.6 billion euro payment on its debt last week and remains "in arrears," according to the International Monetary Fund, which, along with the European Central Bank and European Commission, represents Greece's creditors. Nearly all of Greece's debt is held by official creditors, who bought up most of the holdings of hedge funds and other private investors years ago. Until the default is fixed, the IMF says, it won't lend Greece more money.
With the nation once again running a budget deficit after briefly achieving a so-called primary surplus—meaning, a surplus before interest payments—Greece clearly needs more money soon. Here are some of the key questions and answers about what's going on—and what might happen next.
What do the creditors want?
Going into the election, their proposal was to cut pensions by another $2.5 billion or more and to raise taxes, especially value-added taxes on tourism to the Greek islands. Since tourism generates almost one-fifth of Greece's GDP and is the nation's only industry besides petroleum refining that generates as much as $2 billion a year in exports, a proposal to boost the VAT on island tourism to 23 percent from 9 percent was a tough sell.
Creditors' proposals also included selling off publicly owned airports and electricity transmission and cutting military spending, as well as raising corporate income taxes and cutting tax subsidies for diesel fuel and heating oil. The creditors have little else to work with: IMF research director Olivier Blanchard wrote June 14 that pensions and salaries for government workers are 75 percent of the remaining Greek government budget, since everything else has already been "cut to the bone." Pensions alone eat up 16 percent of Greek GDP—almost as much as tourism brings in.
By contrast, in the U.S. the old-age and survivors insurance program within Social Security costs less than 5 percent of gross domestic product. Even a 25 percent cut in Social Security benefits would reduce U.S. growth by 1.5 percentage points in the first year, according to an analysis by the American Association of Retired Persons.
How has earlier austerity affected Greece?
The nation has cut spending by 30 percent since 2008 in response to creditor demands, and GDP has dropped from a high of $355 billion in 2009 to $238 billion last year—about 33 percent—according to Trading Economics. The U.S.boosted spending during the recession and has cut since, with spending now slightly lower than in early 2008, Trading Economics claims.
The moves were enough to put Greece briefly into a surplus in 2013. Creditors had expected the austerity measures in a 2012 deal to push Greece's surplus to 4.5 percent of GDP by next year. But the chaos in Greece's economy has driven down the amount expected to be received from privatizing government assets, including those held by banks, and tax collection has remained abysmal.
What now?
There's little chance Greece can repay its full debt, and basically no chance that it can run its government without access to credit, so more talks to try to find a deal are forthcoming. Greece's finance minister, Yanis Varoufakis, who has had a contentious relationship with creditors, resigned after the election in an apparent attempt to pave the way for more negotiations.
In a report last week, the IMF conceded that it's likely the international creditors will have to "take a haircut" by reducing the principal amount of the debt they hold so Greece can make its payments. How much? In 2012, hedge funds agreed to write down about 70 percent of their remaining debt, setting one potential parameter. The IMF's report floated the idea of writing down the debt by about 53 billion euro, which would make the rest of the debt sustainable if Greece's economy grew 1 percent a year and the government ran consistent surpluses of 2.5 percent of GDP.
What's the best that can happen?
The best-case scenario could take either of two forms, depending on whether a deal is reached. The path the parties will try first is to make a deal, but that would require Germany to back off its opposition to reducing the principal amount of Greece's debt. On Monday, Greece's creditors said the ball was in Athens' court to present a credible deal.
With a deal, Greece makes some cuts that are largely offset by a reduction in the payments it has to make to its creditors, whether for interest or for principal reduction. This wouldn't be likely to deliver actual prosperity soon, but might prevent the situation from worsening.
The best-case scenario for Greece without a deal is that it follows the path Argentina did in 2001 and 2002: Devalue its currency, which in Greece's case means abandoning the euro in favor of its own money, hoping that the drop in the cost of tourism and other Greek exports draws enough customers to begin delivering prosperity in a year or two. However, Varoufakis dismissed this idea in a May blog post, saying, "Greece cannot pull off an Argentina."
What's the worst that can happen?
There's little chance that Greece's fundamental economic problems will have much effect on either the U.S. or the rest of Europe, Moody's Analytics chief economist Mark Zandi said last week.
Moody's doesn't think that any financial contagion from a Greek default will force any run on the debt of other struggling euro zone economies, like Spain or Italy, and indeed, yields on their 10-year bonds stayed stable last week amid Greece's uncertainty.
Within Greece, however, the short term looks very difficult in any scenario. Any deal is likely to raise taxes and cut spending to some degree, hampering an already shrinking economy. If Greece leaves the European currency union, whatever currency it issues is likely to be sharply devalued. If Varoufakis is right, the rest of Europe wouldn't generate enough tourism or shipping revenue to make up for the value of savings lost in the devaluation, and Greece's human suffering would intensify.
Bottom line: No one will be really happy with whatever outcome emerges.
"These are tough choices, and tough commitments to be made on both sides," Blanchard wrote on his blog.
-CNBC
Euclid Tsakalotos
is a change of style, not substance
ATHENS, July 6 (Reuters) – Euclid Tsakalotos, the mild-tempered professor who was appointed as Greece's new finance minister on Monday, is a clear change in style from his combative predecessor Yanis Varoufakis.
The 55-year-old Tsakalotos studied at prestigious private London school St Paul's and at Oxford University, speaks Greek with a British accent and rarely appears in public, let alone wearing the torso-hugging T-shirts Varoufakis favours.
But if European officials expect Athens' new finance chief, who has already been a key negotiator in drawn-out talks between the Greek government and creditors, to take a softer approach in the substance of new bailout talks, they can think again.
As the brainchild of Syriza's economic thinking, Tsakalotos is likely to redouble efforts to put one of the most contentious issues in the five months of negotiations between Greece and its creditors — debt relief — back on the table.
Tsakalotos, who co-authored a book with Greek central bank governor Yannis Stournaras, has been dubbed in leftist jargon a "Revolutionary Europeanist" — an economist who supports European Union integration, but not its capitalist principles.
Like Varoufakis, Tsakalotos has often decried Europe for big democratic deficiencies and argued that ill-guided fiscal austerity imposed by the core of the euro zone has unnecessarily impoverished Greece and other countries on the periphery.
"European Monetary Union has created a split between core and periphery, and relations between the two are hierarchical and discriminatory," he wrote in a paper on the website of the Alliance for Workers' Liberty, a British socialist group.
Born in Rotterdam in the Netherlands, Tsakalotos has a notable international academic curriculum. He studied politics, philosophy and economics as an undergraduate at Oxford, where he later completed his PhD in economics in 1989. He taught at the University of Kent before returning to Athens as a professor at Athens University of Economics.
STUDENT PROTEST
There, nearly a decade ago, he led his students in a months-long protest against a proposed reform of Greece's education system.
When students occupied classrooms and marched through the streets, Tsakalotos was on the frontlines, recalls Thanos Tsouknidas a 30-year-old accountant who knew him from the time.
"He was there, involved in the struggle. We were fighting together," recalls Tsouknidas.
"He is a pure left-wing individual and professor. His door was always open to all students, to discuss university issues or political issues, or for a normal chat."
The active role of Tsakalotos, who joined the teachers' union, brought him popularity. Classes, including a course in the history of economic theory, were packed, recalls Vassilis Alevromitis, 25, a former student who is now unemployed. Some students would giggle at the professor's British accent.
Tsakalotos dabbled in politics in the teachers' union, drawing close to Syriza, which was growing in popularity on the back of Greece's economic crisis.
He was first elected to parliament in May 2012, and re-elected in January 2015, when his party swept to power and Alexis Tsipras to the premiership.
Tsakalotos has pushed Tsipras to ally with other European left-wing groups, including Podemos in Spain and Ireland's Sinn Fein. In March, the economist visited Dublin and addressed Sinn Fein political delegates, alongside leader Gerry Adams.
Tsakalotos has said debt relief for Greece could happen in many forms. In an interview with Reuters, the economist suggested Athens be offered debt relief in the form of having the European bailout fund – known as the European Stability Mechanism – take over Greek bonds held by the ECB – as one option that would not increase debt for Greece or its partners.
"There are lots of technical solutions on how that could be done," he said. "If there is goodwill, I can think of 10-15 solutions right now of how that could be done. If there's no political goodwill then for any solution I can think of a drawback."
People who know Tsakalotos say he has strong negotiating qualities, which will come in handy as Athens heads back into talks with creditors.
"He is the ideal person to help the Greek government break the current deadlock and reach an agreement with international lenders. He is modest, calm, and a very good listener," says Panicos Demetriades, a former ECB Governing Council member for Cyprus who knew Tsakalotos in Britain. (Additional Reporting by Michele Kambas; Writing by Alessandra Galloni; Editing by Giles Elgood)
Greece hires new finance leader as the old one zooms off on a motorcycle
Greece found a new finance minister within hours of the dramatic departure of controversial bad-boy professor Yanis Varoufakis, who alienated so many other finance ministers in the Eurozone that they pushed for his firing.
Varoufakis, who resigned in a dramatic blog post, will be replaced by Euclid Tsakalotos. Varoufakis zoomed off on a motorcycle – his favorite mode of transportation — with his wife behind him.
Tsakalotos will take the position later on Monday after being sworn in, according to various reports. The move came just hours after the resignation of Yanis Varoufakis, who said last week that he'd step down if the country were to vote for a bailout in the historic referendum on Sunday.
That did not happen — 61% of voters voted "no" and against the proposed bailout plan — but Varoufakis surprisingly resigned anyway, claiming he feels he is in the way of future negotiations with Greece's Eurogroup creditors.
"Soon after the announcement of the referendum results, I was made aware of a certain preference by some Eurogroup participants, and assorted 'partners', for my… 'absence' from its meetings; an idea that the Prime Minister judged to be potentially helpful to him in reaching an agreement. For this reason I am leaving the Ministry of Finance today," he wrote on his blog Monday.
Tsakalotos received a Ph.D in economics from Oxford and has served in the Greek parliament since 2012 as a member of the Syriza party. Most recently he served as the alternate foreign minister for international economic relations.
It's no secret that most European leaders were not fond of Varoufakis, whose casual demeanor and harsh rhetoric often deeply frustrated them.
Reports surfaced in late May that Varoufakis had already been sidelined in the negotiations by prime minister Alexis Tsipras and that he was ready to resign. He then dismissed those reports as "grossly premature."
Though both he and PM Tsipras see the referendum as a great victory for their cause and for Greece, it seems Varoufakis' unpopularity with the country's creditors was too much of a burden for future negotiations.
"I consider it my duty to help Alexis Tsipras exploit, as he sees fit, the capital that the Greek people granted us through yesterday's referendum," Varoufakis wrote Monday. "I shall wear the creditors' loathing with pride."
Tsipras has not yet announced a replacement for Varoufakis. Rumors and speculations on social media point mainly to two names: Euclid Tsakalotos, Chief Economics Spokesman in the Greece government, and Giorgos Stathakis, current Minister of Economy, Infrastructure, Shipping and Tourism.
Eurozone leaders will meet Tuesday afternoon to discuss the post-referendum situation. Greeks awoke Monday to the stark reality of the country's accelerating crisis – shuttered banks and ATMs with little cash. The referendum results left the bankrupt country's future in the European Union and its euro currency uncertain.
The margin of victory for "no" was far wider than expected. But as celebrations died down early Monday, Greece entered a second week of severe restrictions on financial transactions and faced even limited amounts of cash drying out, with no prospect of an immediate infusion. Greece imposed the restrictions to stem a bank run after the vote was called and its bailout program expired.
Besieged by a prolonged recession, high unemployment and banks dangerously low on capital, Greece defaulted on an IMF loan repayment last week, becoming the first developed nation to do so. Now some analysts wonder if Greece is so starved of cash that it could be forced to start issuing its own currency and become the first country to leave the 19-member eurozone, established in 1999.
Asian markets mostly fell Monday, as economists said the markets were not expecting such a decisive "no" vote.
The European Central Bank's governing council was not expected to provide more liquidity assistance to Greek banks Monday. The assistance, now at about €90 billion, has been maintained but not increased in past days, leaving the country's financial system in a stranglehold. Without an increase, Greeks might not be able to withdraw even the meager €60 ($67) allocated per day.
That will make it difficult for Tsipras to keep his pledge, expressed on TV and on his Twitter account, that Greece's "immediate priority is to restore our banking system's functioning & economic stability" or for banks to re-open Tuesday, as scheduled.
Negotiations on a financial rescue package broke off with Greece's creditors after Tsipras called for the referendum. It is unclear when they could restart, but the government has said it believes a deal with creditors could be reached within 48 hours of the vote.
Leaders of six of the seven parties represented in Parliament were meeting Monday morning in the presidential palace. Tsipras requested the meeting to share his negotiating strategy and call for support.
The main opposition party, New Democracy, was sending an interim chief, after its leader – former Prime Minister Antonis Samaras — resigned Sunday as "no" votes poured in.
German Chancellor Angela Merkel and French President Francois Hollande spoke to each other Sunday night and agreed "that the vote of the Greek people must be respected," Merkel's office said. Jeroen Dijsselbloem, the Eurogroup head, said Sunday's referendum result was "very regrettable for the future of Greece."
The Dutch finance minister had been a steadfast opponent of Greece as it sought better conditions during five months of bailout negotiations. "For recovery of the Greek economy, difficult measures and reforms are inevitable," he said. "We will now wait for the initiatives of the Greek authorities."
Sigmar Gabriel, Germany's vice chancellor and economic minister, told a German newspaper the Greek government was leading its people "onto a path of bitter austerity and hopelessness."
Belgian Finance Minister Johan Van Overtveldt was somewhat softer in his approach, saying a "no" result "complicates matters," but that the door remained open to resume talks immediately.
"What we certainly don't want to do is to take decisions that will threaten the monetary union," he told Belgium's VRT. "Within that framework we can start talks again with the Greek government, literally, within hours."
Associated press contributed reporting
Why Greece matters for everyone?
Like it or not, Greece is a domino that will have ripple effects throughout the rest of the world
Greece is a tiny country. It's 0.3 % of the GDP of the world. Most private creditors took their money out of the debt-ridden nation years ago. So why is the possible exit of Greece from the Eurozone rocking markets? Because it represents what could be the end of the biggest, most benevolent experiment in globalization, ever.
On Sunday, Greek voters said "no" to Europe's latest bailout offer. That means that a Greek exit from the Eurozone is now very likely–most analysts are putting the odds at somewhere around 60%-70% at this point. For Greeks, the next few weeks will be chaotic. Banks are closed; last week, people could take only 60 euros at a time out of ATM machines, this week it may go to as little as 20 euros. Merchants have begun eschewing credit cards in favor of hard currency as a cash hording mindset kicks in.
Global markets are not surprisingly down on the news and will likely be quite jittery for the next few weeks. It's not that the economy of Greece itself matters so much–China creates a new Greece every six weeks–it's that a Greek exit from the Eurozone calls into question the entire European experiment. Europe was always an exercise in faith: 19 countries coming together to form a made-up currency without any common fiscal policy or true political integration seemed like a great idea in good times, but was destined to be fragile in bad times.
The risk now is that a chaotic Greek exit from the Eurozone starts to undermine faith in other peripheral countries, like Italy or Spain. Watch what their bond spreads do over the next few days. If they rise a lot, it means investors are worried. While ECB head Mario Draghi has promised money dumps to help stabilize these nations and any other Eurozone countries that need help (perhaps we should start calling him "Helicoper" Mario), he can't stop the euro from falling against the dollar, or keep investors from fleeing to "safe havens" like US T-bills. That might be good for US bond markets, but Europe's crisis could also impact the Fed's ability to raise interest rates in September, which until quite recently seemed like a sure thing.
No wonder President Obama and Jack Lew are getting vocal about it all–while this isn't going to be a Lehman Brother's style domino collapse of financial institutions (private creditors represent only about 12 % of Greek debt; most got their money out back in 2011 or 2012), there's little question that Europe's growth will slow, which will affect US companies and workers. The stronger dollar will also hurt US exporters.
But even more important than the short-term jitters are the longer-term economic and geopolitical impacts of the Eurozone crisis. One of the reasons that Russia has been so aggressive in places like the Ukraine is that Europe is perceived as being weak, unable to make the political integrations that would actually solve this debt crisis permanently. (That would require creating a real United States of Europe–something that requires German buy in)
The Greeks may think that a "no" vote to Europe has increased their power to bargain for a third bailout, but I think it will be very hard to convince German voters of that (and any deal will have to pass through the Bundestag). Germans simply don't understand why the rest of Europe can't be more like them, despite the fact that the math doesn't really work.
If Greece is left on its own, where will it turn for support? To Russia, China, and any number of countries in the Middle East. Suddenly, you've got the stability of the Balkans in play. And as it becomes clear that the future of the world's second largest reserve currency isn't necessary a given, that could weaken investment in Europe as a whole, throw the Eurozone back into recession, and undermine the EU on the world stage. A political bloc that can't guarantee its own currency will also have reduced clout in any kind of political negotiation. Europe's weakness could be very destabilizing at a time when America's own geopolitical power has ebbed.
That's bad news for everyone. Europe is one of the three legs of the global economic stool, along with the U.S. and China, which is in the middle of its own debt crisis. America's recovery isn't strong enough to pull the world along. Europe's debt crisis is not only an economic crisis but also a political crisis–one that poses challenges not just the EU itself, but liberal democracy as the model of the future.
Greek top negotiator in line to become finance minister – source
Greece's chief negotiator in aid talks with international creditors, Euclid Tsakalotos, is the government's top candidate to become finance minister following the resignation on Monday of Yanis Varoufakis, a senior government official said.
Varoufakis' successor is due to be named after a meeting of political leaders that got under way at 10 a.m. (0700 GMT).
(reuters)
Greek banks to stay closed at least until Friday: bankers
ATHENS (Reuters) – Greece's banks will stay closed at least until Friday, four banking sources said on Monday, as the country tries to reopen bailout negotiations with official creditors and save its financial system from collapse.
Greece issued a decree last week imposing capital controls and ordered banks to close after the European Central Bank (ECB) froze a vital financial lifeline following the breakdown of bailout talks between Athens and its foreign creditors.
The crisis has deepened further following Greek voters' rejection in a referendum on Sunday of the terms of the country's international aid bailout, sharply increasing the risk of Greece leaving the euro zone.
Banks are struggling to keep their automated teller machine (ATM) networks fed with banknotes and dispense cash at the set daily withdrawal limit of 60 euros, gradually using up the remaining cash buffer in the system.
"The bank holiday will be extended until Friday or next Monday," one senior banker told Reuters.
The decree expires on Monday and the government is expected to issue a new decree to replace it. Senior bankers are expected to meet the finance minister about the situation later on Monday.
Without fresh emergency liquidity assistance (ELA) from the Greek central bank, bankers estimate that the availability of cash may start tightening after two to three days, which could lead authorities to lower the daily withdrawal limit.
"With the amount of remaining cash in the system, it is not certain that we can go until the end of the weekend at the daily limit of 60 euros," said another banker, who expected the ECB to keep the ELA funding cap at 89 billion euros on Monday.
(reuters)
Greek Finance Minister Resigns After Bailout Vote
8:57 a.m.
Greek Finance Minister Yanis Varoufakis has resigned, saying he was told shortly after the Greek referendum result that the other eurozone finance ministers and Greece's other creditors would prefer he not attend the ministers' meetings.
Varoufakis issued an announcement saying Prime Minister Alexis Tsipras had judged that Varoufakis' resignation "might help achieve a deal" and that he was leaving the finance ministry for this reason Monday.
Varoufakis is known for his brash style and fondness for frequent media appearances at the start of his tenure when the new government was formed in January. He had visibly annoyed many of the eurozone's finance ministers during Greece's debt negotiations.
3:35 a.m.
The final results of Greece's bailout referendum are in, with all 19,159 precincts reporting. The "No" side won with a higher than expected 61.31 percent, while "Yes" got 38.69 percent.
A total of 6.16 million Greeks voted in Sunday's referendum, or 62.5 percent of eligible voters. The poll needed a minimum 40 percent turnout to be valid.
(AP)
Greek crisis: financial markets buffeted in early trading after no vote
Many stock markets in Asia fall sharply – but losses are limited as investors eye up what next for Greece and the euro. Share prices were sent tumbling across Asia-Pacific on Monday after Greece's resounding no vote in the weekend's bailout referendum, but early losses appear to have failed to descend into regional turmoil.
All eyes were on how Japan and other key Asian markets would react after Greece overwhelmingly rejected the terms of a bailout offered by the country's international creditors on Sunday. Japan's Nikkei stock average was down 1.4% in early trading, after it dropped by 1.5% minutes after the market opened.
In Australia, around $A30bn was wiped off the value of shares as the country's benchmark ASX200 index fell almost 1.5% at the opening.
As expected, rising fears of a Greek exit from the eurozone sent investors flocking to the yen – considered a safe haven in times of global financial uncertainty.
On the forex markets, the euro was at 134.91 yen, compared with from 136.31 yen last Friday. The dollar also slipped to 122.58 yen from 123.05 yen.
A pattern emerged of early jitters in the currency markets followed by mild recoveries. The Australian dollar dipped to a six-year low of US$0.7484 in early trading but later recovered to 0.7509.
The euro, meanwhile, was down 0.8% at $1.1015 but off an early low of $1.0967. It had initially dropped around 1.5% against the yen. The US dollar also recovered from its early losses against the Japanese currency to 122.48 yen.
A similar story was unfolding in stock markets, although investors were clearly spooked by mounting uncertainty over Greece's continued membership of the eurozone.
By late morning, Japan's Nikkei stock index was trading down 1.4% at 20263.27, having fallen 339.64 points to 20,200.15 just after it opened. South Korea's Kospi fell 1.0% to 2,082.69.
Elsewhere in the Asia-Pacific, New Zealand's benchmark slipped 0.8% to 5,794.73. Shares were also lower in Taiwan, Singapore and Malaysia. MSCI's broadest index of Asia-Pacific shares outside Japan dropped 0.5%.
There were growing fears over whether emergency measures taken by China over the weekend would succeed in prevent its stock market from crashing, following a 30% plunge over the last three weeks.
Analysts said that regional market panic was unlikely, even after Athens appeared to take a step closer to a "Grexit" by roundly rejecting the bailout terms set by its international creditors But they added that negotiations this week would be critical.
"The Greece no vote is a surprise," Shoji Hirakawa, chief equity strategist at Okasan Securities, told Bloomberg News. "But the key is that the direction is going toward more talks after this."
Other analysts said markets had not expected Greek voters to reject the terms of the bailout so emphatically – a move that could see further losses on Monday and trigger an investor rush to US Treasuries or other government bonds that are seen as largely immune to market turbulence.
Markets in Europe were poised to open lower, but seemed unlikely to plunge dramatically according to futures trading. The FTSE was set to fall 90 points while Germany's Dax was expected to see a bigger drop.
Peter Chatwell at Mizuho International in London said the strength of the no vote was "a shock to the market," adding that "all safe haven trades should benefit".
Pavel Molchanov, equity research analyst at Raymond James, said: "The result was clearly a more decisive 'no' than the polls had suggested. This couldn't be more bearish for equities and commodities alike."
In one of the day's more colorful commentaries, analysts at Japan's Mizuho Bank said the Sunday's "Greferendum" had turned out to be a "Grief-erendum".
On what most had expected to be a tricky day for markets around the world, dealers stressed that uncertainty over Greece's future had not rocked markets as badly as some might have expected.
In a rare glimmer of hope, they pointed to signs that the European Central Bankwould step in early with a pledge of extra liquidity. At the very least, the ECB is expected to maintain emergency funding for Greek banks at its current restricted level.
"A lot depends now on what the ECB does with liquidity support for the Greek banks," said Antonin Jullier, head of equity trading strategy at Citi.
Attention is now turning to how European markets respond later in the day, as well as the outcome of an emergency meeting between German Chancellor Angela Merkel and French President Francois Hollande in Paris on Monday afternoon.
"The ECB has the capacity to limit the spread of contagion … but we might still see a fall of 3% on European markets on Monday," added Jullier.
Greece's EU and IMF creditors will discuss their next move on Tuesday.
"If the troika uses this vote to boot Greece from the euro, the risk off trade will likely continue to widen spreads," said Steve Blitz, chief economist at stockbroker ITG.
"At risk going forward is the possibility of any number of nations seeking to divorce themselves from the euro in order to more easily, in their view, meet the ongoing rush of future obligations tied to pensions, etcetera."
(Guardian)
Greece debt crisis: Tsipras says voters made "brave choice"
Greece's Prime Minister Alexis Tsipras has said that the Greeks made a "brave choice" in voting to reject the terms of an international bailout. The final result in the referendum was 61.3% "No", against 38.7% who voted "Yes". Turnout was 62.5%.
Thousands of Greeks celebrated in the streets after the vote, waving flags, chanting and setting off fireworks. But European officials and "Yes" supporters have warned the result could see Greece ejected from the eurozone. The euro fell across the board in Asian markets after the referendum.
'No blackmail'
Greece's governing Syriza party had campaigned for a "No", saying that the bailout terms were humiliating. Mr Tsipras said late on Sunday that the Greeks had proved that "democracy won't be blackmailed." Speaking in a televised address, he said: "Given the unfavorable conditions last week, you have made a very brave choice."
"But I am aware that the mandate you gave me is not a mandate for rupture."
He said that Greece would go back to the negotiating table on Monday, adding that an International Monetary Fund (IMF) assessment published this week confirmed that restructuring Greek debt was necessary. But some European officials had already warned that creditors could take a "No" vote to mean that Greeks had rejected further talks.
European leaders were varied in their openness to more talks with Greece after the vote. Germany's Deputy Chancellor, Sigmar Gabriel, told local media that renewed negotiations with Greece were "difficult to imagine" and that Mr Tsipras had "torn down the bridges" between Greece and Europe.
However, Italian and Belgian ministers were more conciliatory, with Belgium's finance minister saying that the door remained open to restart talks "literally, within hours".
'Difficult time'
Jeroen Dijsselbloem, who heads the eurozone's group of finance ministers, said the referendum result was "very regrettable" for the future of Greece.
Meanwhile, Martin Schulz, the president of the European Parliament, warned that Europe was entering "a very difficult and even dramatic time" unless the Greek government made "meaningful" proposals in the coming hours.
Greece had been locked in negotiations with its creditors for months when the Greek government unexpectedly called a referendum on the terms it was being offered.
Thousands celebrate Greece's 'No' vote despite uncertainty ahead
Having squarely rejected the terms of new financial aid for their cash-strapped country, Greece wakes up to an uncertain future on Monday.
But on Sunday night, thousands rejoiced at the outcome of a referendum that they said slapped down the architects of a five-year austerity drive that has ravaged the economy of this southern European nation.
In a result that was more definitive than polls had predicted, 61 percent of voters rejected creditors' demands for Greek tax hikes and pension cuts.
At Syntagma square in central Athens, several thousand people waved "No" banners and chanted, "they will never win," as the results of the referendum trickled in. Families wrapped themselves in the Greek flag and danced to traditional tunes, while others set off fireworks above the square's blue-tinted fountain.
"The 'No' message is that we're not scared after all the pressure that have we have faced from both Europe and inside our country," said Stathis Efthimiadis, a 47-year-old schoolteacher.
Like other "No" voters, Efthimiadis said he did not believe warnings by European and some Greek officials over the past week that a "No" vote would set off a cascade of events that would usher Greece out of the euro.
Instead, he and others said they looked forward to Prime Minister Alexis Tsipras returning to the negotiating table and extracting less grueling conditions for Greece in exchange for a new bailout package.
"Next week, the Greek government has the opportunity with this 'No', to expect from the Bruxelles' technocrats a negotiation based on the values of democracy and equal rights in European Union," echoed Konstantinos Petras, a 65-year-old retired mechanic.
Tsipras, who sprang the referendum on his country on June 26th after talks with creditors broke down, urged Greeks all week to vote no. In an address on Sunday night, he said that by heeding his advice, Greeks had now given him a strong mandate to reach a "viable solution" with European partners.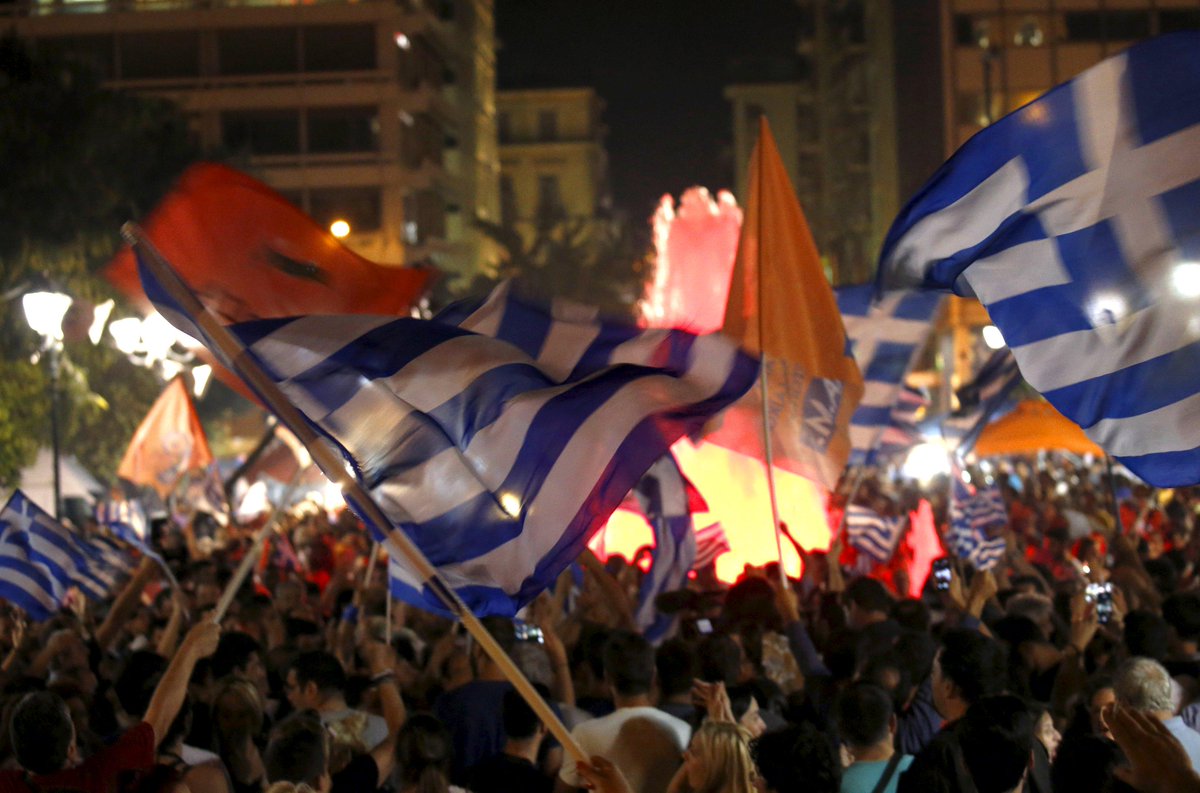 But European officials have said it would be difficult to sit down with Tsipras after a 'No' vote that they would interpret as a hostile act.
In the interim, Greeks are suffering through capital controls – restrictions on their financial lives imposed by the government to prevent a breakdown of the banking system.
Banks are expected to stay closed at least until Tuesday. Greeks also cannot take out more than 60 euros ($66) from cash machines and will not be able to withdraw cash from safety deposit boxes. Pensioners, meanwhile, face the uncertainty of whether they can cash in their retirement benefits.
Michalis Tsatsakis, a 35-year-old bank employee who was celebrating in Syntagma, said he has faced difficult moments over the past week, telling many clients that they cannot access the money in their deposits. Tsatsakis also said that if banks stayed closed for days to come, he expected cash machines to run out of money soon.
Still, he said Greeks would be resilient in the face of the financial squeeze.
"I believe there will be some problems in the banking sector, but we should be able to handle them," he said. 'I want Mr. Tsipras to insist. He should be firm. We trust him."
Petras, the pensioner, whose retirement benefits have been cut over the past few years, said that he thought the banks would be operating again soon. "We can use a card anyway and buy whatever we want, we don't need cash. And I don't think that banks will block cards," he said. "I hope not."
Sunday's vote would have been a difficult choice for any country. In Greece, people headed into the vote tired and angry after five years of cuts to wages, pensions and public services – a toxic combination of austerity that has reduced household incomes by a third and left one out of four out of a job.
Yet on Sunday evening, many said that the country had united around the referendum, in which 62 percent of the voting population had cast a ballot.
"'No' means we can all agree, and this verdict unites us around something," said Odysseas Konstantinou, a 25-year-old actor. "Big changes need big sacrifices. Now we need to keep calm." ($1 = 0.9081 euros)
(Writing by Alessandra Galloni; Editing by Ken Wills)/reuters
Official projection shows 'NO' winning in Greek referendum
ATHENS, Greece (AP) — Greece faced an uncharted future as its interior ministry predicted Sunday that more than 60 percent of voters in a hastily called referendum had rejected creditors' demands for more austerity in exchange for rescue loans.
Prime Minister Alexis Tsipras, who was gambling the future of his 5-month-old left-wing government on the vote, insisted that a "no" vote would strengthen his hand to negotiate a better deal with creditors, while a "yes" result would mean capitulating to their harsh demands.
The opposition has accused Tsipras of jeopardizing the country's membership in the 19-nation club that uses the euro and said a "yes" vote was about keeping the common currency.
With about a quarter of the votes counted Sunday evening, the Interior Ministry issued an official projection that the "no" side would win handily.
The vote was held amid banking restrictions imposed last Monday to halt a bank run, with Greeks queuing up at ATMs across the country to withdraw a maximum 60 euros per day. Banks have been shut all week, and it is uncertain when they will reopen.
Governing left-wing Syriza party Eurodeputy Dimitris Papadimoulis said that "Greek people are proving they want to remain in Europe" as equal members "and not as a debt colony." The referendum was Greece's first in 41 years.
Papadimoulis said the country should wait for the official and final results of Sunday's referendum, and called on his fellow countrymen to remain calm.
Minister of State Nikos Papas, speaking on Alpha television, said it would be "wrong to link a 'no' result to an exit from the eurozone. If a 'no' prevails that will help us get a better agreement."
Tsipras' high-stakes brinkmanship with lenders from the eurozone countries and the International Monetary Fund resulted in Greece defaulting on its debts this week and shutting down its banks to avoid their collapse. He called the referendum last weekend, giving both sides just a week to campaign.
"Today, democracy is defeating fear … I am very optimistic," Tsipras said earlier in the day after voting in in Athens.
European officials have openly urged Greeks to vote against the government's recommendation.
"I hope people say 'yes,'" European Parliament President Martin Schulz told German public radio. "If after the referendum, the majority is a 'no,' they will have to introduce another currency because the euro will no longer be available for a means of payment."
As voters flocked to polling stations, large lines once again formed at ATMs.
Daniel Tsangaridis, a 35-year-old Athens resident, said he didn't expect banks to reopen soon, despite a government pledge that they would do so Tuesday.
"It's not going to happen in the next 48 hours," he said. "If the situation improves and we can have a deal, then the banks will open."
Tsipras' left-wing Syriza party came to power in January after a six-year recession. Since then, the standoff between Athens and its international lenders has grown more bitter, and early signs of some economic growth and recovering employment in Greece have disappeared.
The debt-wracked nation also suffered repeated ratings downgrades and lost access to billions of euros after its existing bailout deal expired last week.
Polls published Friday showed the two sides in a dead heat with an overwhelming majority — about 75 percent — wanting Greece to remain in the euro currency.
"Today, we Greeks decide on the fate of our country," conservative opposition leader Antonis Samaras said. "We vote 'yes' to Greece. We vote 'yes' to Europe."
The sense of urgency was palpable as Greeks struggled to decipher a convoluted referendum question after being bombarded with frenzied messages warning of the country's swiftly approaching financial collapse.
Neither result on Sunday, however, would lead to a clear answer on what Greece should do about its overstretched finances.
Greece is no longer in a bailout program since its previous package expired last Tuesday. It now has to negotiate a new one with its creditors that involves even more money for the government and banks and new economic austerity measures.
Despite the Greek government's assertion that a "no" vote will not lead to a euro exit, most experts agree it would open up more uncertain financial outcomes.
A number of European politicians, including Jeroen Dijsselbloem, the top eurozone official, have said a "no" vote would jeopardize Greece's place in the 19-nation eurozone. Investors are also likely to believe a "no" win increases the chance of a so-called "Grexit," where Greece returns to its own old currency.
___
Online: Official referendum website: http://www.referendum2015gov.gr/en/
___
Associated Press writers Elena Becatoros, Greg Katz, Iuliia Subbotovskaia and Eftehia Katsareas in Athens, Greece, and Pan Pylas in London contributed to this report.
Greek referendum final polls show 'No' vote ahead by small margin
Final opinion polls released after the end of voting in Greece's referendum showed the 'No' vote leading by a small margin in Sunday's vote on a bailout proposal from creditors.
No exit polls were released.
Three opinion polls by GPO, Metron Analysis and MRB all showed the 'No' camp ahead by a margin of three points.
A poll by Marc estimated 49.5 to 54.5 percent of Greeks voted 'No' compared to 45.5 to 50.5 percent voting 'Yes', based on surveys conducted through the week.
The polls were released after voting ended on Sunday because of a ban on the publication of polls on the day before a vote is held.
Nikos Voutsis, Greece's interior minister and a close ally of Alexis Tsipras, has just spoken to the media.
He says that participation rate is over 50%, meaning the referendum is legally valid (the threshold is 40%). Feedback from the public shows that the public are satisfied with the way the referendum was held.
And Voutsis says that we should get a good official indication of the result by 9pm local time, or 7pm BST/2pm ET.
(Reporting by Athens newsroom, Writing by Deepa Babington, editing by Alessandra Galloni)
(reuters)
Greece's 'nays' have it–how markets will react:
Greece's rejection of a set of repayment terms offered by its international creditors is likely to be the biggest factor driving stocks when opening bells sound in global markets on Monday.
The Greek people decided that the poll—rather than a vote on euro membership as some in Europe had warned—was in fact a vote on the austerity policies which have contributed to ordinary Greeks feeling much worse off. A lot of the market's reaction may depend on whether investors believe they won't have a messy departure from the single currency as a result.
"There is nothing yet to say that a strong 'No' win would materially increase Grexit risks, [which] will become clearer once we see what line of negotiation he (Tsipras) takes on Monday," Peter Chatwell, senior rates strategist at Mizuho International, wrote in a research note.
(CNBC)
Greeks cannot tap cash in safe deposit boxes under capital controls
Greeks cannot withdraw cash left in safe deposit boxes at Greek banks as long as capital restrictions remain in place, a deputy finance minister told Greek television on Sunday.
Greece's government shut banks and imposed capital controls a week ago to prevent the country's banks from collapsing under the weight of mass withdrawals.
Deputy Finance Minister Nadia Valavani told Alpha TV that, as part of those measures, the government and banks had agreed at the time that people would also not be allowed to withdraw cash from safe deposit boxes.
(Reporting by Lefteris Papadimas and George Georgiopoulos)
(reuters)
==============================================================
18 key facts about Greece that will leave you totally up to date about a huge crisis (originally published on 6/29):
Greece is heading toward a major vote Sunday that will both shape the future of its economy and Europe's monetary union. It is a complicated story, and we'll try to give you a clear sense of what's going on and what's next.
But Anil Kashyap of the University of Chicago Booth School of Business has released an excellent primer  of his own that's worth a read. Kashyap wrote the piece last weekend, before Greece officially defaulted June 29 on a key payment to the International Monetary Fund, and the situation continues to evolve into the weekend. In an e-mail, Kashyap notes a few other important developments since his primer came out, including that some Greek officials have pledged to resign if Greeks vote Yes on the referendum; that creditors won't negotiate anymore until after the vote; and that a new IMF debt analysis sheds additional light on the grave situation facing Greece.
Read over the primer's 18 questions and answers–reprinted here–and come away far more knowledgeable about Greece's crisis, contributed by Zachary A. Goldfarb, policy editor at The Washington Post.
1) How did Greece get into such trouble?
Greece from the mid-1990s until last year was constantly spending more than it was collecting in tax revenues. For most of this time, the country's initially reported numbers showed small differences that were subsequently found to have been much larger. The revisions tended to be most substantial right after elections when a new government would find that its predecessor was much more profligate than had been reported. Because of these deficits, the country borrowed to cover the shortfalls and its debt burden was steadily rising.
In the fall of 2009, a then newly elected government reported that the deficit for that year was going to be 13.6 percent of economic output and that the deficits in 2007 and 2006 were also larger than had been reported. From that point onward, the world began to wonder if Greece really could pay the debt that it had issued or needed to default. Its borrowing costs rose sharply and the country began looking for ways to reduce its required debt payments and end its borrowing addiction.
2) Wasn't Greece already bailed out in 2010?
By the spring of 2010 the excessive debt problem became unbearable and there was open speculation that Greece would default. The country had done this on four occasions previously since 1800. Much of the government debt was owed to banks outside of Greece, with the largest amounts in France and Germany. So if Greece had stopped paying, the French and German banks would have suffered substantial losses.
Greece was lent new money in 2010, but as Karl Otto Pohl, former head of the German central bank observed, at the time much of that money was used to repay the obligations owned by the French and German banks. The new lending was advertised by the politicians across Europe as a rescue for Greece. But it was at least as much a deal to buy time for the banks and other owners of Greek debt to avoid a default. Greece did avoid default, but the support came with requirements designed to make sure that the country end its chronic deficit spending.
3) Why did that rescue fail?
To justify the new lending, the lenders had to be assured that the deficits would end and that the country would grow enough to be able to service its debt. In May of 2010, the International Monetary Fund (IMF), led at the time by Dominique Strauss Kahn, who had ambitions of running for the presidency of France, conducted an analysis to see if such a scenario was realistic. The report at the time concluded that if Greece undertook drastic reforms it could close its deficits and begin growing so that over time the debt (including the new lending that was being provided) would be manageable.
This analysis was later shown to be deeply flawed by the IMF itself. The Greeks did actually cut their deficits substantially, but many of the reforms that were supposed to support growth did not occur and the economy contracted substantially. So the debt, relative to the size of the economy, did not improve. Importantly, no debt was written off in 2010, even though many analysts, including some on the executive Board of the IMF, at the time believed that it was necessary and that the banks and other private sector owners of the debt should have taken some losses.
4) What is the troika (or the institutions) and what do they have to do with this?
The new lending in 2010 came from two sources, a fund that was raised from European governments and the IMF. The bailout fund was overseen by the finance ministers of these governments. The European Central Bank also provided support to Greece in two ways. First, it allowed banks in Greece (and everywhere else) to borrow from it by posting bonds guaranteed by Greece as the collateral. Second, it bought some Greek government bonds in the open market. So all three of these organizations were now exposed to losses in the event that Greece ever defaulted. As such, they had representatives that met regularly with the Greek government to make sure that the reforms were on track. Initially the three were called the troika. Subsequently, they have also been referred to as "the institutions."
5) Wasn't Greece also bailed out in 2012?
By late 2010 it was already clear that the debt burden might prove to be unsustainable. So discussions began over reducing the debt. The Greek government was supposed to sell some assets to retire some of the debt. That never happened and as the recession continued it was clear that the 2010 plan was not going to be adequate. So in March 2012 a second bailout program with revised terms was undertaken.
The IMF lent additional money, but the main conditions that accompanied the funding were largely the same. Once again, the cornerstones of the plan continued to be steps to make tax collection more efficient, to reduce spending promises, and to undertake reforms to encourage hiring and business expansion that would support growth. It was not clear why this plan would be more successful than the first one.
The European Central Bank meanwhile became more deeply committed to stabilizing financial markets. ECB President Mario Draghi famously said in July 2012 that "within our mandate, the ECB is ready to do whatever it takes to preserve the euro. And believe me, it will be enough." Draghi's statement immediately led to a drop in borrowing costs for governments across Europe and the pressure on Greece temporarily subsided.
By continuing to allow banks everywhere to use Greek debt as collateral, the ECB also created conditions that supported the trading of Greek debt. By this time the French and German banks had shed their exposure to Greece so that they would no longer be directly harmed if there was a default. So the stealth rescue of the non-Greek banks was completed with little public attention and the narrative that all the problems were self-inflicted by the Greeks became more pronounced.
6) Why is Greece in trouble again now?
In the time since Draghi's statement three important things happened in Greece. First, Greece made further substantial progress on closing its deficits. By late 2014, Greece was finally spending less than it was collecting, although the interest payments on debt meant there was still an overall deficit. So for the first time since Greece adopted the euro it had budget position that was solid.
Second, the economy contracted for two more years as the reforms failed to deliver higher growth. Certainly the higher tax collections and reduced government spending contributed to the weak performance, but the degree to which the planned reforms, if fully implemented, could
have offset that remains controversial. It is important to also recognize the massive collapse was
preceded by a very large debt-fueled boom.
Austerity notwithstanding, the economy seemed to have reached bottom and was finally beginning to recover in late 2014. A very interesting counterfactual scenario is to contemplate what would have happened if the political situation had allowed this progress to continue.
The third major development, however, was that the public lost confidence in the incumbent government and its lenders. Unemployment in Greece has remained above 25 percent for years and
was much higher for young people. So the citizens were fed up. Hence, in 2015 the public voted
for a new government that insisted on deviating from the past playbook.
The major party in the new coalition, Syriza, is often referred to a coalition of the radical left. In January 2015, newly elected Prime Minister Alexis Tsipras sought to reopen negotiations with Greece's creditors.
7) What is the Greek government asking for?
The Tsipras government wanted three types of changes. First, it wanted to restore some of the spending cuts that had been enacted. Second, it wanted to reverse some of the revenue hikes that the past governments had instituted. These first two requests would have widened the deficit and also reorganized priorities within the budget. (In fact, once it became clear that Syriza was going to win the election, tax revenues began shrinking as the public stopped paying some unpopular taxes).
Finally, it wanted outright forgiveness of some of the debt that had accumulated.
Since taking office, Tsipras has been negotiating with the creditors over for a new set of agreements. The creditors have made some modest concessions but are largely insisting on a continuation of similar plans.
When he failed to secure these changes, Tsipras announced that he would have the Greek people vote on a referendum on July 6 over whether Greece would vote yes to accept the creditors latest offer or vote no to reject it.
8) Why do the institutions disagree with the government?*
There are two sources of objections that the creditors have with Tsipras' requests.
First, and probably most importantly, countries such as Italy, Portugal, Spain, and Ireland, had all had to undertake similar types of adjustment as in Greece. None of them saw their economies collapse to the extent of Greece, but unemployment especially among the young is also high in all these countries. Hence, if there are substantial concessions to Greece, then these countries will insist upon getting similar treatment. The existing governments in these countries all realize that if electing a radical government in Greece is seen as being rewarded, then voters elsewhere will do the same.
The money needed to save Greece could easily be found. Greece is a small economy, so even though their debt is large when judged relative to Greece's economy, it is small relative to the overall capacity in Europe. In contrast, the money needed to forgive debt in the other countries, especially Italy and Spain, is not affordable for Germany (and all the other Northern European countries that would have to foot the bill).
Second, even if there was some way that Greece could be helped without setting a precedent, the officials do not trust the Greeks to carry through with any plans. The fact that Prime Minister Tsipras is asking for a public referendum to accept a continuation of prior policies was the straw that broke the camel's back. Tsipras is arguing that the public should reject the plans.  The institutions doubt that he could reverse his position and suddenly begin taking steps which he has campaigned against for years. They also are infuriated that he believes his mandate to get better terms supersedes the ones that other elected governments had from their citizens that wanted no more bailouts.
Another consideration is that IMF, the ECB and the other European leaders believe that unlike before, if Greece defaults the spillovers can be managed.
9) Why was the IMF loan that came due June 29 so important?*
The IMF made loans in 2010 to Greece that no private lender would have been willing to make. It did so with the presumption that it would be first in line to be repaid subsequently.
For failing businesses in many countries, there is analogous arrangement where in a bankruptcy situation a judge can decide that a business is worth more if it can continue to operate with some new funding, than if it was closed and sold off immediately. In that case, the new funding gets highest priority for repayment (otherwise no one will lend) and a judge will make sure that is the case. For countries, enforcing this priority is a problem since there is no court or other authority that can compel a country to pay.
Greece did not pay the IMF the €1.55 billion that it was owed on Tuesday. Now that it has defaulted, Greece has become an international pariah. To preserve its own ability to operate in future crises, the IMF must insist on being repaid. If it ever accepts the idea that a country can default if things go south, then it will never get repaid in the future. So the IMF will continue to seek repayment, no matter how flawed the analysis that led to the lending in the first place.
Interestingly, Greece did make a small payment to the European bailout fund, so it will not be in default to that lender even if it does fall behind with the IMF.
10) What did the ECB decide last weekend and why did Greece close its banks?*
The ECB decided it could no longer keep accepting additional collateral from the Greek banks that was guaranteed by the Greek government. This means no more extraordinary lending will be extended. The ECB was worried that Greece might not honor the obligations and hence it could be left with collateral that would be insufficient to cover the loans it extended already. This is in keeping with Draghi's promise of staying within the ECB mandate; lending when losses are expected would be clearly illegal.
However, the ECB has not completely cut off its support to Greece. The ECB could have recalled all of its loans, or demanded even more collateral for the existing loans. But for the Greek banks this removed the only viable option for obtaining more cash. They do not have assets that they can sell to come up with more cash. So without the ECB's full support, they are in serious trouble.
Greece has closed the banks so that depositors cannot take out all of their money. There are now limits on how much depositors can get from ATMs and limits on wire transfers. So depositors are nervous and scared about what is going to happen.
11) What can Greece do to save its economy now?
Greece must either find a new lender, which seems very unlikely, or survive with very little credit for a while; Russia will not step in to offer support, since doing so would likely wind up with some of the resources transferred to other creditors and Russia has its own big fiscal problems.
If there is a no vote, Greece will likely stop payments on all debt. Being cut off from credit markets, it will now be forced to match its spending to the revenue it is receiving. To ease the burden, the government will likely distribute IOUs of some form to government employees, vendors and pensioners. It may even have to use IOUs to fund the referendum.
These IOUs will likely circulate as a form of money alongside the euro. People will strongly prefer euros to the IOUs, so the IOUs will trade at a discount.
Some people and businesses may resort to bartering.
12) Why not just bring back the drachma?
The public will have little confidence in the IOUs that the government issues. Probably even
less confidence if Greece opts to officially introduce a new currency. Reintroducing the drachma would be totally illegal under European law and form the basis for a law suit to force Greece out of the European Union (EU). As part of the EU, Greek citizens can travel freely and work anywhere within Europe. Greek goods are also allowed to be sold without being subject to tariffs. Expulsion from the EU would be devastating.
Issuing IOUs which are not officially touted as a currency is a better option for Greece for now.
13) Will the Greek crisis spread?
It depends largely on what citizens make of the impending chaos in Greece. If people believe that their governments also might default on debt, they could also try to get money out of the banks. Likewise, investors could refuse to buy newly issued debt.
The ECB is likely to be able to head off both these problems. It is already buying debt and can do more of that. It also can lend against the collateral guaranteed by these governments. The ECB can probably contain the immediate fallout.
The political contagion is much harder to assess. Perhaps if Greece emerges in better shape in the medium term, then other countries will follow. Tsipras was betting that this concern would be so powerful that Europe would never take this risk.
14) What is likely to happen next in Greece?
The outcome of the referendum now becomes critical. If the public votes "yes," then perhaps the existing government (likely reorganized) will be able to reopen the banks and conclude a deal.
But, if the public sides with Tsipras government, then there will be a very sharp recession over the next few months. Tax collection is likely to collapse. The Tsipras government is unlikely to survive the economic collapse.
If the post-Tsipras government opts to proceed with the default, then the next big unknown is how long before the economy stabilizes. At some point Greece will be a very attractive tourist destination, and its goods that are no longer priced in euros will be more competitive, so at some point the economy will begin to turn around. Whether this takes months or quarters will depend on many decisions that are difficult to forecast now.
15) What happens to the IMF if its loan is not repaid?
It will continue to pursue its claim against Greece. Greece will not be able to borrow internationally until it makes peace with the IMF. So the IMF will eventually be repaid. This could take years.
The IMF is likely to be criticized further for the recommendations it made, particularly in 2010. Perhaps it will be reformed to limit its discretion in lending.
Traditionally the head of the IMF has been a European. That is very likely to change since many countries believe that Greece was treated preferentially because it was a European country.
16) What happens to the ECB if Greece defaults?
The loans made to Greece are extended by the Greek central bank, which in turn borrows from
the ECB. So the ECB will have a large claim against the Greek central bank that is likely to turn into a significant loss.
17) Can the ECB survive if Greece defaults?
The ECB can definitely continue even if Greece defaults. The ECB has provisions set aside to cover some losses. It also is making lots of profits on the bonds it owns (that it pays for with money that pays no interest). So the Greek losses per se are not a problem.
A default by a larger country such as Italy or Spain would be very different.
18) What should have been done to avert this crisis?*
Greece should have defaulted in 2010. Its debt burden then was unsustainable and nothing since then has changed this. It is true that financial markets were much more jittery at that time, but the money that was raised to pay off the creditors in that bailout could have been diverted to support Greece and other weak countries. Once the bad rescue of 2010 was undertaken, it was inevitable that some form of debt relief was going to be necessary.
Imagine how different the political dynamics in Europe would have been if the German and
French banks had been explicitly bailed out.
(Editor's note: Not everyone agrees with this perspective, and many policymakers would argue Europe could not allow a default during such a fragile time in the markets. But it's a worthwhile perspective to consider, given where we are now.)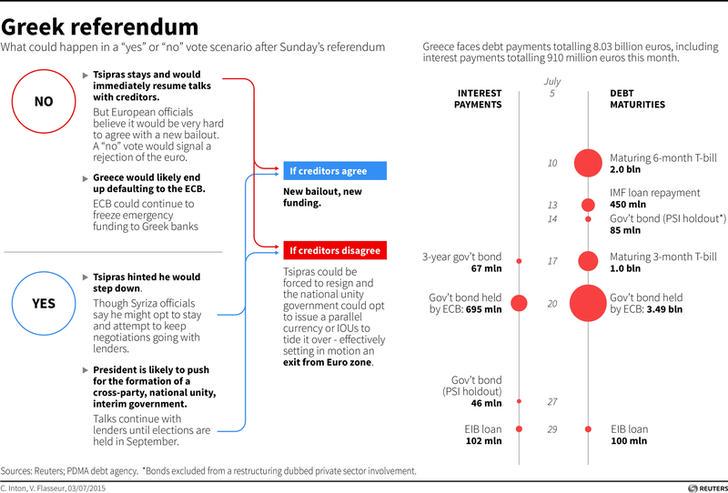 (image:Reuters)
Below are new developments during referendum:
Greeks Decide The Fate Of Their Economy In Crucial Referendum
As deeply divided Greeks go to the polls in a referendum that could determine whether the European Central Bank extends a crucial line of credit and the country remains in the euro zone, Finance Minister Yianis Varoufakis has vowed to resign if they vote "yes" to bailout terms that the government opposes.
The referendum is on whether the country should accept a deal – including harsh austerity measures — that has technically been removed from the table by international lenders. German-led negotiations presented the latest bailout agreement as a take-it-or-leave-it proposition that expired when Athens missed a crucial payment last Tuesday on an International Monetary Fund loan.
The left-wing government of Prime Minister Alexis Tsipras is pushing for debt forgiveness, not an unpopular austerity, which his party ran against in a campaign that brought him to power in January.
Joanna Kakissis, reporting from Athens for NPR, says that the referendum is confusing Greeks because it is about a credit deal that no longer exists. A "yes" vote, however, is likely to be read as support for keeping the euro and continuing talks on the basis of the earlier deal. However, a "no" vote in support of the government could spell further chaos and uncertainty even if creditors are willing to reopen talks.
As Reuters writes, the referendum is being "[held] against a backdrop of default, shuttered banks and threats of financial apocalypse. … [it is] too close to call and looked certain to herald yet more turbulence whichever way it went."
Opinion polls in the run-up to the vote have indicated the outcome in the referendum is likely to be very close – with younger Greeks, who have the highest rate of unemployment – more likely to vote no than the country's older citizens.
"I voted 'No' to the 'Yes' that our European partners insist I choose," Eleni Deligainni, 43, in Athens, told Reuters. "I have been jobless for nearly four years and was telling myself to be patient … but we've had enough deprivation and unemployment."
But retired school teacher Themis Hatziyannaki, 84, tells The Associated Press that she wants to continuing enjoying the privileges of her Greek and European citizenship. Even so, she's not surprised that younger Greeks are voting against the referendum in larger numbers.
"I understand them, because when I was young I was a rebel," she tells the AP.
Meanwhile, Germany's Foreign Minister Frank-Walter Steinmeier says Greece will remain in the 28-nation European Union even if it gives it rejects the bailout, but he warned that a "Grexit" from the common euro currency used by 19 of those countries was more likely and would damage Europe's credibility in the world.
2 choices, many possible results for Greece's landmark vote
LONDON (AP) — The Greek people are voting on a future in which they face two painful prospects: the slow grind of years more of austerity cuts or the country's potentially catastrophic exit from the 19-nation eurozone.
The question is whether their vote on Sunday can help them escape either.
"Yes" to more budget cuts demanded by creditors in exchange for a financial aid package for the country? Or reject it in the hope it will not lead the country out of the euro?
For the radical left-led Greek government, the proposals are unacceptable. It's urging a "no" vote and says that will have no impact on Greece's euro status.
Proponents of a "yes" vote, including a parade of former prime ministers and the main opposition party, say backing the government will jeopardize Greece's place in the euro. Instead, they argue that by voting "yes" Greece would get a new deal quickly to shore up the economy.
In fact, what might happen in each case is unclear. Here's a look at each possibility:
___
IF THE PEOPLE SAY 'NAI'
A "yes" vote backing the reform proposals creditors had made would likely see Greece turn immediately to talks on a new rescue package. Whether that leads to a swift deal that might allow Greece to reopen its banks and restore a semblance of normality is another question.
The government has said it will respect the verdict. Greek Finance Minister Yanis Varoufakis has said he'll resign in the event of a "yes" vote and Prime Minister Alexis Tsipras has hinted as much. If the government does not collapse, it could try to build a new coalition with other parties, Varoufakis hinted.
It's not clear, however, if that would involve new elections. That would take time and without financial assistance, Greece would surely go bankrupt.
Greece is no longer in a bailout program since its previous package expired. So it would have to negotiate a new one with its creditors that involves more money for the government and the banks and new economic austerity measures. That is unlikely to be agreed on overnight, meaning the banking restrictions on money withdrawals and transfers may remain in place for longer than anticipated.
Varoufakis says banks will reopen Tuesday whatever the referendum's outcome. That's unlikely to happen unless the European Central Bank agrees to increase the credit to Greek banks.
An additional difficulty is that the International Monetary Fund has said it will not get involved in a third bailout unless it includes substantive debt relief for Greece. The Europeans, on the other hand, have ruled out debt relief until Greece makes its reforms.
___
IF THEY SAY 'OXI'
Despite the Greek government's assertion that a "no" vote will not lead to a euro exit, most people agree it would open up more uncertain outcomes, especially if the ECB halts its life-support measures to Greece's banks.
A number of European politicians, including Jeroen Dijsselbloem, the top eurozone official, have said a "no" vote would jeopardize Greece's place in the euro. Others, such as the leaders of France and Italy, appear to be holding the door ajar for further talks.
But investors are likely to believe that a "no" vote increases the chance of a Greek exit from the euro, or "Grexit."
The word 'Grexit' has dominated the past months of negotiations on Greece. But the country will not return to the drachma — Greece's former currency — immediately. Rather, the risk increases the longer there is a deadlock in talks. Without a deal and without money, Greece will default on more of its debt repayments and will not be able to pay salaries or pensions. The banks will run dry, even with the cash withdrawal limits.
In such a case, printing a new currency may be the only option available, which almost everyone thinks will be a short-term disaster for the Greek economy.
(image:AP)
Quartet of crises threatens Europe's core:
Four great crises around Europe's fringes threaten to engulf the European Union, potentially setting the ambitious post-war unification project back by decades.
The EU's unity, solidarity and international standing are at risk from Greece's debt, Russia's role in Ukraine, Britain's attempt to change its relationship with the bloc, and Mediterranean migration.
Failure to cope adequately with any one of these would worsen the others, amplifying the perils confronting "Project Europe".
Greece's default and the risk, dubbed 'Grexit', that it may crash out of the shared euro currency is the most immediate challenge to the long-standing notion of an "ever closer union" of European states and peoples.
"The longer-term consequences of Grexit would affect the European project as a whole. It would set a precedent and it would further undermine the raison d'être of the EU," Fabian Zuleeg and Janis Emmanouilidis wrote in an analysis for the European Policy Centre think-tank.
Though Greece accounts for barely 2 percent of the euro zone's economic output and of the EU's population, its state bankruptcy after two bailouts in which euro zone partners lent it nearly 200 billion euros ($220 billion) is a massive blow to EU prestige.
Even before the outcome of Sunday's Greek referendum was known, the atmosphere in Brussels was thick with recrimination – Greeks blaming Germans, most others blaming Greeks, Keynesian economists blaming a blinkered obsession with austerity, EU officials emphasizing the success of bailouts elsewhere in the bloc.
While its fate is still uncertain, Athens has already shown that the euro's founders were deluded when they declared that membership of Europe's single currency was unbreakable.
Now its partners may try to slam the stable door behind Greece and take rapid steps to bind the remaining members closer together, perhaps repairing some of the initial design flaws of monetary union, though German opposition is likely to prevent any move towards joint government bond issuance.
The next time recession or a spike in sovereign bond yields shakes the euro zone, markets will remember the Greek precedent.
DESTABILIZING
An economic collapse of Greece, apart from the suffering it would cause and the lost billions for European taxpayers, could aggravate all three of Europe's other crises and destabilize the fragile southern Balkans.
With tension already high in the eastern Mediterranean due to civil war in Syria, the eternal Israeli-Palestinian conflict, the unresolved division of Cyprus and disputes over offshore gas fields, a shattered Greece might turn to Russia for help. In exchange, it might veto the next extension of EU sanctions against Moscow, or even offer access to naval facilities once used by the United States.
Athens is already struggling with an influx of refugees from the Syrian and Iraqi conflicts who wash up on its Aegean islands, seeking the safest transit route to Europe's prosperous heartland in Germany or Sweden.
Cash-starved Greek authorities are more than happy to see them head north in search of asylum elsewhere in the EU. It is not hard to imagine a government cast out of the euro zone using migrants as a means of piling pressure on EU countries.
The "boat people" crisis has proved divisive in the EU, with Italy and other frontline states accusing their northern and eastern partners of lacking solidarity by refusing to co-finance or take in quotas of refugees. Britain has refused to take any.
Failure to resolve Greece's debt crisis after five years of wrangling makes the EU look weak and divided in the eyes of Russian President Vladimir Putin, Chinese President Xi Jinping and others looking to expand their power.
Brussels officials acknowledge that the euro zone crisis has caused a renationalization of decision-making on some policies and sapped the "soft power" of Europe's model of rules-based supranational governance. It has weakened the EU's hand in world trade and climate change negotiations.
Worse may yet be to come.
Britain's demand to renegotiate its membership terms and put the result to an uncertain referendum by 2017 raises the risk of the EU losing its second largest economy, main financial center and joint strongest military power.
Despite opinion polls showing British supporters of staying in the EU have roughly a 10 point lead, and some relief that Prime Minister David Cameron did not include any impossible demands in his renegotiation agenda, there is nervousness in Brussels.
UK opinion polls got the May general election spectacularly wrong. Since his victory, Cameron has been tripped up several times by Eurosceptic rebels in his Conservative party.
A long, agonizing Greek economic meltdown, whether inside or outside the euro zone, with social unrest and political havoc, might reinforce those who argue that the UK economy is "shackled to a corpse".
Given Russia's lingering Cold War hostility towards Britain, seen in Moscow as the United States' most loyal ally, Putin would likely be delighted by any prospect of the UK leaving the EU.
It would weaken those in the EU seeking a robust response to Russian behavior in Ukraine and Georgia and detach Washington's trusty partner from the continental bloc, although Britain would remain a member of NATO.
That could strengthen Putin's hand in dealings with German Chancellor Angela Merkel, who has led European diplomacy seeking to restore Ukraine's control over all its territory.
Rem Korteweg of the Centre for European Reform compares the interlocking crises to the four horsemen of the apocalypse in the New Testament Book of Revelation: harbingers of a "day of judgment" representing conquest, war, famine and death.
"The EU's leaders will find it hard to tame these four horsemen," the Dutch thinker wrote in an essay. "If a European answer cannot be found, the horsemen will continue to promote chaos, instability and mutual recrimination within the EU."
(Story corrects 2nd paragraph to read … Britain's attempt to change its relationship with the bloc … instead of … Britain's pursuit of opt-outs)
(Editing by Ruth Pitchford/Reuters)
The Latest: Solid turnout seen so far in Greek bailout vote
ATHENS, Greece (AP) — The latest from the bailout referendum in Greece (all times local):
__
3:05 p.m.
With four hours of voting to go, Greeks are turning out in solid numbers to vote on their financial future.
Private Mega TV channel says turnout has been markedly high, now standing at 35 percent, and lines have been seen at polling stations in Athens. Turnout must be above 40 percent for the referendum to be valid.
High turnouts are normal in Greece because voting is mandatory — although that law has not been enforced in recent years.
In the country's first referendum since 1974, Greece's 9.8 million voters are choosing Sunday whether to accept demands by international creditors for more austerity measures in return for bailout loans.
___
2:10 p.m.
Germany's foreign minister says a 'no' vote in Greece's austerity referendum won't make a future compromises with the country's creditors easier — "on the contrary."
Still, Foreign Minister Frank-Walter Steinmeier says Greeks have a right to vote on the future of their country and Greece will remain a member of the 28-nation European Union even if the referendum rejects the austerity demands being made of Greece by international creditors.
Steinmeier told Berlin's Tagesspiegel am Sonntag newspaper that the debt situation in Greece, the unsolved problem of how to handle tens of thousands of migrants flooding in across the Mediterranean and Britain's demands for EU reforms are straining the EU's foundations.
He warned Sunday that a "Grexit" — Greece dropping out of the common euro currency used by 19 nations— would harm Europe's credibility in the world.
___
1:45 p.m.
Opinion polls this week have shown a generation divide in the Greek referendum — with the "no" vote against more austerity measures far more popular among younger Greek voters than older ones.
Retired school teacher Themis Hatziyannaki, 84, voted 'yes' Sunday at an Athens high school, saying she wants to continue enjoying the privileges of her Greek and European citizenship.
But she also says she understands that many young people want to vote "no" to express their anger at Greece's creditors. Unemployment in Greece for young people under 25 stands at a whopping 51.9 percent.
Hatziyannaki says "I understand them, because when I was young I was a rebel." But she said young people also have to consider what's best for Greece's future and look at what older generations have endured.
____
1:15 p.m.
Greece's finance minister says the referendum gives Greeks the opportunity to decide on the austerity "ultimatum" they were handed by other countries in the 19-nation eurozone.
Yanis Varoufakis says the eurozone's "massive failures" led to demands for more austerity measures that Greeks themselves needed to express their views on. He said the vote on Sunday "gives hope to Europe that a common currency and democracy can coexist."
Varoufakis spoke as he voted along with his 90-year-old father Giorgos in the southern Athens suburb of Faliro.
This is the first Greek referendum since 1974, when Greeks voted to abolish the monarchy.
(This corrects the spelling of Varoufakis' first name to Yanis).
___
12:45 p.m.
The Greek referendum does not address whether Greece should abandon the euro currency or leave the 28-member European Union, but many voters believe those issues are at stake.
Polls published Friday showed the two sides in a dead heat over whether to accept creditors' demands for more austerity or reject them. But an overwhelming majority of those polled — about 75 percent — wanted Greece to remain among the 19 European nations using the shared euro currency.
Here's the yes-or-no question Greeks face Sunday — and it's not an easy one: "Must the agreement plan submitted by the European Commission, the European Central Bank and the International Monetary Fund to the Eurogroup of 25 June, 2015, and comprised of two parts which make up their joint proposal, be accepted? The first document is titled 'reforms for the completion of the current program and beyond' and the second 'Preliminary debt sustainability analysis.'"
___
11:40 a.m.
Greece's prime minister says the country's austerity referendum is sending the message that Greeks are embracing a united Europe but want to live "with dignity."
Prime Minister Alexis Tsipras said after casting a 'no' ballot Sunday that the vote demonstrates the Greek people's right to choose their own future. He said although many Greeks may pick a different choice than the government, "no one can ignore the will of the people to take their lives in their hands."
Tsipras said the referendum "defeats fear and ultimatums."
Tsipras wants the "no" side to win. He says that will booster his negotiating position to secure a better deal with creditors for loans to avoid a default and a banking collapse.
___
11:20 a.m.
Which will help Greece more — voting "yes" or "no" to accepting more austerity demands from creditors?
Greek Prime Minister Alexis Tsipras says a "no" vote would strengthen his hand to negotiate a better deal.
But proponents of a "yes" vote, including a parade of former prime ministers and the main opposition party, say backing his government will jeopardize Greece's place in the club of 19 nations who use the common euro currency. Instead, they argue by voting "yes" Greece would get a new deal quickly to shore up its sinking economy.
Conservative opposition leader Antonis Samaras cast his ballot Sunday, saying "we vote 'yes' to Greece. We vote 'yes' to Europe."
___
10:25 a.m.
The Greek referendum on whether or not to accept bailout demands by creditors is causing deep divisions, even among individual families.
Dimitris Danikoglous says he is voting "yes" because he fears Greece would be in danger if it leaves the European Union. His daughter Alexandra is voting "no" because she is tired of richer European nations bossing Greece around.
His son, Nikolas, is on his side — and he thinks polarized Greece may be on the verge of a civil war. His wife Dimitra distrusts both the Yes and the No campaigns and doesn't plan to vote in Sunday's momentous referendum.
In their apartment in the working-class Athens neighborhood of Tavros, the family members squabble over espresso frappes and fruit juice. Still, they are united in their belief that only as a strong family can they weather the coming storm.
___
7 a.m.
Polls have opened across Greece in a hastily called referendum on whether the EU country will accept the tough creditor conditions attached to loans needed to avoid default and a banking collapse.
A "no" may lead to a chaotic departure from the shared euro currency. Even "yes" is no guarantee that creditors will agree to lend the billions more euros needed to get the country back on its feet.
Prime Minister Alexis Tsipras is banking on fellow Greeks to deliver a resounding "no" in the popular vote that he believes will give him strong leverage in his negotiations with creditors — the EU and the International Monetary Fund — to swing a softer bailout deal.
Proponents of a "yes" vote, including the main opposition party, say backing the government will jeopardize Greece's place in the 19-nation eurozone. Instead, they argue voting "yes" will allow Greece to get a new bailout deal quickly to shore up the economy.