by Rick JT, editing by Adam MS
Below are all the coverage from the 2015 San Diego Comic Con International (both TV & Film), if you want to check the complete schedule of TV and Film lineups, click here.
TV Panels:
Day 4 ================
(7/12) 'Heroes Reborn' Debuts Extended Trailer to Enthusiastic Response
"This isn't supposed to happen where you get a second bite at the apple this way," creator Tim Kring told enthusiastic fans, before he previewed trailers for the show's new mobile game and upcoming web-based prequel series. (Henry Zebrowski, who is in the prequel series, also appears in Reborn as someone who is a conspiracy theorist and central to bringing a familiar face back into the mix.)
"I'm overwhelmed at the feeling of deja vu…we came to a room very much like this, with people who look a lot like you," he recalled. "We presented this show, Heroes, to you, and it was literally from this audience a fuse was lit and turned it into this massive phenomenon…[now] we've had a long rest…and we're ready to save the world again."
And the fans seemed ready for that, too. Though the show's later seasons didn't garner the same enthusiasm as the NBC drama's first groundbreaking year, the extended trailer's debut prompted many cheers from the crowd.
"This is Heroes on steroids," moderator/Heroes star Greg Grunberg (Matt) teased.
Set five years after the original series, "the entire world knows about these powers, and it's not such a good thing," Kring shared.
HRG (Jack Coleman), the show's central character, is in a different place when viewers see him again.
"He's trying to live a suburban life outside of the grid, which only lasts until [he's found]," Coleman said. "There [are] certain [memories] in my brains which are lacking."
Returning to the character after so long was an unexpected delight, Coleman shared. "It's been amazing…it felt like I was dressing up for Halloween. It came back very quickly."
"It's a show that was dear to our heart," Masi Oka (Hiro) — who was a surprise guest at the panel, along with original series star Jimmy Jean-Louis — said. "We left it unfinished. So it's great that there's another series, and we could wrap it up."
Heroes newbie Zachary Levi (Luke) praised getting to play in the show's world.
"Chuck never killed anyone, and didn't want to, because he had a very big heart…and constantly used a tranq gun," Levi joked. "Luke Collins is a very tortured guy…and [he and his wife] have been hurt in something that happened."
"We have a twisted messed up relationship on TV," Judith Shekoni praised of her on-screen relationship with Levi.
Former Once Upon a Time guest star Robbie Kay shared his excitement over playing the exact opposite of his character on the ABC drama.
"My character is Tommy, is a typical high school, but he has a secret: the ability to make other people disappear," Kay shared. "And that terrifies him…it eats him up inside, because all he wants to be is a normal kid."
And Tommy has a friend in Caitlin Green's Emily. Green previewed, "she finds out his big secret and is there alongside him…there is some bravery to her."
Fellow newbie Ryan Guzman said he's playing, "Army vet, with a very troubled past, who is presented with an opportunity of greatness, and he takes it."
(7/12) 'American Horror Story: Hotel' Character Names Revealed
Co-creator Ryan Murphy confirmed that all the seasons are part of a "very connected universe" and that familiar characters will return.
Comic-Con attendees got quite a scare when the stars of American Horror Story: Hotel appeared on a joint panel with the stars of Scream Queens.
Returning series vets Kathy Bates, Angela Bassett, Sarah Paulson, Evan Peters were joined by new addition Matt Bomer joined co-creator Ryan Murphy to preview what's in store when viewers check into the haunted hotel at the center of season five.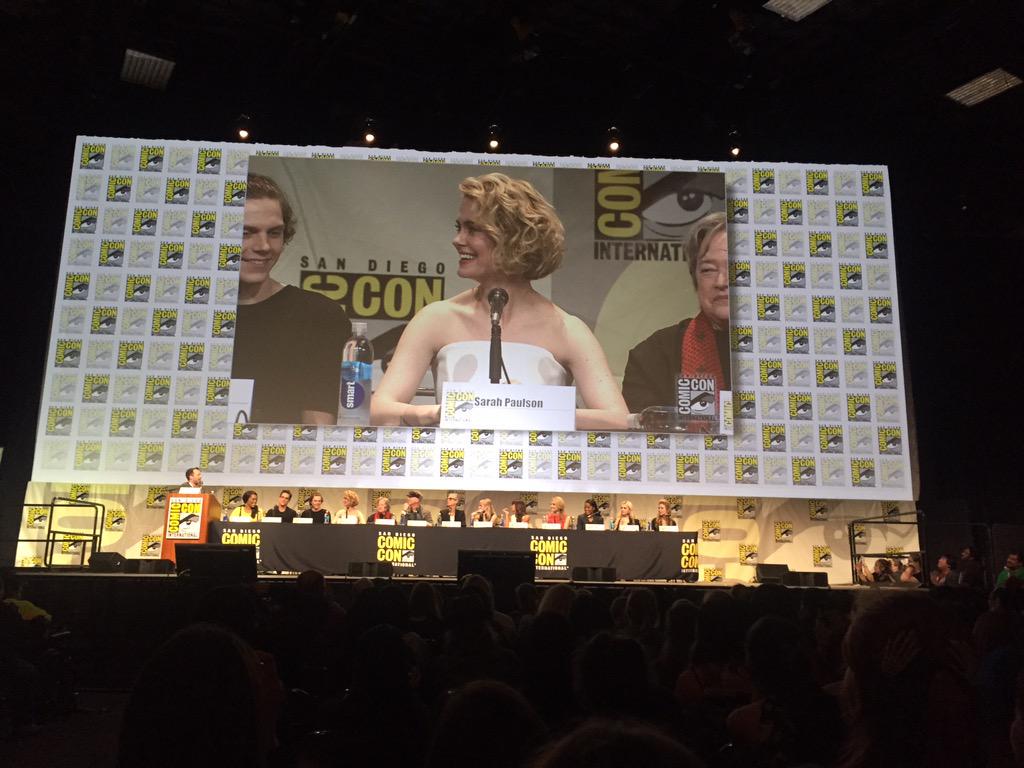 Although Murphy and his stars were tight-lipped, they did reveal their character names: Bates is Iris, Bassett is Ramona, Peters is Mr. March, Bomer is Donovan and Paulson will play Hypodermic Sally.
"Actually everybody on this side of the table are bad boys and girls this year," he said pointing to the entire AHS team on the panel. "The fun thing about the show is I always want to write the opposite of the season before."
Murphy also revealed that Lady Gaga, who will star on the new season, will play an evil character as well. "She said, 'I want to be evil.' And I said, 'OK, you came to the right place,' " Murphy said.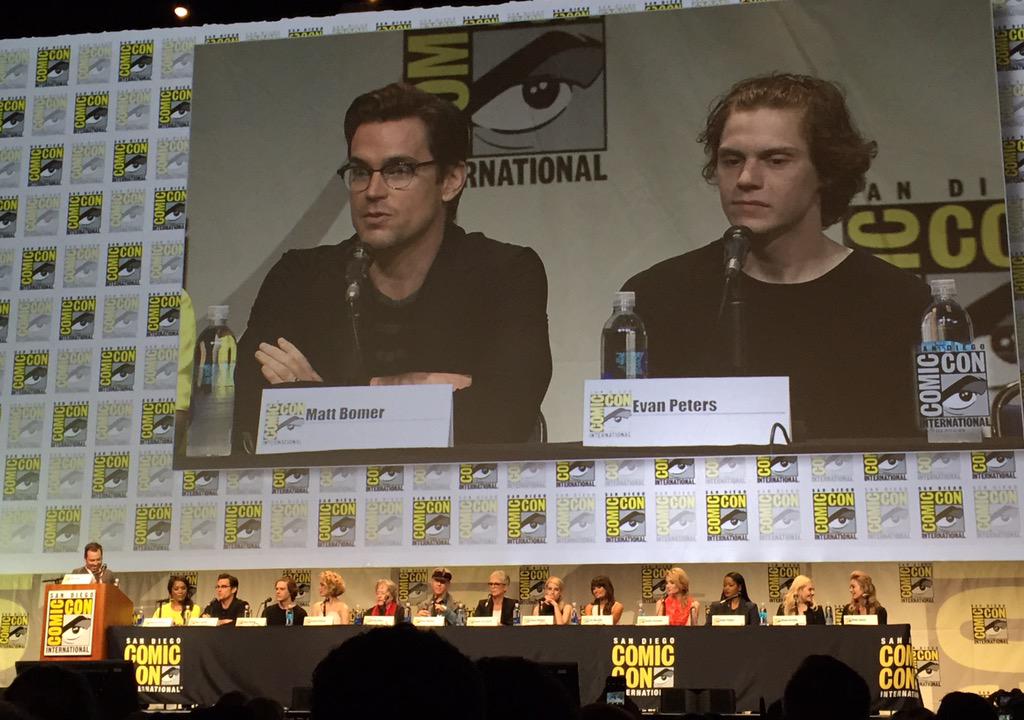 Murphy praised his new leading lady, who he said asked him to appear on the show. "She's been very collaborate and incredibly fun. When you work with somebody like her, you sign up for something that I think is larger than life," said Murphy. "Part of her role involves fashion. You want Lady Gaga to look a certain way so the designers have been coming out of the woodwork."
One thing Lady Gaga won't be doing is singing. Murphy ruled out musical numbers on Hotel after employing them heavily in past seasons, as well as on his other famed creation, Glee.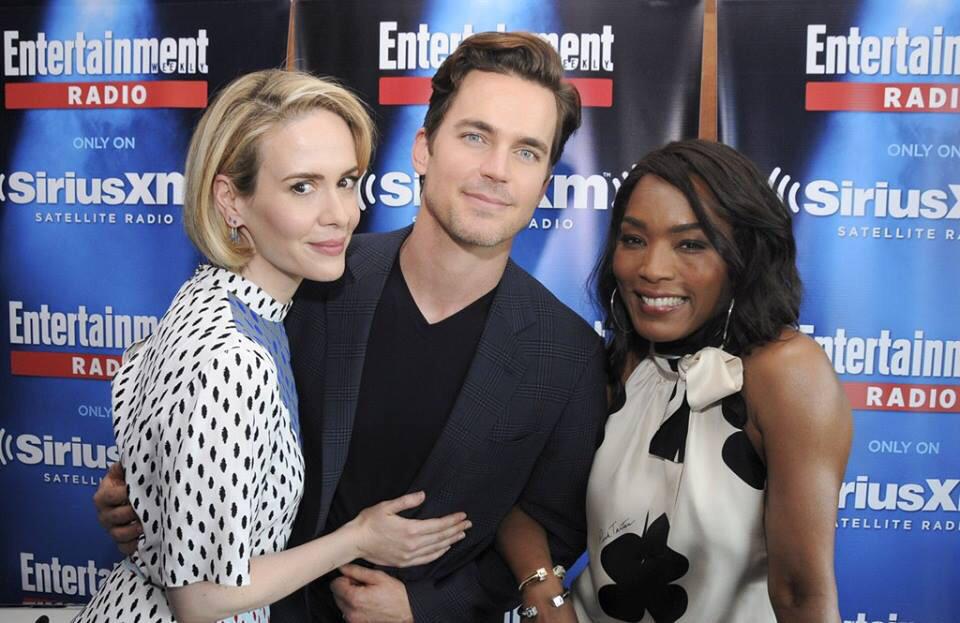 "Never say never," said Murphy. "I felt I got that out of my system. I loved doing it and I thought it was a weird thing that we did. But no, I feel like the fun of it is doing something different. So I feel like we did that."
Speaking to a fan theory that all the seasons of American Horror Story are connected, Murphy said that characters from previous seasons will check into Hotel. Said Murphy, "Its part of a very connected universe with a very cool thesis statement at the end of the run."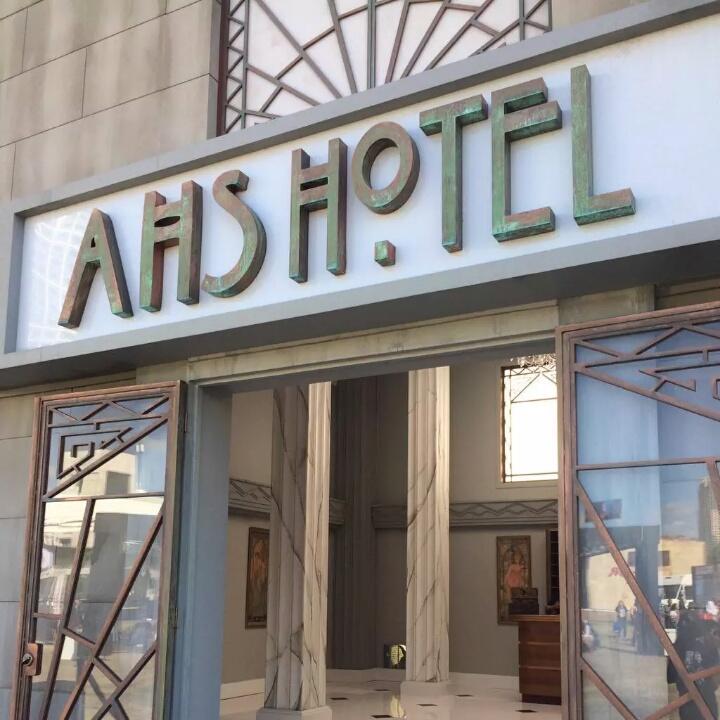 American Horror Story returns this October on FX.
(7/12) Jamie Lee Curtis Promises 'Halloween' Homage on 'Scream Queens'
The cast appeared at a packed panel in Hall H to tease their new horror series. The stars of Fox's new horror comedy anthology Scream Queensgave Comic-Con attendees plenty to, well, scream about Sunday.
At a panel for the new series, stars Jamie Lee Curtis, Emma Roberts, Lea Michele, Skyler Samuels, Abigail Breslin, Keke Palmer and Billie Lourde were joined by co-creator Ryan Murphy, who teased the new series as "Halloween meets Heathers."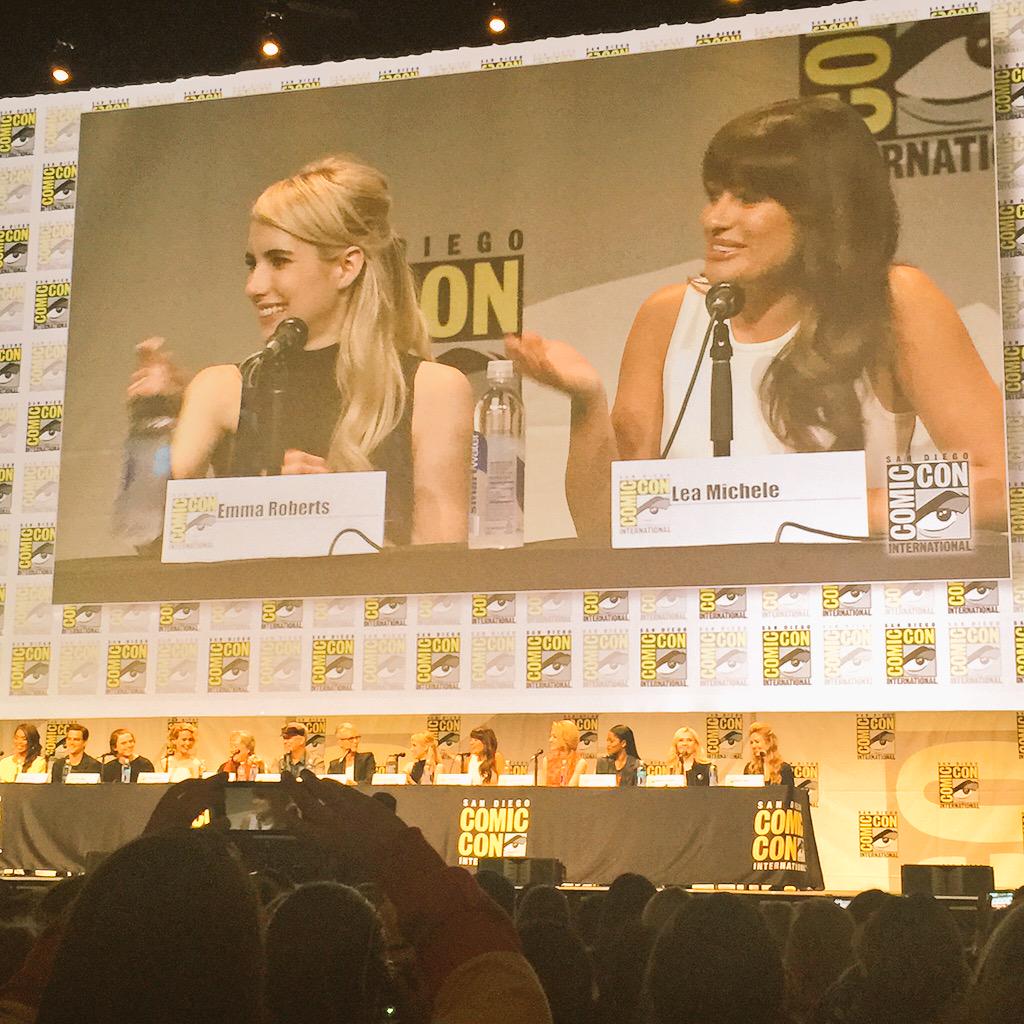 The mention of the latter elicited big screams from the crowd for Halloween star Curtis, who was attending Comic-Con for the first time. To the joy of the crowd, Curtis said she will pay tribute to her breakthrough role on Scream Queens. "In episode two, there is a wordless homage that I threw in that was me tipping my hat to all you Laurie Strode lovers," she said.
Murphy said there would be shades of Laurie in Curtis' Scream Queens character, Dean Cathy Munsch. "Yes, if you're going to hire Jamie Lee Curtis, you want to see her kicking ass and fighting back and doing all of those things that you loved her dong so we're writing a scene right now where she's fighting three killers," said Murphy. "I come at the stuff from a real fan boy place."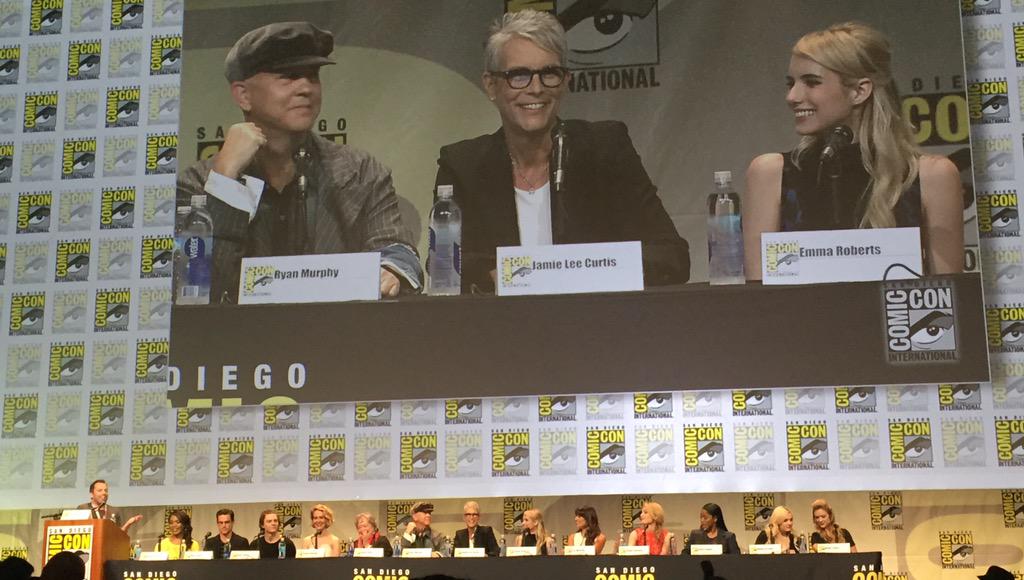 Murphy also teased a sex scene between Curtis and an 18-year-old. "I wanted to see something irreverent and fun and her being powerful and large and in charge so that's what we did," he said.
As for the killer that runs rampant in the first season, Murphy said the actors do not yet who the killer is. Instead, he revealed that on the first episodes of the show, the actors were instructed to do one take where their character is the killer. "So every actor had to get into that mindset," he said.
"You definitely meet the killer in that premiere and I think if you go back at the end and watch that premiere it's very clear," added Murphy.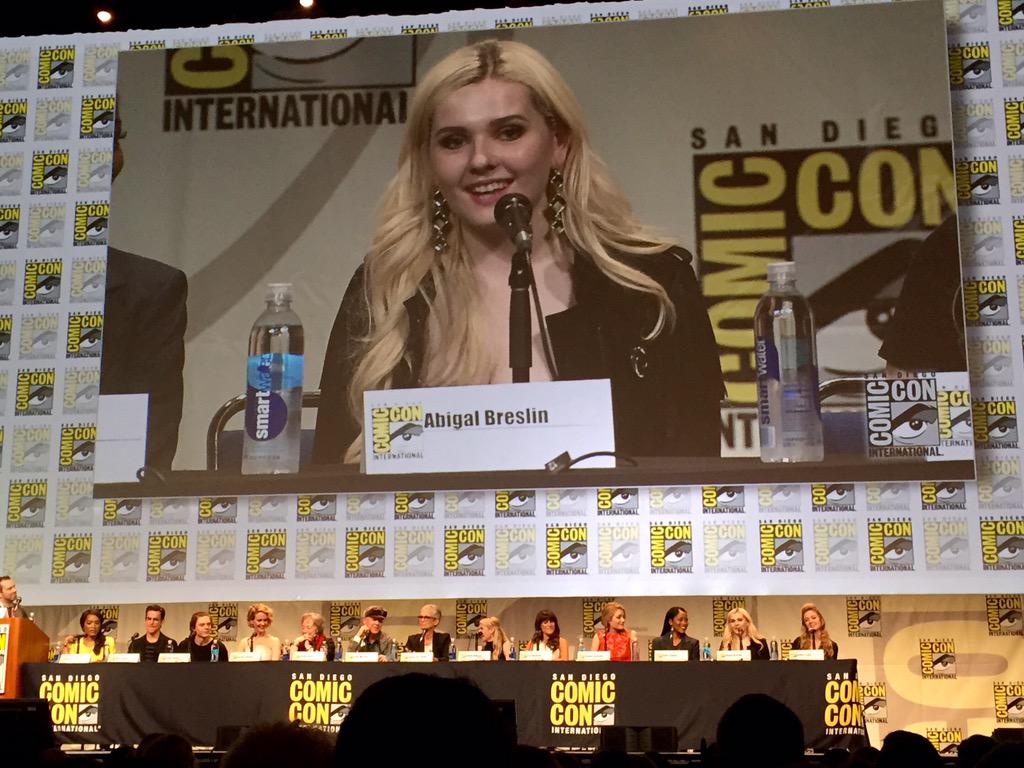 Looking beyond the first season, Murphy said that Scream Queens is "similar but different" as an anthology series compared to American Horror Story. "On Scream Queens, there are survivors who go onto a different location but the characters that you have grown to hopefully love will continue," said Murphy. "People will live and people will die. I'm already getting many, many bribes."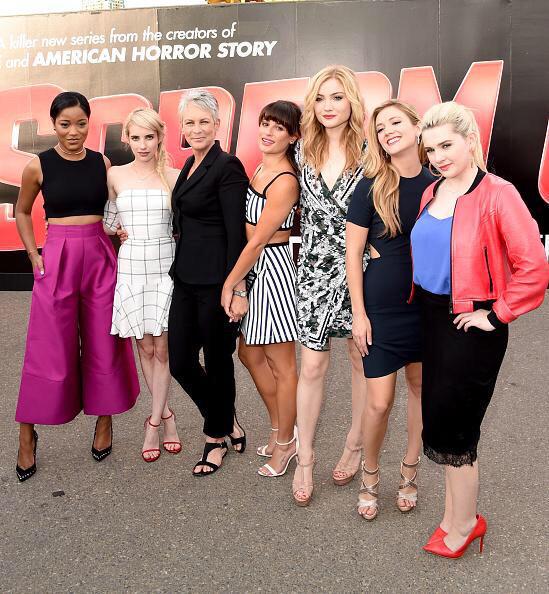 Scream Queens premieres on Tuesday, Sept. 22 at 8 p.m. on Fox.
(7/12) Supernatural: The Winchesters Reunite, Faves Return and More Season 11 Scoop
Supernatural fans, say thanks to The Darkness — because it will bring the Winchesters back together in Season 11.
"We're really proud of last season," executive producer Jeremy Carver said at the show's Comic-Con panel on Sunday. "We had a lot of intensely personal character stories. This year, we are going to have a little bit more of an epic feel with a Big Bad and a real quest for the brothers to unite.
"It's like pre-biblical story that's never been told," the EP continued. "Most importantly, I feel like the brothers are going to be really, really united in their need to take this thing down."
That was good news to stars Jensen Ackles and Jared Padalecki's ears, who both expressed excitement about having the brothers on the same team.
"I think we'll beat [The Darkness] because we're not the Losechesters," Padalecki joked before adding, "I'm happy to see them teaming up."
Following the release of the epic evil, "now we're left with the cleanup," Ackles previewed. "Now it's figuring out how to deal with the decisions we have made. What I like about where we're going is the brothers are united, similar to Season 1, when we were looking for dad. We're back to normal so to speak and we have a common target."
More highlights from the SDCC panel:
* Some fan favorites will return, "but they're coming back in surprise ways," so Carver couldn't share any more details.
* Asked if there will be more atypical hours like the meta installments, EP Andrew Dabb hinted at "something really fun" in Episode 4.
* Castiel will be united with the boys against the Big Bad.
* "I'm pretty dead," Mark Sheppard said. (Suuuure.) "It's been an amazing journey. I showed up as a guest star, kissing a very tall man under a bridge."
With the show going into its 11th season, it was clear the audience was as invested as ever: The most emotional moment of the hour came when fans turned on tiny electric candles (which were passed out by fans pre-panel) to honor Padalecki's #AlwaysKeepFighting movement.
A surprised Padalecki (who didn't realize at first that the candles were for him) was visibly touched, and took a moment at the end of the panel to pay his tribute. "I don't have the proper words to say thank you," he enthused.
(7/12) Vampire Diaries: 'Naughty' Damon, Steroline 'Twists' and More to Come in Season 7
When last we left our friends in Mystic Falls, Stefan was declaring his love for Caroline, Matt was suiting up to protect the town and Elena was embarking on the nap of a lifetime — much to Damon's dismay. So, what's to come in Season 7?
That question, among so many others, is what the stars and executive producers of The Vampire Diaries tackled Sunday during the show's San Diego Comic-Con panel.
Frankly, there was lot said, so it might be easier just to relay this in bullet form:
* For starters, the old Damon — as Ian Somerhalder describes, the "sexy, volatile, fun, dangerous" Damon you fell in love with in Season 1 — will return in Season 7.
* Adds executive producer Julie Plec, "The challenge for Damon is that Elena said to him, 'Please live your life and be who you are.' But we know who Damon is. So for him, it's 'Who am I without this girl right by my side?' We're going to see a lot of naughty Damon trying not to be naughty."
* As for Stefan and Caroline's budding relationship, Plec promises "a lot of very unexpected twists and turns. The fun of this couple is that they're just getting cemented in their romantic status. As we left it off, he said, I will be here when you're ready.' She's trying really, really, really hard not to be ready." Also, "shirtless stuff every episode."
* Adds Candice Accola, "I love a good slow-burning relationship that you get to watch build. I really like [Stefan and Caroline] together. The few scripts we have read, I'm really excited for you guys to see."
* Enzo's got quite a dilemma on his hands in Season 7. Says Michael Malarkey, "It's about choosing his allegiance. Does he go with Lily and the Heretics or does he side with Damon? It's a struggle for him."
* In terms of the next Big Bad, executive producer Caroline Dries admits that "the challenge for the writers is constantly topping the villain from the previous year. Kai is one of the best villains we've ever had on the show. By bringing in Lily's family, it's these six villains who can do magic — and they're vampires. It's going to be exciting and gruesome and violent."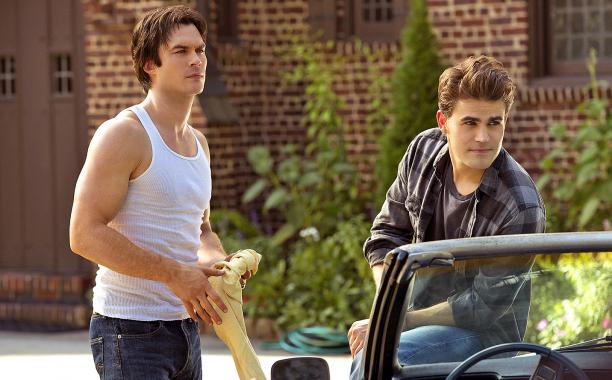 * We're also going to see how Mystic Falls devolved into the polluted, run-down mess we saw at the end of the Season 6 finale
* Nora and Mary-Louise, the new vampires TVLine exclusively revealed earlier this month, are going to be a couple of "nasty, nasty, nasty girls," according to Plec.
* Bonnie and Damon's friendship will continue to blossom in Season 7, which is good news for Somerhalder. "The beginning of Season 6 for Bonnie and Damon was the best stuff ever," he says. "It was fun and very dynamic. It's an amazing recipe for a lot of cool drama."
* Lastly… any hope for Klaus' return to Mystic Falls? "I don't know if Caroline really wants him back in Mystic Falls," says Accola.
Day 3 ================
(7/11) 'Supergirl' Casts Peter Facinelli as DC Favorite
He will play mogul Maxwell Lord. Twilight alum Peter Facinelli is soaring into CBS' Supergirl. He will play Maxwell Lord, a green tech billionaire who is fascinated with National City's newest citizen: Supergirl (Melissa Benoist). He also has a friendly rivalry with Kara's boss Cat Grant (Calista Flockhart). In comic book lore, Maxwell Lord has wavered between being a good guy and a bad guy. He helped The Justice League get together, hoping to profit from the use of metahumans.
Facinelli, who played the patriarch of the Cullen clan in the Twilight films, is engaged to Blindspot star Jaimie Alexander. Blindspot, like Supergirl, is produced by Greg Berlanti and Warner Bros. TV.
Facinelli made a surprise appearance during the Supergirl Comic-Con panel after the announcement.
The panel acknowledged that getting a female-driven superhero show off the ground has been something Hollywood has had trouble with. But showrunner Ali Adler said that her protagonist being a woman was in some ways besides the point.
"Her gender doesn't really matter. She's a badass," Adler.
Supergirl centers on Superman's cousin Kara Zor-El, who comes to embrace her Kryptonian roots and become the hero she was destined to be. It's not easy, with her juggling her demanding boss Cat and her relationship with her adoptive sister Alexandra (Chyler Leigh), who knows her secret. During the pilot, she forms an easy alliance with the U.S. military, who have a section dedicated to extra terrestrial threats (naturally they view her with suspicion) — and gets a little help along the way from Superman pal Jimmy Olsen (Mehcad Brooks).
(7/11) The Joker Actor Crashes 'Gotham' Panel to Steal Mic From Fan
Cameron Monaghan was not joking around. Gotham's Cameron Monaghan set the Internet ablaze with a creepy Instagram post confirming that he is indeed The Joker.
On Saturday, he surprised the Comic-Con crowd by appearing out of nowhere to steal the mic from a fan during the Q&A portion and being dragged off by security guards. Star Ben McKenzie (Jim Gordon) shouted from the stage that he would stop the villain.
Before that, the panel revealed why things are about to get really bad in Gotham. Showrunner Bruno Heller promised season two of Fox's Gotham would be "the rise of the villains," telling the crowd at Comic-Con a more theatrical type of villains will be in play.
McKenzie said that in response, there will be new good guys introduced, and htey will have to band together to combat the rise of the villains.
Alfred (Sean Pertwee) and Bruce (David Mazouz) will become closer in season two, with Alfred switching to a mentor role.
"You are going to see him train," said Pertwee.
Mazouz added that the pair would "go through a rocky patch," but would be brought closer together as they investigate the mysterious staircase they discovered in the finale.
The conversation took place during a massive DC/Warner Bros. TV panel also featuring CBS' Supergirl, CW'sArrow, The Flash, Legends of Tomorrow and animated spinoff Vixen.
(7/11) 'The Flash' Casts Classic Speedster for Season 2
Teddy Sears will play speedster Jay Garrick. Some DC fan favorites are speeding into The Flash season two.
Teddy Sears (Masters of Sex) is joining the show as Jay Garrick, who in comic book lore was the original fastest man alive.  In the show, he will arrive in Central City to warn Barry (Grant Gustin) and his STAR Labs friends of an impending danger that he needs help to stop. Garrick's appearance was teased in the finale, when his winged helmet flew through a wormhole into STAR Labs.
Also in the mix for season two is Shantel VanSanten as Patty Spivot, a more recent addition to the comics. She's a police detective and science enthusiast whom Barry ends up having a crush on. Patty herself is obsessed with metahumans and is the new partner of Joe (Jesse L. Martin).
The new season will pick up a few months later and there will be many new faces, executive producer Greg Berlanti revealed at Comic-Con.
Executive producer Andrew Kreisberg revealed Professor Zoom will be the big bad of the season. He's faster than both Reverse-Flash and The Flash — and will be very difficult to catch. Wally West — another speedster from the comics — will also be joining the show.
"This year we will be introducing characters from Earth-Two," said Berlanti, referencing the multiple universes that exist in DC Comics lore. Garrick will come from Earth-Two.
As for why they chose to introduce Garrick, Kreisberg said it was an interesting opportunity.
"He's never been portrayed to our knowledge in live action. Now that we've established our Flash, we thought it was interesting to bring on the original Flash and create a brand new relationship for Barry to have."
The Comic-Con panel featured a special video introducing the characters.
The Flash's freshman season ended on quite the cliffhanger, with Barry attempting to reverse a singularity that threatened to engulf Central City — and perhaps the entire world. This happened just minutes after Reverse-Flash's (Tom Cavanaugh) body was sucked into a wormhole after his ancestor Eddie (Rick Cosnet) killed himself to stop his rampage. In other words, there was a lot to talk about.
The producers have said other speedsters would be introduced for season two (the finale featured comic book speedster Jay Garrick's helmet).
The conversation took place during a massive DC/Warner Bros. TV panel also featuring CBS' Supergirl, Fox's Gotham, and CW's Arrow, Legends of Tomorrow and animated spinoff Vixen.
Season four of The Flash premieres Oct. 6 on The CW.
(7/11) 'Arrow' Debuts Gritty Season 4 Costume
Oliver is officially coming out of retirement. Oliver Queen (Stephen Amell) is suiting back up. Arrow season three ended with Oliver riding off into the sunset with Felicity (Emily Bett Rickards). He intended to leave his vigilante days behind him, but it looks like that won't last forever, as the Arrow Comic-Con panel revealed a new costume for season four. Executive Producer Greg Berlanti said the new costume is a big step on Oliver's journey from Arrow to Green Arrow.
Oliver coming back to Starling City will have something to do with season four villain Damien Darhk (Neal McDonough). He's a former member of the League of Assassins who was for death by Ra's Al Ghul (Matt Nable). In comic book lore, he has strong ties to the supervillain organization HIVE.
The executive producers revelaed that other new characters would include the Batman villain Anarky, who will work with Damien. The DC hero Mister Terrific will also be introduced, and he will work with Felicity. This version of the character will be gay, said Berlanti.
There are plenty other big changes from the finale that will play into the new season as well. Merlyn is the new Ra's Al Ghul (Matt Nable), while Thea (Willa Holland) and Diggle (David Ramsey) are poised for new masked identities. And Ray Palmer (Brandon Routh) appeared to blow himself up in a laboratory accident (don't worry, he really shrunk down).
Ramsey confirmed that Diggle will get a costume this year, teasing that he would have a helmet (though he may have been joking). Shortly after, he joked his secret identity was "black driver." Holland also confirmed that she was indeed taking on the mantle of Speedy as her superhero identity.
Season four premieres Oct. 7
(7/11) 'Outlander' Reveals Season 2 First Look
"It's a completely new show," executive producer Ronald D. Moore shared. Outlander used its San Diego Comic-Con panel on Saturday to reveal an exclusive first look at season two.
Though the trailer won't released wide, Starz did put out three photos teasing the now-pregnant Claire (Caitriona Balfe) and Jamie (Sam Heughan) in France.
"We're picking up, we're going to Paris," Outlander creator Ronald D. Moore shared. "They're going to try and stop the Jacobite rebellion…Claire is pregnant; the first season was a courtship, and now they're married."
And while Moore shared, the show will "return to Scotland in the second half of the season," he also allowed "it's a completely new show."
"It was really so exciting when we came back," Balfe said. "To step into this new world was very exciting for me. I'm excited for people to see [it]."
For his part, Heughan was equally excited about the second half of the season. "In the book, it gets emotional…it's a great climax to the entire season."
Though the entire series is based on Diana Gabaldon's series of novels, Moore acknowledged that adapting book two for the second season was more difficult than book one/season one.
"The second book is a more complex than the first book in a lot of ways….[there's] lots of moving parts," he said. So as a result, the adaptation was more complicated.
But when in doubt, the writers are "always trying to get back to where the book is," Moore shared. "We preserve the spirit of the book. I'm proud of the team, and I think we pulled it off…The second season is just more challenging…all of the [sets, costumes, and new players] had to be done from scratch, because none of the Scottish stuff worked for it."
For his part, Heughan was equally excited about the second half of the season. "In the book, it gets emotional…it's a great climax to the entire season."
Though the entire series is based on Diana Gabaldon's series of novels, Moore acknowledged that adapting book two for the second season was more difficult than book one/season one.
"The second book is a more complex than the first book in a lot of ways….[there's] lots of moving parts," he said. So as a result, the adaptation was more complicated.
But when in doubt, the writers are "always trying to get back to where the book is," Moore shared. "We preserve the spirit of the book. I'm proud of the team, and I think we pulled it off…The second season is just more challenging…all of the [sets, costumes, and new players] had to be done from scratch, because none of the Scottish stuff worked for it."
And there's a lot to be excited about in the upcoming season. Moore touted "the midpoint [of the season] between Paris and Scotland is going to be anticipated; also the finale" as high points for the season.
Gabaldon will also write an upcoming hour of the Starz series.
"I am writing a script for one of the episodes this season," she said. "It's cool. So far I'm having a lot of fun with it. But on the other hand, so far they like what I've written."
As for the books themselves, Gabaldon said she wouldn't know if the next book was the final book in the series until she actually writes it. But when the time does come to end the book series, she shared, "I know the last scene of the last book."
She wrote it down about 15 years ago when the idea first came to her, and since then, "Ron and Sam have seen it — they're the only ones in the world who have seen it, outside of me."
(7/11) 'Once Upon a Time' to Introduce 'Tangled,' Cast Teases Dark Emma
The dynamics of Once Upon a Time are set to — at least temporarily — change in season five now that Emma (Jennifer Morrison) has turned dark.
At the show's Comic-Con panel, Morrison expressed how grateful she was to get the opportunity to take Emma in a new direction this year.
"I'm really excited, as an actor," she said. "To be able to start season five of a show doing something brand new is so exciting. I've been so enjoying playing Emma and everything that comes along with it. I get to do something totally new and different..there's fun to the villainy.
"I spent the whole hiatus digging up my thoughts about it," Morrison continued. "Emma went through a lot in her life, she had a tough childhood, she's always tried to be the bigger person, the good person,and now that she's tethered to the darkness, she has to face some of that…to truly overcome it versus just repress it."
And though Emma's decision to take on the powers of the Dark One was "split-second," Morrison was glad her character was able to save both Regina (Lana Parrilla) and the entire town of Storybrooke.

"I think if Regina were the only person in danger, she would have made the same choice," Morrison said. "But it's important that the darkness was threatening the whole town."

And with only Merlin able to stop the darkness, the producers have cast Elliot Knight in the pivotal role, as well as Liam Garrigan as King Arthur, and Joana Metrass as Guinevere.

"Camelot exists in a parallel time ago — long ago, short ago, and maybe in the future," Once Upon a Time co-creator Adam Horowitz shared.

As for the former Dark One, Robert Carlyle teased Rumple won't be all good now.

"The evolution of [Rumple now is] …he's lost his mantle as the Dark One, but that's not to say he doesn't have the same kind of trickery," he shared. "[But] Mr. Gold is presently in a coma, so he's not doing too much."

And now that Regina has been spared from taking on the role of Dark One, she's even more thankful for her second chance.

"She found love," Parrilla acknowledged. "I think she's now starting to embrace and accept she can be happy."

Of course, that's complicated by Regina's true love, Robin Hood (Sean Maguire) accidentally expecting a child with Regina's half-sister, Zelena (Rebecca Mader).

 "I think it is complicated," Maguire said. "When you have a situation like this, the best

is to go on a show like Maury Povich. He's in love with Regina…Robin Hood got a lot of flack for impregnating Zelena, even though he didn't know it was Zelena. He thought it was his wife, even though he was in love with Regina, he was trying to make it work…[now] he's like any decent person trying to do the right thing."

As for what else is to come, Once Upon a Time  co-creator Eddy Kitsis teased Henry's (Jared Gilmore) decision to snap the quill after becoming the new Author won't be forgotten…or turn out well.

"Henry was making a heroic gesture, and I'm sure that's not going to haunt him," Kitsis teased.

Additionally, episode 100 will be coming up, and while they were vague on the details of what's to come, Horowitz shared, "We want to make it really special, and we're planning on it being the spring premiere."

And the Once team ended the Comic-Con panel with a delicious video tease of what's to come: and it's BRAVE. But no word on whether that will be 5B's arc or a standalone hour. Watch the first video of the Dark Swan, below.
Day 2==================
(7/10) 'Game of Thrones' Stars Talk Jon Snow Theories, Rape Controversy
The stars of Game of Thrones answered burning questions about the season five finale and what's next at the HBO hit's Comic-Con panel Friday.
The HBO series wrapped its most controversial season yet in June, with season five causing an uproar over the rape of Sansa (Sophie Turner) and the burning death of a young child.
But no issue generated more fan theories and buzz than the death of Jon Snow (Kit Harington) in the season finale's last scene. In the books, Jon's death at the hands of mutineering brothers of the Night's Watch was rather ambiguous, but in the show he really did appear dead. Everyone from Harington to the showrunners have said Jon is truly gone for good, but a vocal contingent of fans are skeptical for a number of reasons.
Among the most popular theories is that Melisandre (Carice Van Houten) will bring Jon back to life, and a sneaky audience member asked if Melisandre might have learned how to do such a thing.
"I'm as in the dark as you are all," said Van Houten. "But who knows man, I can't tell you anything."
Melisandre returned to The Wall after the burning death, and it appears she will be a changed woman in season six.
"She figures out she was quite wrong," said Van Houten, which is something that will have to be addressed next year.
Turner has said she was in favor of the controversial scene in which Sansa was raped by Ramsay (Iwan Rheon). Some fans criticized the scene for focusing on Theon (Alfie Allen) rather than Sansa.
"You'll have to ask the writers as to why they focused on Theon, because I was giving a great performance. And they just pan in on him," Turner joked.  She added more seriously that Sansa "thought it through in her head, and she could have fought back," but she decided not to. It was part of her calculation in playing the game of thrones.
When an audience member criticized the show's violence towards women, the panelists defended Game of Thrones.
"Things were not great for a lot of people, male and female," said producer Carolyn Strauss.
Maisie Williams (Arya) is concerned about what her character going blind will mean for her working life in season six. She said the contacts required to maker her blind are difficult to wear.
"I'm worried if I'm going to have to do any fighting or anything. One) I can't see and 2) they're really uncomfortable," said Williams.
Strauss admitted that the series was getting even more secretive now that they are passing George R.R. Martin's books.
"We're in the world in the balance point. We've always tried to maintain a level of surprise for people who watch the show, but with every season it gets more and more," said Strauss.
As for Davos (Liam Cunningham), he will be quite angry next season.
Walking on stage, Cunningham pretended to strangle Van Houten — undoubtedly to take vengeance on her character for burning his beloved princess alive. Moderator Seth Meyers was happy for what Stannis' death might mean for Davos, noting he might be able to smile and lighten up a bit.
"I don't think that's going to happen, especially when he finds out what that did," Cunnginham said while pointing to Van Houten.
Meyers teased Gwendoline Christie (Brienne) for failing to spot the candle when Sansa lit it — which signaled she needed help.
"I had to wait for three months!" she said in her defense.
Natalie Dormer (Margaery) was asked about schemes from her character in season six.
"Grandma ain't around to look after her anymore. The characters are in new situations where they don't know the next move."
The panel was notably lacking the three keepers of the mythology. Martin skipped for the first time since 2010 (to work on his next book), and showrunners David Benioff and D.B. Weiss were also absent. Fans have speculated it might be so they could dodge questions about Jon Snow's death.
Bonus: a fun video showing Game of Thrones stars auditioning for their respective roles was also shown at the panel. Must watch.
(7/10) 'Orphan Black' Stars, Creators Tease Delphine's Possible Return, Season 4 Surprises
The cast and creators of Orphan Black took part in a Comic-Con panel Friday in Ballroom 6, where talk inevitably turned to Delphine's (Evelyne Brochu) fate.
Delphine was the victim of a possibly fatal gunshot wound in the season three finale, and moderator Retta (Parks and Rec) wanted to know whether the character would be returning for the BBC America drama's fourth season.
"Nobody's safe on the show, but she's Orphan Black dead," co-creator Graeme Manson said, leading to a groan from the audience.
Co-creator John Fawcett appreciated that fans have been so bothered by the Delphine twist. "It's great — I love that you're all up in arms about it," he said. "It's a mystery, guys. There's a reason why there's a mystery."
Fawcett and Manson promised that the next season would bring more details about Kira's (Skyler Wexler) backstory. "We have definite plans to get more answers about Kira in season four," Fawcett said, with Manson adding: "The most human part about her cant really be explained by science."
Star Tatiana Maslany revealed that her blonde clone character Crystal came from a surprising inspiration. "I don't think we [initially] knew Crystal was going to be a [long-term] thing — we thought she was just going to be a one-off deal," Maslany said.
The actress explained that she had been watching a lot of episodes of Comedy Central's Kroll Show and would impersonate the Jenny Slate character Liz B. "[The writers] were like, 'Oh, that's cool — let's make that into a character," she said. "The fun thing was trying to find her humanity and bring her to the ground a little bit more."
Retta praised the show for being LGBT-positive, although Manson looked forward to when the topic would no longer merit mentioning.
"We really decided we wanted to explore sexuality — it works with all the themes of cloning," he said. "But very purposely, we didn't want to put anyone's sexuality at the forefront. Television is getting much better at sexual representation — we should be beyond asking or caring. I think maybe that's what we're trying to do."
During the panel, a blooper video was debuted, as were several fake trailers that used footage from the series in comedic ways. The videos can be seen below.
(7/10) 'Fear the Walking Dead' Debuts Full Trailer, Sets Premiere Date
Following a string of cryptic teasers, AMC officially released the first trailer for Fear the Walking Dead on Friday at Comic-Con, where the cabler also revealed that the L.A.-set series would debut on Aug. 23 and lead directly into the season six premiere of the flagship series. There will be a special Talking Dead airing Oct. 4 after the season finale of Fear.
The drama, from The Walking Dead creator Robert Kirkman and showrunner Dave Erickson, stars Cliff Curtis stars as Travis, a teacher who shares a son with his ex-wife and is involved with guidance counselor Madison (Kim Dickens). Frank Dillane co-stars as Nancy's drug-addicted son, Nick; Alycia Debnam Carey is Madison's ambitious daughter, Alicia, Nick's polar opposite who dreams of leaving L.A. for Berkeley when the apocalypse strikes. Elizabeth Rodriguez(Liza, an aspiring nurse who is Travis' ex-wife), Lorenzo James Henrie (Chris, Travis' son), Ruben Blades (Daniel Salazar) and Mercedes Mason (Daniel's daughter, Ofilia) round out the cast.
Season one of the drama takes place during the time in which Rick (Andrew Lincoln) was in the coma during the pilot for the flagship. Like the original drama, season one will consist of six episodes, while season two — sources tell TAC— will feature 15 and be split in two.
Erickson said the audience clearly knows what's coming with the walkers but at first glance, these characters don't "assume that these people are the undead."
"They think they're sick or on something," he said of society at the onset of the outbreak. "We're exploring what would have happened during those four to five weeks [when Rick from the flagship series was in the coma]. How people adjusted to what came down. Tonally, it's incredibly different. Our first season is the shark you don't see. We don't get to full apocalypse until later in the season. It starts as a family drama and we filter the apocalypse through that. It afforded us the opportunity to anchor the show with this family and see how the apocalypse crushes them. There's the ability to watch the fall. … We get to show the process by which the city goes down. … This is two-three weeks of the [four to five weeks] that Rick was in the coma. We wouldn't end our finale and cut to Rick coming to."
Dickens confessed she wasn't sure she'd fit into doing a genre show but read the script and thought it was the "most amazing character" and noted she had nightmares about the role early on as she continued to grow into it. Curtis noted he liked the humanity of the characters.
Producers, meanwhile, stressed that Fear is a completely different world from the original series. "We're going to see who here from a coal becomes a diamond and who crumbles to dust," exec producer Dave Alpert said, noting that there's no clear leader. "People you expect to be leaders may not necessarily make it."
EP and effects guru Greg Nicotero said the two shows can't be compared but said Fear represents everyday people. "The one thing the two shows share is the idea that circumstances change people and what they change people into is fascinating. … Knowing society is unraveling and seeing how these characters change is the idea for this show."
Erickson — who noted there would be a lot of "bad-ass" women on Fear — reiterated that there are currently no plans for the two shows to crossover in any fashion, especially given their completely different locations and timelines. Curtis, however, joked that he'd love for Travis to meet Rick Grimes. "I'll get a bromance on!"
Co-star Rodriguez, meanwhile, plays Travis' ex-wife and an aspiring nurse. The Orange Is the New Black actress also shared that her character wasn't originally envisioned as being Latina. She also said that Orange producers are big fans of the zombie drama and are happy to see the actress have a role in that world.
Check out the trailer, below.
(7/10) 'Walking Dead' Debuts Season 6 Trailer, Sets October Return
Season six of the zombie drama created by Robert Kirkman will return Oct. 11 at 9 p.m. with a 90-minute premiere, followed immediately by its Chris Hardwick-hosted companion Talking Dead. The latter will launch with a special season preview on Aug. 23. Showrunner Scott M. Gimple will be back for his third season at the helm of TV's No. 1 scripted series among the advertiser-coveted adults 18-49.
Season five ended when Rick (Andrew Lincoln) was given the authority to execute a member of the Alexandria Safe Zone — and did so just as long-lost friend (and now a peaceful zen) Morgan (new series regular Lennie James) returned to witness the brutal slaying. Morgan returned after rescuing Daryl (Norman Reedus) and Aaron (Ross Marquand) from one of season six's threats: a group who calls themselves The Wolves.
Check out the trailer, below, and refresh for the latest highlights from the panel — which for the first time was sans Kirkman, who was at home recuperating from throat surgery.
As for what to expect from the new season, the cast and producers confirmed that the Wolves would indeed be a threat and the show will explore an "us vs. them" look at Rick's group of survivors and the residents of the Alexandria Safe Zone. Gimple also confirmed that he's currently working on a big flashback episode, while star Danai Gurira noted she'd like to see Michonne and Carol (Melissa McBride) work together despite approaching Alexandria with completely different tactics.
Star Steven Yeun defended Glenn's decision to let Nicholas survive — calling it a way for him to hold on to his humanity. He noted that partner Maggie (the absent Lauren Cohan, who was with family) attempt to keep each other on grounded.
Highlights from the panel:
Guest stars From the trailer, you may have gotten a glimpse of Ethan Embry (Can't Hardly Wait,Empire Records). Also: Nurse Jackie's Merritt Wever will also drop in on our survivors for a role that was not revealed.
Biting the Big Apple Gimple also announced that fans will be able to see the premiere in a huge arena: Madison Square Garden. Cast and producers will be present to answer questions. More info can be found at www.amcthewalkingdead.com.
Time to howl The new season will play with time, incorporating several flashbacks, with one entirely flashback episode. Also: Gimple confirmed that the wolves will be part of Season 6 in a way that we may not expect.
Rick's beard Lincoln said that his wife doesn't miss the beard, but Yeun thought the shaven look made it look like he had a shrunken head. "I miss that beard and I'm going to grow it back as soon as possible, Scott Gimple," Lincoln said.
Morgan's lost time What's he been up to this whole time? James joked that he had been painting. But really, he's been trying to find Rick this whole time. The two of them have "this kind of man-love," James said.
Home Sweet Home? Riggs said that Carl sees Alexandria as a home and a chance to restart. It's probably also better that Michonne doesn't know that Carl followed Enid out into the woods. But "you can't imprison him… that's a disrespectful way of treating him," Gurira said.
Carol's challenge Carol pretending to be a sweet, unassuming housewife is dependent on "not having her cover blown," McBride said. As for Tyreese's death, Carol misses him, but it fuels her to fight harder to keep everybody safe. "Everything is fueled by the loss of people. That's why she's doing what she's doing," McBride said. "She's willing to pay the price: go to hell, whatever."
How to be Daryl Reedus said that he gets into character with "a lot of Motorhead, a lot of coffee. I play Candy Crush a lot. I'm so into it. I spend hundreds of dollars." Randomly, a fan also asked what his favorite emoji was. It's the red balloon. So there's that.
Things we hope to show you soon The Comic-Con crowd also saw a hilarious blooper reel (killing zombies requires levity!) and stills of some of the new, beautifully decayed walkers that Nicotero created for this season.
The Walking Dead premieres Sunday, Oct. 11 at 9/8c on AMC.
Day 1===================
(7/9) Comic-Con: 'Sherlock' Christmas Special Debuts First Footage:
The first clip from the Victorian era-set Sherlock Christmas Special debuted at Comic-Con, with executive producers Steven Moffat and Sue Vertue and actor Rupert Graves (Lestrade) on hand to work the crowd into a frenzy.
The first clip showed Holmes and Watson arriving at Baker St., (Watson rocking quite the mustache), as Mrs. Hudson (Una Stubbs) complained that she didn't get much attention in Watson's stories.
After the footage played, Moffat revealed that the Christmas Special will be available theatrically in select theaters. When will that be? He said hopefully this year, though could not confirm.
"When this special goes out — and we hope certainly in our year, it will also in selected cinemas around the world to compliment that first broadcast be available to you on the big screen," said Moffat.
As for the much-anticipated series four, Moffat balked when asked how the writing had gone (past tense) — dismaying the crowd by suggesting the writing was still in the future. (Vertue assured the crowd they were working on it.) He cheekily promised cliffhangers and to "suckerpunch" viewers emotionally in a way that will keep people in perpetual tears. Quite a tall order.
Earlier, Andrew Scott (Moriarty) appeared via a recorded a video message in which he was reading a script for Spectre (he's in the upcoming Bond movie). The crowd went nuts when he called Benedict Cumberbatch (Sherlock Holmes) and Mark Gatiss (Mycroft), who expressed their regrets for not making it to Comic-Con.
The Christmas Special has had fans scratching their heads since late 2014, when a photo of Cumberbatch and Freeman showed the pair rocking Victorian-era clothing. Moffat revealed in March it would be a standalone actually set in Victorian times.
Sherlock has run for three seasons dating back to 2010, earning a ravenous following and helping make Cumberbatch and Freeman geek icons. As the fame of its stars has grown, one of the hurdles Sherlock faces is the tight schedules of its increasingly in-demand leading men. Cumberbatch earned a best actor nomination for last year's The Imitation Game and is joining the Marvel Cinematic Universe as Doctor Strange.Martin Freeman (Dr. Watson) is also joining the MCU in an undisclosed roll in Captain America: Civil War after headlining The Hobbit trilogy from 2012-2014 as Bilbo Baggins.
Sherlock airs on Masterpiece on PBS in the U.S.
Film Panels:
Day 3=====================
(7/14) Final 'Fantastic Four' Trailer: Meet Doctor Doom
After its debut at San Diego Comic-Con, the final trailer for Fox's reboot of Fantastic Four has been officially released, showing the team in action — and more importantly for fans of the Marvel Entertainment series it's based on, showing a lot more of Doctor Doom (Toby Kebbell), as well.
The new trailer not only establishes that Reed Richards (Miles Teller) has always been a scientist more interested in discovery than safety ("Reed, you're insane," a young Ben Grimm (Jamie Bell) tells him after a teleportation experiment gone wrong. "Thanks," he responds), but that the U.S. military has its own reasons for wanting to bankroll his experiments — and supporting what those experiments bring about.
(It also appears to confirm what many fans have been discussing online lately: that this new version of the Thing doesn't wear any pants. Quite why this is a concern isn't entirely clear, considering he's been transformed into a pile of rocks, but there you go.)
Written by Simon Kinberg and directed by Josh Trank, Fantastic Four stars Teller, Bell, Michael B. Jordan and Kate Mara as the eponymous superheroes. The movie hits theaters Aug. 7.
(7/11) 'X-Men: Apocalypse' First-Look Shown
The appearance of the large cast was heavily rumored. Fox surprised a Hall H crowd with a first-look at X-Men: Apocalypse.
The appearance of the large cast – 14 actors took to the stage, ranging from James McAvoy, Jennifer Lawrence,  Michael Fassbender and Nicholas Hoult to Kodi Smit-McPhee, Sophie Turner and Oscar Isaac – was heavily rumored.
But it was the footage that had the crowd roaring in approval and delight.
It gave the first glimpse of Isaac as the villain, Apocalypse, and ended with McAvoy as the bald-headed Professor X, which is the first time the actor will inhabit that iconic look.
The X-Men panel started off on a sentimental note with Hugh Jackman.
A reel showcased the history of the X-Men franchise with a heavy dose of Jackman as Wolverine and also featured rare Jackman audition footage and being offered the job.
"Up until 2 days ago I had no idea that footage existed," Jackman said before going on what felt very much like a Wolverine farewell tour. He talked of how his new Wolverine movie will be "my last time putting on the claws. This has been the greatest things that has ever happened to me."
Singer then joined the man whose career he helped shape and explained: "I never gave anyone a job on the spot before. But I got permission."
X-Men: Apocalypse, directed by Bryan Singer, will hit theaters on May 27, 2016. Gambit, starring Channing Tatum, is slated for October 7, 2016.
As the large Apocalypse cast came on, Jackman and Singer hugged and Jackman bid the stage adieu.
The panel ended on a high note and a surprise on top of a surprise, much to the delight of the crowd.
After another showing of the footage, the entire cast returned to the stage with Jackman for a giant photo. Then, from one far side, X-Men co-creator Stan Lee shuffled onto the stage. Moments later, and out of the blue, Channing Tatum, who is joining the X-Men cinematic universe with his solo film Gambit, hopped from backstage and joined in on the fun. The crowd, naturally, went ape and thousands of cameraphones went into overdrive.
(7/11) 'Deadpool' Trailer Was the Best Received at Comic-Con
What made Hall H crowds demand more? The fact that the new Fox movie recognized its audience. What made Deadpool one of the most (if not the most) rapturously-received trailer at San Diego Comic-Con this year?
It wasn't just the swearing, the Stan Lee cameo or the hyper-violence — instead, it was the fact that it looks like the first movie that talks to the fan audience in their own language.
The tone was set, admittedly, in a pre-discussion video that voiced many Deadpool fans' frustrations by making fun of the decision to sew the character's mouth shut for his big screen debut in X-Men Origins: Wolverine; considering the comic book incarnation's nickname is "the merc with the mouth," with a reputation for being a wisecracking a-hole, it was a choice that seemed surprising at best, and downright contrary at worst.
Either way, it was a sign to the hardcore fanbase that that Deadpool wasn't the character they fell in love with, and this movie's willingness to poke fun a sign that this Deadpool very much is the version they know and love.
The full length trailer shown in Hall H was more of the same, opening with a somber tone as Ryan Reynolds' Wade Wilson faces a cancer diagnosis with an appropriately dramatic, slow-pan response filled with mysterious figures offering him the chance to live — something that felt not unlike the tone of Marvel's first Ant-Man trailer, right up to the fact when Reynolds starts demanding that no-one give him a green, animated costume (Something Reynolds has painful firsthand experience of).
It's another sign that the R-rated movie Deadpool isn't just the fourth wall-breaking character comic fans recognize; he's someone who'll make the same comments and demands of the movie that fans will.
That continues throughout the rest of the trailer — Reynolds pointing out Deadpool creator Rob Liefeld in a cameo appearance (just before Stan Lee fulfills his cameo potential as a strip club DJ, playing with the veteran creator's cuddly public image in the way that fans will likely enjoy), or responding to learning Negasonic Teenage Warhead's name by breaking character to tell her how cool it is. And, to be fair, it is.
It's a movie that feels like the next generation of the metatextual referentiality that's made Marvel Studios' offerings so successful with fans — and been shared on social media by fans countless times following release.
Now, instead of Easter eggs, we have a movie that will openly talk about the things created just to thrill the faithful, pointing them out and saying Yes, we get it too, we're just like you.
With an attitude like that, it's unsurprising that the Hall H audience demanded a second screening by stamping its collective feet and chanting. The real question is whether non-Comic-Con audiences will react in the same way.
Ryan Reynolds' 'Deadpool' Panel Opens With Obscenity-Filled Clip
In the clip, he slammed Fox for sewing the character's mouth shut in the first movie he appeared in (2009's X-Men Origins: Wolverine). Wolverine wasn't the only movie he threw shade at. Reynolds took on his 2011 feature Green Lantern, saying he's only done one "proper superhero movie" then correcting himself: "I'm sorry, not proper."
He continued to play to the Comic-Con crowd by touting the film's R-rating. "It's an absolute miracle that a studio let us make Deadpool, let alone a rated-R Deadpool," he said to huge applause.
Reynolds then debuted the first trailer for the film, working the crowd into a frenzy.
The trailer included a Stan Lee cameo (in a strip club) and also a surprise appearance from X-Men Colossus, who has a fight with Deadpool. The footage was action-packed, funny and bloody.
Before getting his powers, Wade Wilson begs his creators not to make the superhero suit green and animated (another dig at Green Lantern). At another moment, Deadpool's friend Weasel (TJ Miller) discusses how hideous he looks after the procedure that gave him his powers. He looks truly hideous — and Miller has a creative way to describe it (it involves the male anatomy).
At another point, Deadpool does a flip out of a van and with one bullet shoots three men through the head — all gloriously captured in slow motion. At another point, Deadpool looks at a gruesome bullet wound — which has left a gaping hole in his own hand — and makes a foul mouthed comment.
After the footage played, the crowd rose to its feet and started chanting "one more time," and the Hall H powers that be obliged.
Deadpool, which stars Reynolds as the smart-mouthed mercenary, is set for release on Feb. 12, 2016.
(7/11) 'Batman v Superman: Dawn of Justice' Trailer Debuts
The voice of thousands of boisterous fans, wrapped up in a ravenous geek rapture, exploded in San Diego Convention Center's Hall H after the showing of the new trailer for Warner Bros.' Batman v Superman: Dawn of Justice.
Ben Affleck, Henry Cavill and Gal Gadot star in the movie directed by Zack Snyder.
The movie is ostensibly a sequel to 2013's Man of Steel but this movie, more than Steel, is really the jumping off point for Warners' much ballyhooed cinematic universe based on characters seen in the comics published by DC Entertainment.
The movie not only introduces Wonder Woman, making her first screen appearance since the Linda Carter television series, it also unveils heroes such as Aquaman, Flash and Cyborg.
The movie is also Warners' aggressive answer to the cinematic universe template first initiated by Marve Studios, which this year is not attending the annual pop culture celebration.
Warners previously showed off a teaser trailer for Batman v Superman but the effort to make an impact was mangled when the trailer was leaked online early and the studio was in turn forced to unveil it on a Friday afternoon during the same time period Disney released the first trailer for Star Wars: The Force Awakens.
Saturday's panel was a chance for Warners to seize control of the word once more.
Highlights from the WARNER BROS' panel:
Affleck, who is taking over the cape and cowl from Christian Bale, said his predecessor gave him some good advice. When Affleck took his son to get a Batman costume for Halloween, he ran into Bale and asked for a tip. "Make sure you can piss in that suit," Bale told him.
But for the most part, Affleck said, he tries to keep the other Batmen out of his mind. "If I thought too hard about who came before… I couldn't do it," he said. Affleck's version, like Frank Miller's, is burned out and at the end of his rope, the actor said.
Gadot talked about being the first woman to wield Wonder Woman's lasso on the big screen. "I have been given a huge opportunity to show such a strong, beautiful side of women," she said. "I feel privileged to bring her to life."
Eisenberg, who plays the villain Lex Luthor, said his take on the character would be "less campy" than previous iterations. "This version is emotionally grounded," he said.
Snyder also revealed how the DC Cinematic Universe would handle the geography of Metropolis and Gotham — Superman and Batman's comic book homes, both inspired by New York City. "We have Gotham and Metropolis next to each other," he said. "It made sense for us to be sister cities across the bay, like Oakland and San Francisco."
The Batman v Superman presentation followed a surprise appearance by the cast of Suicide Squad — newly unveiled tagline: "Justice Has a Bad Side" — including Will Smith, Margot Robbie, Jai Courtney and Joel Kinnaman, as well as director David Ayer.
"All this good vs evil shit is played out," Ayer said. "It's time for bad versus evil."
It was a sentiment echoed in the new trailer for the film, in which Jared Leto's Joker threatens, "I'm not going to kill you, I'm just going to hurt you really really bad."
The fan frenzy began earlier in the cavernous Hall H, from the moment the side panel curtains were pulled back to reveal two more gigantic screens before the presentation started.
Warner Bros. kicked off the Saturday morning panel, moderated by Aisha Tyler, with a video message from The Man from U.N.C.L.E. director Guy Ritchie, who couldn't attend, though castmembers Henry Cavill, Armie Hammer, Alicia Vikander and Elizabeth Debicki took the stage. Warners also unveiled a trailer for the '60s spy flick.
Debicki talked about donning fantastic '60s clothing for the film. "The '60s and '70s were a golden era for fashion," she said. "My hair weighed about 10 kilos." And Cavill and Hammer talked about taking on comedic roles. "The key was fun," Cavill said. "Don't be too cool or take it too seriously."
They were followed on stage by Hugh Jackman, Garrett Hedlund and Levi Miller, along with director Joe Wright, for a look at Pan. (The fantasy film also stars Rooney Mara and Amanda Seyfried, who were absent from the presentation.)
Due in theaters Oct. 9, the Peter Pan prequel tale sees Jackman as the nefarious Neverland air pirate Blackbeard, Hedlund as a young James Hook, and Miller as the eponymous high-flying orphan boy. The panelists talked about the sheer scale of one of their sets — three times the size of Hall H. "It was like walking in a theme park," Levi said.
Jackman called the film "one of the most fun movies" he'd ever worked on. "The whole thing was a complete joy," he said. Jackman also joked about his character's appearance; Blackbeard could ostensibly be called Blackteeth. "There are clearly no dentists in Neverland," he quipped.
And director Wright credited the original book by J.M. Barrie as his primary source of inspiration, remarking on its "sense of strangeness" and how its characters are often duplicitious; even Peter is flawed.
"It doesn't underestimate children's intelligence," Wright said.
Did you catch the Joker in the new Batman v Superman trailer? (WATCH THE SUICIDE SQUAD TRAILER BELOW)
In the teaser that was unveiled during the Warner Bros. panel for the film at San Diego Comic-Con on Saturday, Robin's suit (!!!) is vandalized with the words: "HAHAHA joke's on you BATMAN."
Jared Leto plays the Joker in the forthcoming Suicide Squad. The actor was not in attendance during the Warner Bros. panel, but his character did make a proper appearance in a sizzle reel for David Ayer's superhero film. "I'm not going to kill you, I'm just going to hurt you really really bad," Leto's Joker said in the new clip, which is not yet online.
Day 2=====================
(7/10) STAR WARS 'The Force Awakens' Panel:
Harrison Ford Makes First Public Appearance Since Plane Crash at 'Star Wars' Panel
At the Star Wars: The Force Awakens panel Friday, Harrison Ford is making his first public appearance since his plane crash in March.
"I'm fine," he told the crowd, who broke out into bellowing screams and applause when he took the stage. "I walked here so how bad can it be?"
The actor, who reprises his iconic role in the upcoming Star Wars film, suffered multiple injuries — including a broken pelvis and broken ankle — after his single-engine, World War II-era plane had to make an emergency landing on a Venice golf course March 5. He was unable to attend the Star Wars Celebration convention in April.
Ford, 72, took the stage along with several stars of the upcoming film, whose director, J.J. Abrams, and Lucasfilm president Kathleen Kennedy led the hotly anticipated panel.
"It should have felt ridiculous," he said when asked about how it felt to return to the set of a Star Wars movie. "It was thirty plus years ago and I sorta grew up.Y et here I was. I will tell you that it felt great."
Ford also was hurt on the set of The Force Awakens when his ankle was injured by the door of the Millennium Falcon, the spacecraft that his character pilots in the original films.
"The originals that I was part of, it was the beginning of my working life," Ford added. "I was very grateful for the opportunity for the success of the film."
New 'Star Wars' Behind-the-Scenes Footage Debuts:
Lucasfilm president Kathleen Kennedy and director J.J. Abrams took over Hall H Friday. On Friday, Star Wars returned to Hall H for the first time since 2004.
The panel, led by Lucasfilm president Kathleen Kennedy and Star Wars: The Force Awakens director J.J. Abrams was considered one of the most anticipated events of this year's Con, with hundreds camping out in lines around the San Diego Convention Centre just to get into its cavernous hall.
The panel also debuted a behind-the-scenes reel:
John Boyega, Daisy Ridley and Oscar Isaac also joined the panel. Dark Side villains from the film, Adam Driver, Domhnall Gleeson and Gwendoline Christie, appeared as well. The biggest applause, however, was reserved for the "legacy players" Mark Hamill, Carrie Fisher and Harrison Ford, making his first public appearance since his plane accident.
"Star Wars is 100 percent dependent on the fans in this room and around the world, since 1976," said Kennedy.
Abrams said that episodes IV, V and VI were treated as canon but that the moviemakers did not want to be paralyzed by their myths. "We wanted to tell a story that would make us feel," the director explained, later adding: "The power that has come before is so deep you have to harness it but you can't be blinded by it."
Still, Abrams said he had a hard time containing his geek glee.
"I sat down with John Williams to show him scenes from a Star Wars movie he hadn't seen yet," Abrams said. "There is nothing normal about this!"
Abrams was confronted by a blunt question posed by two Asian girls who asked why there aren't any Asians in the film.
After jokingly answering "Go Asians" and saying that if he was casting a Star Wars standalone movie he would cast only Asians, Abrams said diversity is very important in the Star Wars movie especially since the world has changed plenty since the original movies.
Honestly, we didn't write the characters to be any color," he said. "We just cast this movie knowing it was important … we wanted the movie to look like the world looks. It was a big consideration."
Kennedy echoed that sentiment: "There is every intention to carry on what J.J. was talking about to every Star Wars film we are doing."
Many newcomers relished talking about their experiences, especially the good guys, Boyega, Ridley, and Isaac. On the Dark Side, Driver didn't seem all that talkative, but Gleeson may have tilted too much the other way, as he gave up a movie secret when he casually revealed the name of a base.
"On Starkiller Base…," he said, cutting himself short. He then looked at Abrams and asked, "Is that okay?"
Well, by then it was too late. As one of the panelists said, "You can't fire him now."
Christie, playing a stormtrooper named Captain Phasma, said portraying the first female stormtrooper seen on screen "was more relevant than ever."
Hamill, meanwhile, talked of Star Wars' far-reaching and personal connection to strangers and how it has affected him.
"It's very moving to me," he said. "It's hard to absorb. It's like an out of body experience … I've never taken it for granted."
The panel hit key points of how the new film used plenty of practical effects without actually mentioning the much-criticized over-reliance of CG effects of the prequels. And it avoided having Ford, who has a reputation of being a bit cantankerous when it comes to his iconic role of Han Solo, of weighing down a panel which he famously did when he made his first Con appearance in 2011 in conjunction with Cowboys & Aliens.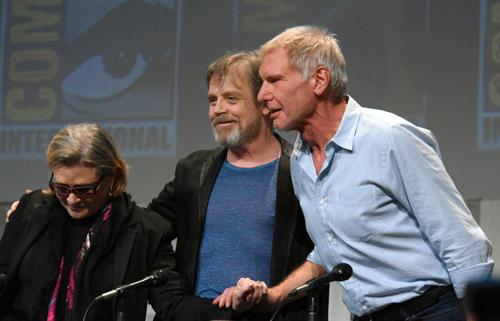 In fact, Ford managed to throw in some quips to his old co-stars in jokes about the too-intimate relationship between Luke and Leia, which the audience loved.
But perhaps the biggest move was reserved for the end of the panel, when Abrams and Kennedy invited the entire hall of over 6,500 attendees to walk to a nearby park for a concert of Star Wars music by the San Diego Symphony.
Thousands of attendees were moved in a surprisingly orderly, if slow, fashion and, in over an hour, were sitting on grass or seats with free toy lightsabers in hand while listening to the strings and horns of Star Wars. Not a bad way to spend a Friday evening.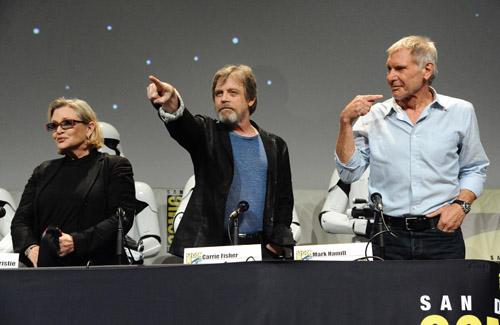 Day 1=======================
(7/9) Jennifer Lawrence Sends Off 'Hunger Games' Franchise at Hall H
The actress was refreshingly candid with her answers. If there was any doubt that Jennifer Lawrence is the biggest female star on the planet, it was erased at Lionsgate's Hunger Games: Mockingjay — Part 2 panel.
Sure, Liam Hemsworth made females swoon with a suave line or two, and Josh Hutcherson proved to be attentive to the fans. But it was Lawrence — charming, funny, disarming and beautiful — who had the audience enraptured.
"I don't remember what your question was but remember thinking that this may possibly answer it," she said after one answer slowly went off the rails. But the actress was refreshingly candid.
When she was asked if anything from her character, Katniss Everdeen, rubbed off on her, she responded, "Nothing about us is similar. She's brave and I'm an actress."
When Conan O'Brien, the moderator, said he had questions from social media, the actress, who had nude images of herself hacked and leaked online, sarcastically responded, "My favorite."
And she seemed to show a genuine love to her co-stars, with their banter revealing a close-knit friendship.
The panel began with a dueling drumline introduction from a local San Diego high school band and featured the premiere of the Mockingjay — Part 2 trailer.
"You guys camp out, you guys wait, you've been fantastic," said director Francis Lawrence. "This is for you guys."
Producer Nina Jacobson promised an emotional end to the journey, for both audiences and the filmmakers alike.
"The end is emotional for all of us," Jacobson said. "We want to deliver the emotion and the politics of it, all the things that [author] Suzanne [Collins] wanted to say. But we don't want to say good bye to each other. We all wish there were seven or eight books, not just three. It's a very emotional conclusion. It's emotional for us, but it will be emotional for the fans."