by Rick JT, editing by Adam MS
New Development:
(7/17) Chattanooga Shooting Victims Include Iraq, Afghanistan Veterans
All four Marines killed in the Chattanooga shooting have been identified and include highly decorated veterans who served in Iraq and Afghanistan.
Gunnery Sgt. Thomas Sullivan, Staff Sgt. David Wyatt, Sgt. Carson Holmquist and Lance Cpl. Squire "Skip" Wells were named as the four victims by Marine officials.
Three of the four Marines were on active duty and assigned to the Marine Reserve Center in Chattanooga, Tennessee, where the shooting occurred Thursday, while the fourth, Wells, was a reservist, a defense official said.
Two senior state officials in Sullivan's home state of Massachusetts told ABC News that he had served two tours of duty in Iraq.
Sullivan was a 40-year-old native of Springfield, Massachusetts, and graduated from a local Catholic high school, according to MassLive.
Records released by the Marines said Sullivan won two Purple Hearts, as well as numerous other decorations, over a nearly 18-year military career, and his current home of record was Hampton, Massachusetts.
Sullivan's death was also confirmed on the Facebook page for the India Battery 3rd Battalion 12 Marines, which shared a photo and called for the thoughts and prayers of the group.
"For those who have not heard yet, one of the four Marines murdered today was one of our own — Thomas Sullivan," the post read.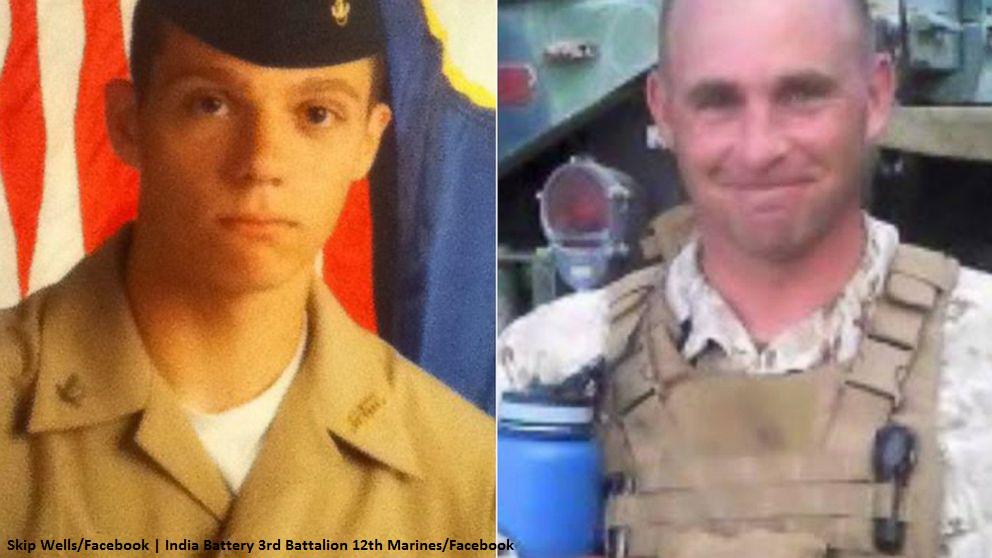 Wyatt had been with the military for more than a decade, with the Marines listing his entry date as May 2004. He served three tours, one in Afghanistan and two later tours in Iraq. His home of record is listed as Burke, North Carolina.
Holmquist, of Polk, Wisconsin, joined the Marines in January 2009 and served two tours of duty in Afghanistan.
Sullivan, Wyatt and Holmquist had all received one Navy Marine Corps Achievement Medal apiece, among a host of other awards.
The only reservist in the group was "Skip" Wells, 21, whose death was confirmed to ABC News by family friends, Andy Kingery and Teresa Bass.
Wells, who attended Sprayberry High School in northeast Cobb County, Georgia, as well as Georgia Southern University, played the clarinet, and was in the marching band and the ROTC, the family friends said. He was an only child raised by a single mom, they added, and he was a reserve lance corporal waiting to go on active duty. The day before the shooting, he had gone to Tennessee, where he had a two-week assignment.
Wells was enrolled at Georgia Southern from 2012 to fall 2013, according to a statement from the university mourning his death.
He also volunteered with a group called the Living History Cannon Crew of Kennesaw Mountain National Battlefield Park, a preserved Civil War battleground in Georgia. The park lowered its flags to half-staff in Wells' honor and said in a statement, "No matter what uniform Skip wore, he remains the epitome of a dedicated professional whose service cannot be replaced."
The four deceased Marines' remains were being taken today to Dover Air Force Base in Dover, Delaware, where the military mortuary center is located, Marine officials said.
In addition to the four Marines killed, three other members of the military were injured in the attack, officials have said. One of those was identified as Randall Smith by his aunt, Tania Daugherty, who lives in Minneapolis, Kansas. She said Smith, a logistics specialist in the Navy with three young daughters under the age of 4, has had surgery to repair damage to his colon and doctors were trying to bring him out of a coma.
President Obama called the shootings "heartbreaking" and Vice President Joe Biden extended his sympathies to the families of the victims.
"These … young Marines were part of a generation that is probably the most incredible generation that this country has seen," Biden said. "Their families have already given a lot to the country, and now this. We will get to the bottom of it."
(7/17) Investigators seek motive behind Tennessee shooting rampage
Investigators on Friday sought to determine what led a 24-year-old gunman to open fire at two military offices in Chattanooga, Tennessee, killing four Marines in an attack officials said could be an act of domestic terrorism.
Mohammod Youssuf Abdulazeez, identified as the shooter by the Federal Bureau of Investigation, was shot to death in the rampage that also injured three people, including a sailor who was critically wounded.
The attack comes at a time when U.S. military and law enforcement authorities are increasingly concerned about the threat "lone wolves" pose to domestic targets.
The suspect, seen driving an open-top Ford Mustang, first went to a joint military recruiting center in a strip mall and sprayed it with gunfire, riddling the glass facade with bullet holes.
"Everybody was at a standstill and as soon as he pulled away everyone scrambled, trying to make sure everyone was OK," said Erica Wright, who works two doors down from the center.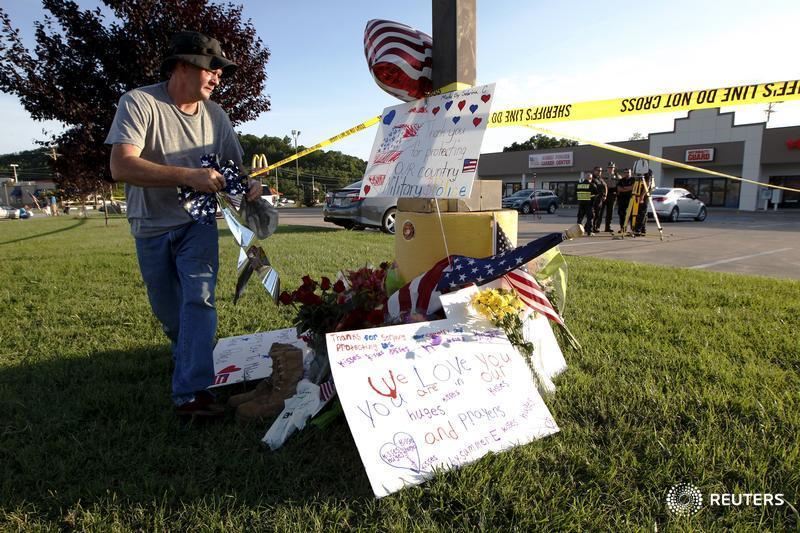 The gunman then drove off to a Naval Reserve Center about 6 miles (10 km) away, fatally shooting the four Marines before being shot and killed in a firefight with police.
Three others were wounded in the attacks, including a police officer reported to be in stable condition and a Marine. The shootings began around 10:45 a.m. (1445 GMT) and ended about 30 minutes later.
NBC News reported that Abdulazeez was a naturalized American who was born in Kuwait. U.S. law enforcement officials said they were investigating whether he was inspired by Islamic State or a similar group.
Islamic State had threatened to step up violence in the holy fasting month of Ramadan, which ends on Friday evening.
The extremist group, also known as ISIS and ISIL, claimed responsibility when a gunman in Tunisia opened fire at a popular tourist hotel and killed 37 people in June. On the same day, there was an attack in France and a suicide bombing in Kuwait.
At a news conference late Thursday, Edward Reinhold, special agent in charge of the FBI's Knoxville, Tennessee, division, said investigators had found nothing that tied the suspect to an international terrorist organization.
Nobody else had been taken into custody, he said.
The SITE Intelligence Group, which tracks extremist groups, said that Abdulazeez blogged on Monday that "life is short and bitter" and Muslims should not miss an opportunity to "submit to Allah." Reuters could not independently verify the blog postings.
The New York Times, citing unnamed law enforcement officials, reported that his father had been under investigation several years ago, over possible ties to a foreign terrorist organization. His name was later removed from a terror watch list.
According to a resume believed to have been posted online by Abdulazeez, he attended high school in a Chattanooga suburb and graduated from the University of Tennessee with an engineering degree.
"I remember him being very creative. He was a very light-minded kind of individual. All his videos were always very unique and entertaining," said Greg Raymond, 28, who worked with Abdulazeez on a high school television program.
"He was a really calm, smart and cool person who joked around. Like me, he wasn't very popular so we always kind of got along. He seemed like a really normal guy," Raymond said.
Reuters
Chattanooga Suspect Mohammod Youssuf Abdulazeez Wasn't on Law Enforcement Radar
The 24-year-old named by the FBI as the killer of four U.S. Marines today in Chattanooga, Tenn. today so far does not appear to have been on law enforcement's radar, two U.S. officials told ABC News.
"They've run an initial check on him. Right now, there is nothing popping early in the system on him, but that could change," a senior U.S. official briefed on the incident said. "They are still checking multiple other databases on him."
Authorities said Mohammod Youssuf Abdulazeez gunned down four Marines at two military-related buildings in the southern Tennessee city before his own death. Three people were also injured, the FBI said.
There were two scenes of the shooting — one at a Naval Operation Support Center and an Armed Forces Recruiting Center that houses an Army and Marine recruiting office — though most of the injuries are believed to have occurred at the Naval Operation Support Center, according to federal officials.
Authorities are investigating the life of Abdulazeez in an attempt to determine what may have prompted him to carry out the deadly attack.
"We're going to do an intense look at him to see what his connections are," an FBI agent said at a news conference, noting that authorities believe he was a lone gunman. Officials did not say how Abdulazeez died.
-ABC
Original article ==========
Four people were killed by a gunman who went on a rampage at two U.S. military centers in Tennessee on Thursday, Chattanooga Mayor Andy Berke said. The gunman died at the scene.
A police officer was reported to be in stable condition, Berke said.
The gunman, identified by witnesses as a white male driving a silver Mustang, first opened fire at an Armed Forces Career Center at a strip mall. Witnesses heard a "pop pop" of gunfire and saw a gunman speeding off in the sports car. Police later found numerous shell casings in the parking lot.
The shooter then drove to the U.S. Naval Reserve Center on Amnicola highway, about six miles southeast, where he fired into the offices, hitting four members of the military and injuring the police officer.
Gale Mule, a witness, tells CNN that a shooter drove up to Navy offices and began "firing into the building." Local media said the shooter was firing a high-powered rifle.
Within hours Chattanooga police said the incident was no longer an active shooter situation. Local media reported that the gunman was shot and killed.
Chattanooga State's campus nearby was locked down as a safety precaution, the school said on its website.
DEVELOPMENT: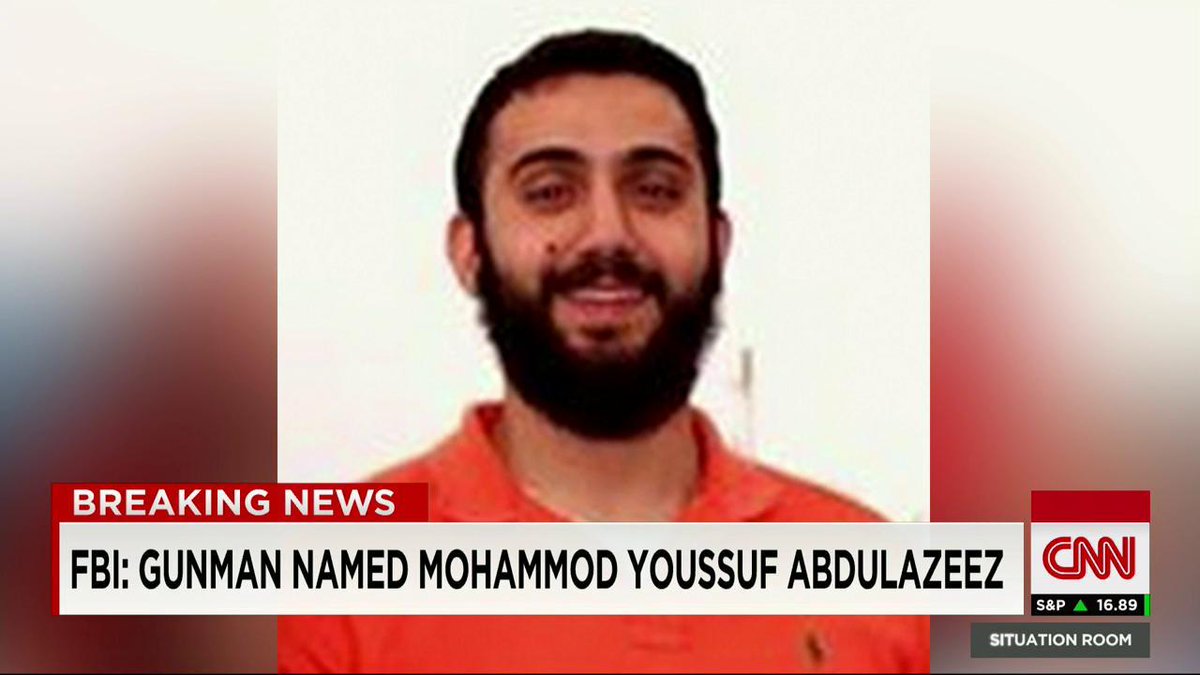 The suspected shooter, 24-year-old Mohammod Youssuf Abdulazeez, is also dead, the FBI said.
Investigators "have not determined whether it was an act of terrorism or whether it was a criminal act," Ed Reinhold, FBI special agent in charge, told reporters. "We are looking at every possible avenue, whether it was terrorism — whether it was domestic, international — or whether it was a simple, criminal act."
U.S. Attorney Bill Killian earlier told reporters that authorities were treating the shooting as an "act of domestic terrorism."
The shootings unfolded at two sites over 30 minutes, Reinhold said.
The suspected gunman started spraying bullets at the glass doors of a strip mall military recruiting center around 10:45 a.m. ET, witnesses said.
From there, he headed to another location more than seven miles away, an operational support center operated by the U.S. Navy.
That's where the four victims and the gunman were killed, Reinhold said.
At least three people were injured, officials said, including a police officer and a military service member.
The officer, who was injured when he was shot in the ankle, has been treated at the hospital, Chattanooga Mayor Andy Berke said. A military service member was also among the wounded, the Defense Department said.
'It was very loud and very fast'
"Today was a nightmare for the city of Chattanooga. … We had someone viciously attack, at two different locations, people who proudly serve our country," Berke said.
Gina Mule, a server at a restaurant, said she saw a man who'd been in a silver convertible Mustang, firing a "high-powered rifle" at the recruiting offices at about 10:50 a.m.
She said she first heard "Pow, pow, pow!" She then went to a window, through which she said she saw the man firing shots.
"I don't know how many shots he fired, but it was a lot," she said.
A second witness, April Grimmett, said she was working at a hair salon near the recruiting center when she looked out a window and saw a man ducking in between cars.
"Shortly after that, we heard the (shots). It was very loud and very fast," Grimmett said, without saying what happened to the man she had seen.
A photo that she took shows glass doors damaged by the gunfire.
"I could not believe how many bullet holes were in that door. It was insane," she said.
Fred Wright, a salesman at a nearby auto parts store, told CNN that after he heard gunshots, three people ran into the shop, hollering they thought "someone was shooting at them."
Wright said he called 911.
"Sounded like it was 30, 40 shots to me," Wright said, adding that he never saw a shooter.