by Rick JT, editing by Adam MS
New update (7/22) ===============
Boom! Katy Perry has lost her class in getting publicity by officially joined the back and forth between Taylor Swift and Nicki Minaj. This is such a huge disappointment for many 'Katy Cats' because instead of cooling down the beef between the two singers, Katy instead chose to fire it up by going out on twitter.
And the worst part is, Katy Perry only did that for her own interest, we dare to say that. That is very obvious since Katy and Taylor have been going on a public feud for months now, and by this event, she just used it to gain more public attention especially in Pop Music after Taylor Swift has taken over the highest spotlight over the past year.
See, it's such a shame that, one day after the "Anaconda" rapper and the "Shake It Off" singer got into a Twitter spat over the 2015 MTV Video Music Award nominations, the 30-year-old singer has weighed in on their wars of words—and she's not holding back any of her disdain for Taylor Swift.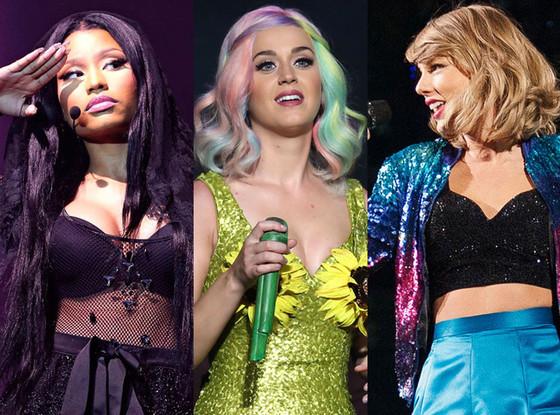 "Finding it ironic to parade the pit women against other women argument about as one unmeasurably capitalizes on the take down of a woman…" she wrote (presumably, the tweet was written on her phone and will soon be edited).
A simple translation? She's calling Taylor Swift a hypocrite since the 25-year-old pop star penned her hit "Bad Blood" about her ongoing feud with Perry (Minaj has since favorited the tweet).
Well, we were such fans of yours, Katy, but what you just did, simply and obviously pitting women against each other, you obviously did that for your own interest with Taylor Swift. If Katy had the guts to confront Taylor, she should have just done that personally to Taylor, instead of using this beef to get public interest and trying too hard to get people on her side. It's pathetic, and NOT CLASSY, at all, Katy (Shame on her PR team!)
Lastly, when Lady Gaga lost her spotlight in Pop Music after Katy's rivalry, Lady Gaga has taken it in the most elegant way a REAL ARTIST could ever do, by not throwing any shade whatsoever to her rivals. Instead trying to make her own contemplation about her craft, and what she could do better. Gaga has given such a great example Perry should do. Seriously, Taylor Swift is on the TOP OF POP music since she transformed her craft from country to pop, and Katy Perry has been feeling threatened ever since whether she admits it or not. But one thing Katy obviously does, and now even publicly, is showing how just hypocrite she is, by using this #VMAs beef to take down her rival in Pop now. That's just not classy, and ultimately disappointing, especially considering we're such fans of hers. WE WERE. We hope you can grow up, Katy, and face the fact that life is moving, you can't never be on top forever, unless you're Madonna, ha! x
New update (7/21) ===============
Taylor Swift's year is just getting better and better! Not only has she found new love with Calvin Harris and become the youngest person to make Forbes' list of 100 most powerful women, she can now also boast about getting more nominations than anyone else for MTV's 2015 Video Music Awards. The nods were announced on Tuesday, July 21.
The "Bad Blood" songstress nabbed nine nominations, including Best Female Video, Best Collaboration, and Best Video Effects. Ed Sheeran wasn't far behind with six nods, and Beyonce came in with a respectable five. All three will be competing to claim the coveted Moonmen for the Video of the Year and Best Pop Video categories.
Here are the nominees as they're announced this morning on Apple Music's "BEATS 1":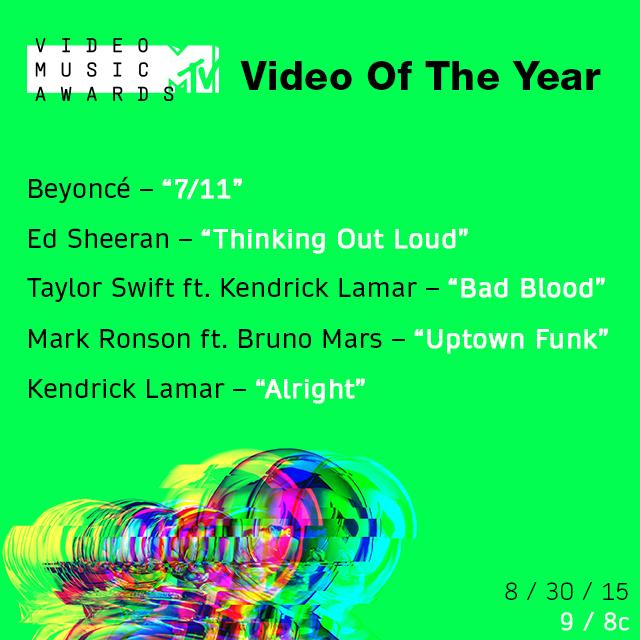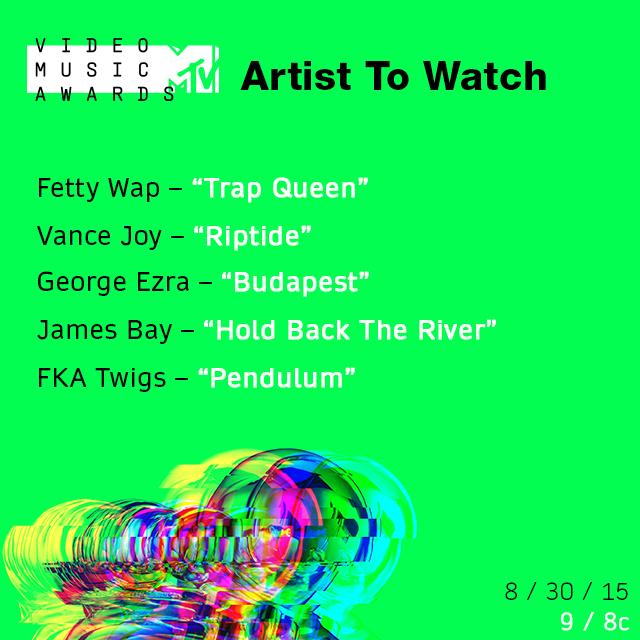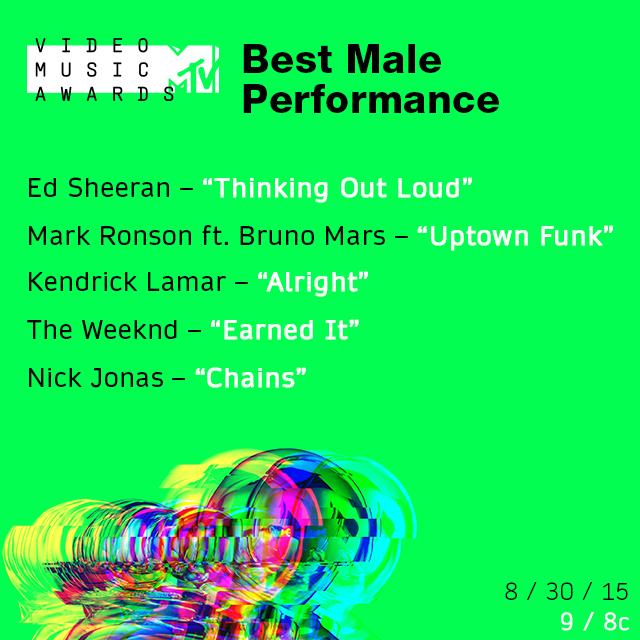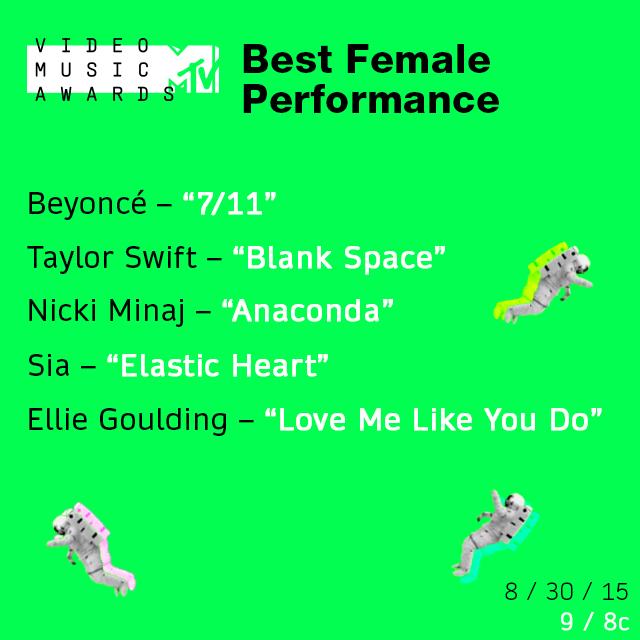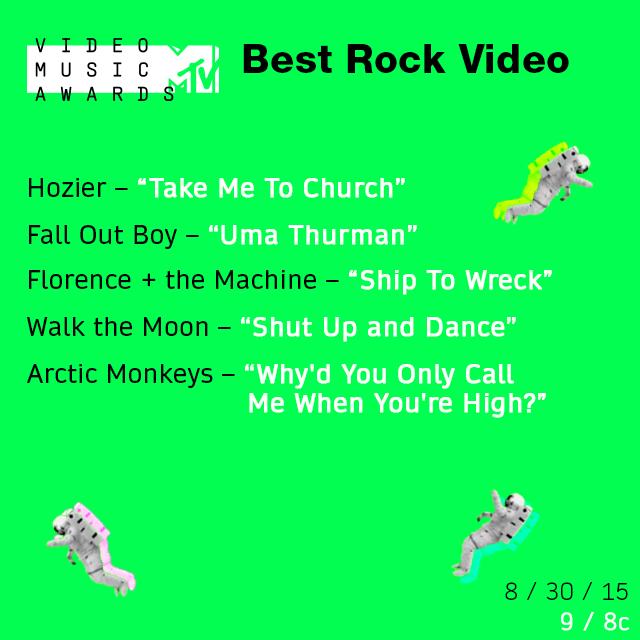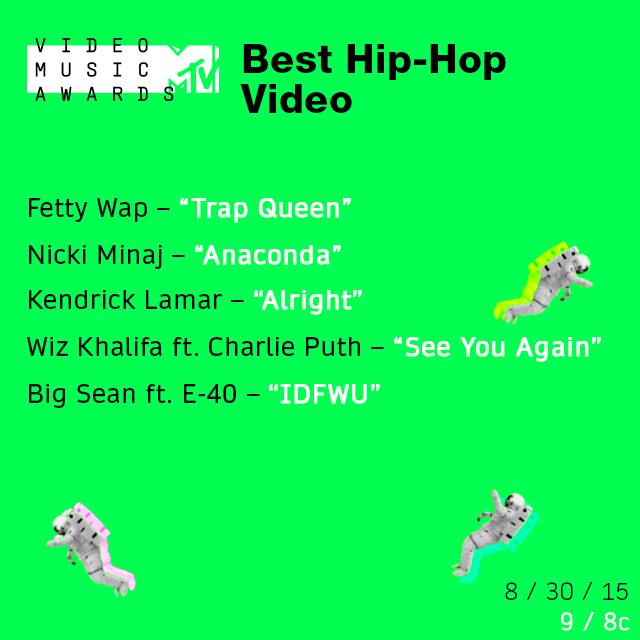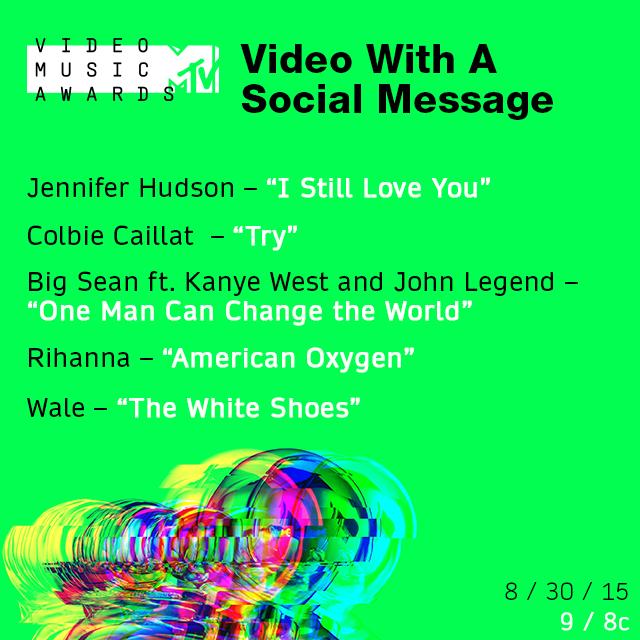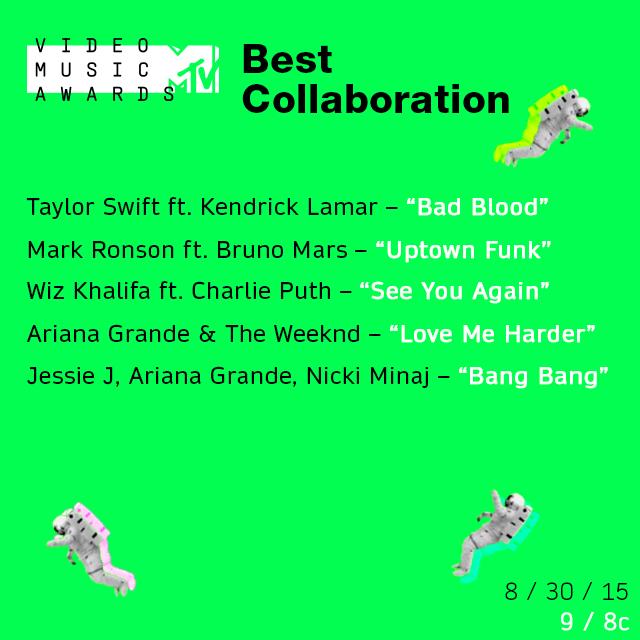 Best Art Direction
Taylor Swift ft. Kendrick Lamar – "Bad Blood" (Charles Infante)
Snoop Dogg – "So Many Pros" (Jason Fijal)
Jack White – "Would You Fight For My Love" (Jeff Peterson)
The Chemical Brothers – "Go" (Michel Gondry)
Skrillex & Diplo – "Where Are U Now" with Justin Bieber (Brewer)
Best Choreography
Beyoncé – "7/11" (Beyoncé, Chris Grant, Additional choreography: Gabriel Valenciano)
OK Go – "I Won't Let You Down" (OK Go, air:man and Mori Harano)
Chet Faker – "Gold" (Ryan Heffington)
Ed Sheeran – "Don't" (Nappy Tabs)
Flying Lotus ft. Kendrick Lamar – "Never Catch Me" (Keone and Mari Madrid)
Best Cinematography
Flying Lotus ft. Kendrick Lamar – "Never Catch Me" (Larkin Sieple)
Ed Sheeran – "Thinking Out Loud" (Daniel Pearl)
Taylor Swift ft. Kendrick Lamar – "Bad Blood" (Christopher Probst)
FKA Twigs – "Two Weeks" (Justin Brown)
Alt-J – "Left Hand Free" (Mike Simpson)
Best Direction
Taylor Swift ft. Kendrick Lamar – "Bad Blood" (Joseph Kahn)
Mark Ronson ft. Bruno Mars – "Uptown Funk" (Bruno Mars and Cameron Duddy)
Kendrick Lamar – "Alright" (Colin Tilley & The Little Homies)
Hozier – "Take Me To Church" (Brendan Canty, Conal Thomson)
Childish Gambino – "Sober" (Hiro Murai)
Best Editing
Beyoncé – "7/11" (Beyoncé, Ed Burke, Jonathan Wing)
Ed Sheeran – "Don't" (Jacquelyn London)
Taylor Swift ft. Kendrick Lamar – "Bad Blood" (Chancler Haynes at Cosmo Street)
A$AP Rocky – "L$D" (Dexter Navy)
Skrillex & Diplo – "Where Are U Now" with Justin Bieber (Brewer)
Best Visual Effects
Taylor Swift ft. Kendrick Lamar – "Bad Blood" (Ingenuity Studios)
FKA Twigs – "Two Weeks" (Gloria FX, Tomash Kuzmytskyi, and Max Chyzhevskyy)
Childish Gambino – "Telegraph Ave." (Gloria FX)
Skrillex & Diplo – "Where Are U Now" with Justin Bieber (Brewer)
Tyler, The Creator – "F—— Young/Death Camp" (Gloria FX)
The VMAs will air Sunday, Aug. 30, at 9 p.m. ET from the Microsoft Theater in Los Angeles. The ceremony will be hosted by non other than Miley Cyrus, who made headlines when she twerked with Robin Thicke during their performance at the 2013 ceremony.
image:MTV
below is the original article =========
Get ready: Miley Cyrus is returning to the VMAs, and not just as a performer this time.
The pop star is set to host MTV's Video Music Awards, airing next month. Cyrus announced the news on Monday with a playful tweet, joking that MTV won't let her perform, so she's taking on a different role.
MTV also confirmed the news on its Twitter. The VMA nominations will be released on Tuesday.
Cyrus made serious waves in her 2013 appearance on the annual music awards show, in which she twerked against Robin Thicke and waved around a giant foam finger during their performance of "We Can't Stop" and "Blurred Lines." She returned to the show last year, when she offered her award for video of the year for "Wrecking Ball" to her homeless date, Jesse Helt.
Past VMA hosts have typically been comedians rather than musicians, including Kevin Hart, Chelsea Handler and Russell Brand. The event had no host last year.
The 2015 VMAs will air on MTV Aug. 30 at 9 p.m. EST.
image:Getty