by Adam MS, editing by Alex JS
New update sorted from the latest (all local time):
(8/19) The Latest on Bangkok: Thai police release suspect's sketch
BANGKOK (AP) — The latest on the bombings in the Thai capital (all times local):
4 p.m.
Thai police have released a detailed sketch of the main suspect in Monday evening's bombing that killed 20 people at the Erawan shrine in downtown Bangkok.
It depicts a young man wearing glasses with bushy black hair and is apparently based on security camera video from the shrine showing a man in a yellow shirt carrying a backpack.
Police have offered a 1 million baht ($28,080) reward for information leading to his arrest.

3:30 p.m.
Thai Prime Minister Prayuth Chan-ocha is appealing to the main suspect who appears in the security video at the shrine around the time of Monday's bomb blast to surrender because he says "he might get killed to stop him from talking."
Prayuth told reporters: "If the person wants to be safe, he should turn himself in. Officials will find a legal way to provide him with safety. It's better than living in hiding. It would make his life miserable."
Prayuth added: "I want to tell those close to the suspect to tell him to come to police, whether you are in the same network or not, because he might be in danger."
Prayuth also says that the man must have been hired to plant the bomb that killed 20 people on Monday evening at a busy Bangkok intersection.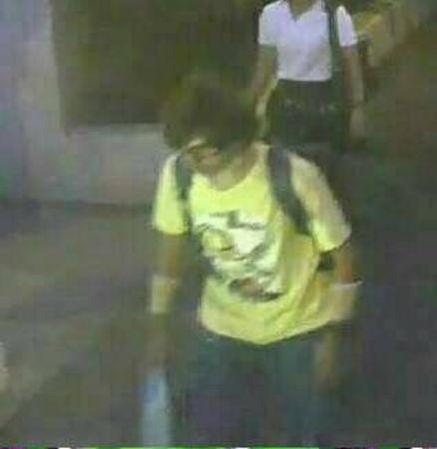 3 p.m.
Thai police say they have called two or three people, mostly foreigners, for questioning as they search for the main suspect seen in security video carrying a backpack at the Erawan shrine shortly before the Monday evening explosion that killed 20 people.
Police spokesman Lt. Gen. Prawut Thavornsiri says an arrest warrant for the unidentified suspect would be issued soon. He says "hopefully, he is still in Thailand."
He also says others wanted for questioning are people seen in the security footage at the shrine.
National police chief Somyot Poompanmoung says anybody who appeared in the security footage around the time of the blast is considered a suspect.
He told reporters Wednesday that the suspect did not work alone. He says "they work as a network, know how to escape. Not one person can do this."
He added that there must be some Thai nationals involved, and they are not 100 percent certain that the man in the video is a foreigner and he could have been in disguise.
— Nattasuda Anusonadisai, Bangkok
1:45 p.m.
Thai police are offering a reward for information on bombing suspects.
Police spokesman Lt. Gen. Prawut Thavornsiri says in a tweet that 1 million baht — equivalent to $28,080 — is being offered for any word on bomber or bombers suspected of planting the explosive device that went off at a downtown shrine on a busy Monday evening, killing 20 people and wounding nearly 130 others.
A series of photos of one suspect have been released to the public. They show a man in a yellow T-shirt and carrying a backpack.
Police say they believe he wasn't acting alone.
___
12:45 p.m.
A teary-eyed young Singaporean who lost his mother in Monday's bombing and relatives of four members of a single Malaysian family who died in the blast have offered prayers and incense sticks at the Erawan shrine.
The relatives were led by a dozen Buddhist monks who performed a ritual as the shrine reopened to the public Wednesday morning.
The remains of the four Malaysians are scheduled to be returned to their hometown in Penang state later Wednesday. They were traveling on holiday in Bangkok in a group of seven.
Lee Tiang Heng, the grandfather of the 4-year-old Lee Jing Sian, who was among the dead, told Malaysia's New Strait Times daily newspaper: "The whole family is devastated with the news and we are finding it hard to come to terms with their deaths."
Malaysia's Deputy Foreign Affairs Minister Reezal Merican Naina Merican said the bombing was a "heinous … unforgivable crime" and called on Thai authorities to expedite the investigation.
12:20 p.m.
Thai police say the bomber who is being hunted in the Monday explosion that killed 20 people at the downtown Bangkok shrine did not act alone.
National chief of police Somyot Poompanmoung says "he didn't do it alone for sure. It's a network."
Investigators believe a man seen in security video wearing a yellow T-shirt and carrying a backpack set off the explosion. Police have released several photos of the man, with and without the backpack, and are asking the public to provide information about him.
— Nattasuda Anusonadisai, Bangkok
___
11:45 a.m.
The bomb crater at the downtown Erawan shrine where the Monday evening explosion killed 20 people has been paved over with a fresh coat of white cement.
Workers cemented the crater before it reopened to the public early Wednesday.
The original metal fence surrounding the statue of Phra Phrom, the Thai representation of Hindu god Brahma, is still dented from the impact of the bomb blast. Police say the explosive device was contained in a pipe and weighed 3 kilograms (more than 6 pounds).
A white tarp is draped over the fence and the freshly cemented area is sealed off by racks to keep people away, as many have thronged to the shrine to offer prayers and condolences.
Kiko Rosario, Bangkok
___
10:30 a.m.
Residents of Bangkok are posting messages of unity and condolences alongside flowers and incense sticks at a downtown shrine where a Monday evening bomb explosion killed 20 people and wounded nearly 130 others.
One of those who prayed at the Erawan shrine Wednesday morning was office worker Nuansupha Sarunsikarin. She says: "I'm depressed for those innocent people who had to pay for something they're not involved with, and now they've got no chance to live their lives because of someone else's agenda. I feel sad for them, their families and relatives."
Messages posted on a board at the shrine included one in English: "Be strong. Be together."
The popular open-air shrine, built in 1956, houses the statue of Phra Phrom, the Thai representation of Hindu god Brahma.
— Kiko Rosario, Bangkok
___
8:30 a.m.
The shrine where a bomb blast killed 20 people and wounded more than 120 on Monday night reopened in downtown Bangkok on Wednesday morning. Residents offered prayers, incense and flowers at the shrine at one of the capital's busiest intersections.
(8/18) Grenade thrown from bridge in central Bangkok
Thai police confirmed an explosion near Bangkok's Taksin bridge, but there were no reported casualties.
A man threw a small explosive from a bridge in central Bangkok on Tuesday, police said, but it caused no injuries, a day after a bomb at a city shrine killed 22 people, including nine foreigners.
The unidentified man threw the explosive near a busy pier on the city's Chao Phraya river and it landed in a canal, said Colonel Natakit Siriwongtawan, deputy police chief of Klongsan district.
"If it did not fall in the water then it certainly would have caused injuries," he said.
Police said the explosive had "similarities" with the bomb used at Ratchprasong but further investigation was needed.
Police divers were investigating around the river with part of Sathorn Pier closed, but boat traffic and the nearby BTS Skytrain was still operating as normal.
Sathorn pier is an important transport hub, linking river traffic with train services, and is often used by tourists.
– CNA/Reuters
6.18pm:
The Associated Press has filed this background on the Erawan shrine, a Hindu temple that is nonetheless popular with Buddhist Thais and Chinese tourists.
The Erawan shrine is dedicated to the Hindu god Brahma, but is extremely popular among Thailand's Buddhists as well as Chinese tourists. Throngs of tourists come there to pray at all hours, lighting incense and offering flowers purchased from rows of stalls set up on the sidewalk along the shrine. The site is a hubbub of activity, with quiet worshipers sometimes flanked by Thai dancers hired by those seeking good fortune, while groups of tourists shuffle in and out.

In March 2006, the shrine was vandalized by a man who smashed the statue of the four-headed Brahma with a hammer. The man, believed to be mentally ill, was lynched by bystanders. A new Brahma statue was installed at the shrine within months, and was not damaged in Monday's blast.

Brahma is the first god in the Hindu trinity and is said to be the creator of the universe. The other two gods are Vishnu, the preserver, and Shiva, the destroyer. Although Thailand is predominantly Buddhist, it has enormous Hindu influence on its religious practices and language.
Death toll revised up to 18
The official number of people killed and hurt by the bomb has been revised up for a third time, the Associated Press reports.
At least 18 people are confirmed dead and 117 injured, the agency said, citing the Narinthorn emergency medical rescue center.
A bomb has exploded outside a Hindu shrine in central Bangkok, killing at least 12 people and wounding scores more, police sources say.
Body parts were reportedly scattered across the street after the bomb went off outside the Erawan Shrine in the downtown Chidlom district of the Thai capital.
"I can confirm it was a bomb. We can't tell which kind yet, we are checking," national police spokesman Lieutenant General Prawut Thavornsiri said.
A policeman at the scene and a rescue worker said 12 people had been killed. Local television reported at least 20 people were injured.
Deputy national police chief Aek Angsananond said a motorcycle was involved in the blast. Police and ambulances rushed to the scene after the bomb went off around 7:00pm (local time).
The Erawan is a popular shrine to the Hindu god Brahma but is visited by thousands of Buddhist devotees every day. It is located on a main road through Bangkok's commercial hub and is surrounded by three major shopping malls.
Police search for other explosives: reports
Reuters reported a soldier told onlookers to move back, saying they were checking for a second bomb.
Freelance cameraman Florian Witulski in Bangkok told the ABC he had spoken to a member of the bomb squad who said two other suspected explosives had been found in the area.
He said the blast occurred at a major intersection and an area with several hotels. He said there were many burnt out motorbikes on the scene.
"It must have been a really strong explosion," Witulski said.
There was no immediate claim of responsibility.
Thai forces are fighting a low-level Muslim insurgency in the predominantly Buddhist country's south, although those rebels have rarely launched attacks outside their ethnic Malay heartland.
The country has also been riven for a decade by intense and sometimes violent rivalry between political factions in Bangkok and elsewhere.
The army has ruled Thailand since May 2014 when it ousted an elected government after months of at-times violent anti-government protests.
AFP/Reuters