Sharp falls on the Shanghai exchange have made investors jittery across the region as worries intensify about the slowdown in the world's second largest economy.
by Bradley Matthews, editing by Adam MS
(11.40AM ET) 5 Reasons Stocks Are Tumbling Worldwide On 'Black Monday'
NEW YORK — Wall Street woke up to, if not a Black Monday, at least a Blackish Monday.
Markets around the world tumbled toward historic losses amid a toxic cocktail of financial volatility. As the global sell-off hacksawed European and Asian markets, U.S. traders braced for the worst. The New York Stock Exchange invoked the rarely used Rule 48, allowing stocks to open without any price indications.
But don't panic. The market is already correcting the reverse. And as Fusion's Kevin Roose aptly put it Monday morning:
Here are the major market woes troubling investors.
1. China's stock market is crashing.
The Shanghai Composite plummeted 8.5 percent on Monday, its biggest loss since 2007. The Chinese government has scrambled this month to come up with novel ways to allay investors' concerns, most notably by devaluing its currency, the yuan. Over the weekend, regulators took the extra step of allowing pension funds to invest in stocks for the first time. But evidently, the move was dismissed by traders.
2. Europe is facing its biggest losses since 2008.
The pan-European Stoxx 600 index, which includes 18 countries in the region, fell nearly 6 percent on Monday morning.
London's FTSE 100 stock index has plunged more than 5 percentage points.
Germany's DAX index is down nearly 5 percent as technology companies took particularly brutal hits, including Dialog Semicon, Nokia and Alcatel-Lucent.
France's CAC 40 index has sunk roughly 7 percent.
3. Oil hit a six-year low.
Middle Eastern stocks dropped as the price of a barrel of West Texas Intermediate fell to about $40 on Monday and Brent Crude sank to about $45. Stock markets in Saudi Arabia, Dubai, Abu Dhabi and Qatar — all countries or city-states enriched by the fossil fuel — crashed on Sunday.
But falling oil prices should, in theory, eventually have a neutralizing affect on the stock market. As The Huffington Post wrote last October, such circumstances are "both good news and bad news for consumers and the economy. Prices are falling partly because of worries about a global economic slowdown." And yet, falling oil prices provide a stimulus of over a trillion dollars to the global economy. So, "the bad news is that oil is falling just like the stock market. The good news is that falling oil prices can help keep things from getting worse."
4. The market, after years of huge gains, is correcting itself.
For the last six years, the stock market has been bullish. Prices soared as buyers, turned off from properties after the real estate market crash and wary of U.S. bonds because of low returns, invested in stocks. And what goes up, famously, must come down.
5. ¯\_(ツ)_/¯  Shruggy face
All the above analysis aside, we can't really know for certain what causes the stock market to move. It's a reflection of people and algorithms responding to an information set that is, for any one individual, incomprehensibly vast. Yes, the market has been up, up and up for years, but that in and of itself is not a reason for it to have gone down in the past week. Sure, Greece is politically unstable. But that's sort of been its status quo for a while, and the U.S. stock market has done fine. The Chinese economy is probably cracking, but that's not necessarily a groundbreaking revelation (especially to sophisticated investors who have been able to see fissures emerging for at least a year). As for the Fed — well, fretting about monetary policy's impact on stock prices has been a constant since the financial crisis (remember the Taper Tantrum of 2013?).
All of the plausible reasons why the stock market has dived are just that: plausible. But there's no certainty in any of them, and hunting for causality in market movements can end up being an exercise in after-the-fact storytelling. It might not be true, but it can give you a (false) feeling of understanding.
(10AM ET) New Highlights:
Chinese market falls 8 percent

* Oil hits new 6-1/2 year low

* Nasdaq futures briefly halted

* Futures down: S&P 3.27 pct, Nasdaq 4.95 pct, Dow 3.69 pct
Updated:
The Dow Jones industrial average fell more than 1,000 points in early trading. The Dow was 783 points, or 4.8 percent, lower as of 9:40 a.m. Eastern time. The Standard & Poor's 500 index dropped 87 points, or 4.5 percent, to 1,882. The Nasdaq composite fell 247 points, or 5.1 percent, to 4,465 points.
Aug 24 (Reuters) – Wall Street looked set for another rout on Monday following a more-than 8 percent drop in Chinese shares and a selloff in oil and other commodities, with the Dow set to open below 16,000 for the first time since February 2014.
Stock futures were in a free-fall, with Nasdaq futures halted briefly after hitting a circuit breaker, a step taken by exchanges to reduce volatility and give investors time to assess information.
The S&P 500 and Nasdaq composite indexes were poised to slip into correction territory, or 10 percent off their 52-week highs. The Dow Jones industrial average and the Nasdaq 100 slid into a correction zone on Friday.
S&P 500 e-minis were down 64.5 points, or 3.27 percent, with 1,107,188 contracts traded at 8:43 a.m. ET. Nasdaq 100 e-minis were down 208 points, or 4.95 percent, on volume of 135,401 contracts. Dow e-minis were down 608 points, or 3.69 percent, with 136,791 contracts changing hands.
Apple shares slid 5.8 percent to $99.61 in premarket trading and were set to open at their lowest this year.
The lack of new measures from Beijing to support Chinese stocks following an 11 percent drop last week sparked a plunge in global equities and a selloff in oil and commodities.
Oil fell more than 4 percent to a 6-1/2-year low, while London copper and aluminum futures hit their lowest since 2009.
Oil majors Exxon and Chevron fell about 4 percent in premarket trading. U.S. oil and gas stocks have already lost about $310 billion of market value this year.
"Until we have some sign that China and the emerging markets aren't being sucked into some vortex from which they can't recover … it is unlikely this selloff will stem," said Mark Luschini, chief investment strategist at Janney Montgomery Scott in Philadelphia.
The dollar index fell 1.1 percent to $93.92 as the probability of a September rate hike receded.
Wall Street's selloff last week showed investors are becoming increasingly nervous about paying high prices for stocks at a time of minimal earnings growth, tumbling energy prices, and an expected rate hike by the U.S. Federal Reserve.
European stocks were down 4.8 percent, wiping out more than 400 billion euros ($460 billion) of market value. Asian stocks slumped to 3-year lows as the 3-month-long rout in Chinese equities threatened to get out of hand.
Netflix fell 12 percent to $91.50 in premarket trading.
Alibaba fell 8.9 percent to $63.99, well below its IPO price of $68, making it the second high-profile tech company to fall below its IPO price in the past week after Twitter on Thursday. ($1 = 0.8686 euros)
New update (9AM ET) Great fall of China sinks world stocks, dollar tumbles
(REUTERS) Alarm bells rang across world markets on Monday as a near 9 percent dive in China shares and a sharp drop in the dollar and major commodities panicked investors.
European stocks were more than 5 percent in the red and Wall Street was braced for similar losses after Asian shares slumped to 3-year lows as a three month-long rout in Chinese equities threatened to get out of hand.
Oil plunged another 4 percent, while safe-haven government U.S. an German bonds and the yen and the euro rallied as widespread fears of a China-led global economic slowdown and currency war kicked in.
"It is a China driven macro panic," said Didier Duret, chief investment officer at ABN Amro. "Volatility will persist until we see better data there or strong policy action through forceful monetary easing."
Many traders had hoped that such support measures, which could include an interest rate cut, would have come from Beijing over the weekend after its main stocks markets slumped 11 percent last week.
With serious doubts also now emerging about the likelihood of a U.S. interest rate rise this year, the dollar slid against other major currencies.
The Australian dollar fell to six-year lows and many emerging market currencies also plunged, whilst the frantic dash to safety pushed the euro to a 6-1/2-month high above $1.15.
"Things are starting look like the Asian financial crisis in the late 1990s. Speculators are selling assets that seem the most vulnerable," said Takako Masai, head of research at Shinsei Bank in Tokyo.
s commodity markets took a fresh battering, Brent and U.S. crude oil futures hit 6-1/2-year lows as concerns about a global supply glut added to worries over potentially weaker demand from the normally resource-hungry China.
U.S. crude was last down 3.6 percent at just below $39 a barrel while Brent dropped to $43.74 a barrel to take it under January's lows for the first time.
Copper, seen as a barometer of global industrial demand, tumbled 2.5 percent, with three-month copper on the London Metal Exchange also hitting a six-year low of $4,920 a tonne. Nickel slid 6 percent to its lowest since 2009 too at $9,570 a tonne.
GREAT FALL OF CHINA
The near 9 percent slump in Chinese stocks was their worst performance since the depths of the global financial crisis in 2007 and wiped out what was left of the 2015 gains, which in June has been more than 50 percent.
With the latest slide rooted in disappointment that Beijing did not announce expected policy support over the weekend, all index futures contracts slumped by their 10 percent daily limit, pointing to more bad days ahead.
MSCI's broadest index of Asia-Pacific shares outside Japan fell 5.1 percent to a three-year low. Tokyo's Nikkei ended down 4.6 percent and Australian and Indonesian shares hit two-year troughs.
"China could be forced to devalue the yuan even more, should its economy falter, and the equity markets are dealing with the prospect of a weaker yuan amplifying the negative impact from a sluggish Chinese economy," said Eiji Kinouchi, chief technical analyst at Daiwa Securities in Tokyo.
Just as worrying was evidence that developed markets were becoming synchronized with the troubles. London's FTSE with its large number of global miners and oil firms, was down for its 10th straight day, its worst run since 2003.
The pan-European FTSEurofirst 300 was last down 5 percent at 1,355 points, wiping around 400 billion euros ($460.16 billion) off the index and taking its losses for the month to more than 1 trillion euros.
U.S. stock futures also pointed to big losses for Wall Street's main markets, with the S&P 500, Dow Jones Industrial and Nasdaq expected to open down 3.6, 4.0 and 4.9 percent respectively.
It is likely to tip the S&P 500 and Nasdaq formally into 'correction' territory – meaning stocks, at their lows, are 10 percent off their 52-week highs.
"We are in the midst of a full-blown growth scare," strategists at JP Morgan Cazenove said in a note.
below is the original article ===
The bloodbath on the Shanghai stock exchange hit markets across the region on Monday, with entertainment stocks hurting as spooked investors pulled their money out of equities.
The Shanghai Composite index was down 8.5 percent at 3,209.91, extending last week's losses, defying Beijing's latest attempts to reassure investors and wiping out all of the gains made since the beginning of the year. Local media have already dubbed the day "Black Monday" in an echo to the stock market crash in 1987.
Combined with the recent devaluation of the yuan currency, the stock market slide adds to growing anxieties about the health of the Chinese economy. Nevertheless, Chinese box-office revenue is rising 30 percent annually, and film quotas are set to be lifted in coming years, which is expected to continue fueling growth.
In Shenzhen, Wanda Cinema Line, the theater operator unit of real estate group Dalian Wanda, was down 10 percent, while Beijing Enlight Media, in which Alibaba has a major stake, was also down 10 percent.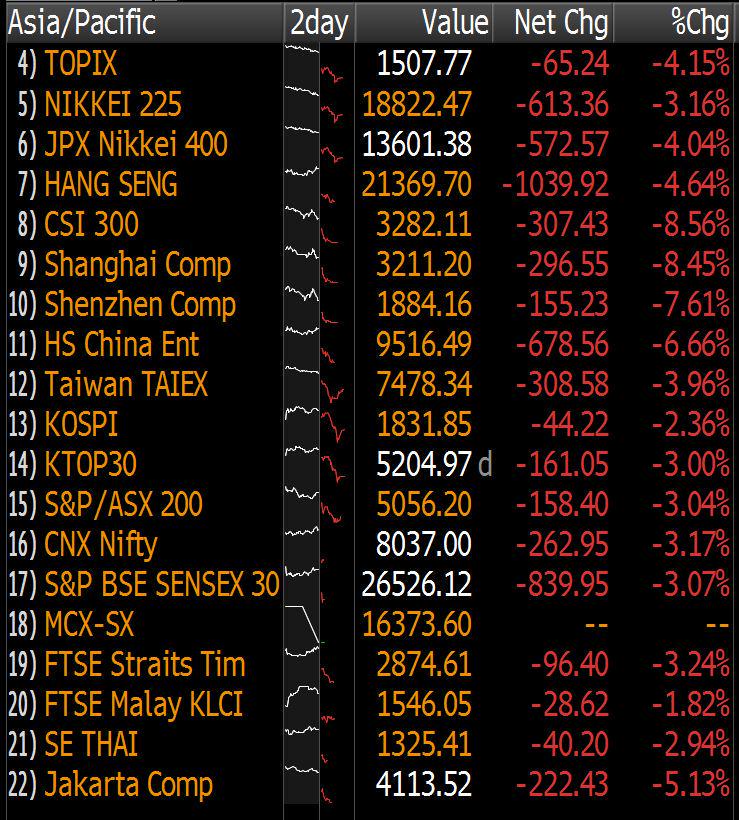 Trading in Huayi Brothers was halted in late July pending stock issue news.
In Hong Kong, stock in Alibaba Pictures was down 10.2 percent, while Chinese investment group Fosun, which is financing ex-Warner Bros. executive Jeff Robinov's Studio 8, was down 9.2 percent.
In Japan, the Nikkei index closed down 4.6 percent, its biggest daily drop in two years. China is Japan's biggest trading partner, with hundreds of billions of dollars moving annually between the world's second and third largest economies.  
Sony finished the day in Tokyo down 8 percent at ¥2,843.5 ($23.50), having been down 9 percent at one point. Sony stock had doubled over the last year, but has now given up more than half of that gain. Gaming rival Nintendo fell 8.2 percent, with both companies having been relishing the prospect of tapping the potentially huge Chinese market, where the 15-year ban on game consoles was lifted last month. Game software specialist Square Enix, publisher of titles including Tomb Raider and the Final Fantasy series, was battered even worse, losing more than 10 percent of its value.
Toho Co., Japan's biggest studio and distributor, lost 5.5%, while rival Shochiku shed 4 percent.
The TV sector was also hit hard, with Tokyo Broadcasting System Holdings, operator of the TBS network, closing down 5.3 percent, Nippon Television Holdings (NTV) falling 4.9 percent, while Fuji Media Holdings (Fuji TV) dropped 3.8 percent.
India's Sensex index plunged by over 1,000 points during Monday's opening trading hours, the biggest intra-day crash this year. While the Indian rupee has been better off than other emerging market counterparts, it still slumped to 66.48 against the dollar, its lowest level since September 2013.
The impact was also being felt on media stocks, with a couple of hours still to go before the day's close. India's largest cinema chain PVR Cinemas was down by about 8 percent, while leading film and entertainment major Eros International saw its share slump by over 10 percent. Eros has been promoting its ErosNow digital service which is considered to be a strong competitor as and when Netflix and Amazon's video services launch in India. Leading broadcasting and media group Zee Media was down 9.8 percent. Competing broadcaster TV18, which also runs a joint venture with Viacom18, was down 6.7 percent.

In a bid to reassure the markets, the Reserve Bank of India governor Raghuram Rajan said that India's "macroeconomic factors are under control as the economy is in a much better position relative to other economies." He also added that, if required, the country's $380 billion in foreign exchange reserves could be used by the central bank to reduce currency price volatility.In Australia, the market was down 4 percent at close, with local media reporting a state of "panic," at events in China, the nation's biggest export market. Australian companies are currently in the middle of reporting season.
Shares in Seven West Media, owner of top-rating TV network Seven, which last week reported a fall in profit and revenues, dropped 5 percent. Second-ranked TV broadcaster Nine Entertainment Co, which reports its full year results on Thursday, fell 3 percent. News Corp no longer trades on the Australian Securities Exchange.
South Korea's KOSPI index fell less than 2.5 percent, but was already in negative territory for the year. Korea's biggest movie producer and distributor CJ E&M Film Division, formerly known as CJ Entertainment, dropped less than 1 percent.
The red ink is expected to spread to Europe and America as markets open on Monday.