New Update: Suspect in murder of journalists on live TV has shot and killed himself
The "disgruntled employee" believed to have shot and killed two media members and wounded a third person on live television Wednesday morning has reportedly shot himself after being confronted by police along a Virginia highway.
WDBJ cited state police in saying that 41-year-old Vester Lee Flanagan shot himself near mile marker 17 on I-66 at 11:25 a.m. He is in critical condition according to WDBJ.
Flanagan had reported from WDBJ under the name Bryce Williams. A Twitter account purported to belong to Williams tweeted out what appeared to be first-person video of the shooting along with statements pointing to a motive. The Twitter account has since been suspended.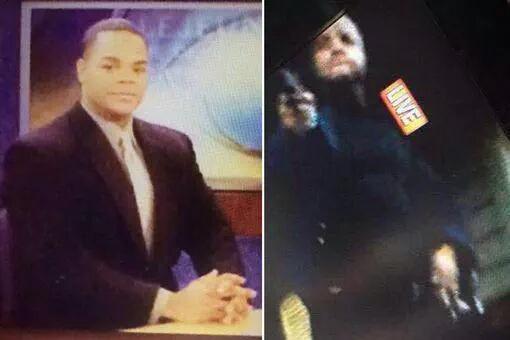 In the video, a cell phone camera angle shows the shooter walking up to the reporter, interviewee and camera man and pointing a gun at them. The trio does not see the shooter approach or the pistol pointing at them. Several shots are then fired, first at reporter Alison Parker, who screams and runs as the video ends.
A longer video posted to Facebook doesn't show much after Parker runs in terror. The sound of 14 gunshots can be heard. Nine shots ring out before a pause and the final shots are fired. The Facebook account has also been suspended.
Police found the vehicle believed to be driven by the suspect at the Roanoke Airport, but the suspect was not with the vehicle, according to police scanner communications.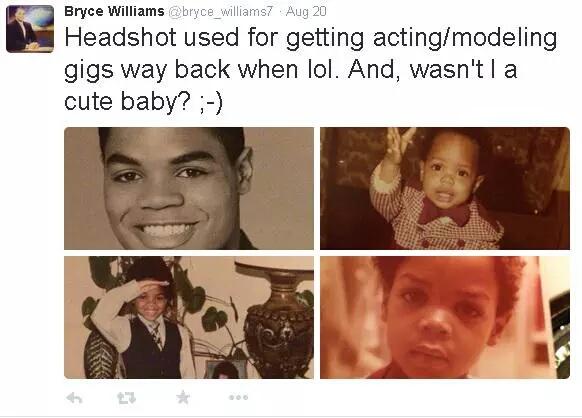 New update:  FBI, ATF hunt for journalists' killer
CNN reports that a manhunt is underway for a gunman who fatally shot a local news reporter and photographer on live television during an interview outside Moneta, Virginia, on Wednesday morning.
Agents from the Bureau of Alcohol, Tobacco, Firearms and Explosives and FBI are investigating. All schools in the Roanoke area near Moneta, where CNN affiliate WDBJ's Alison Parker and Adam Ward were shot, are on lockdown.
As a precaution, and highlighting the fear about gun violence, New York City is stepping up security at its local television stations.
Authorities have a name and license plate number for a person believed to be the shooter, according to a law enforcement official.
The gunman is believed to have fired six or seven times, WDBJ General Manager Jeff Marks said.
Below is the original reporting ===
Video of apparent shooting at SML on WDBJ. Praying for all. Posted by Jamey Singleton on Wednesday, August 26, 2015
by Bradley Matthews, editing by Adam MS
CBS News said in a Twitter message that a gunman killed a reporter and a cameraman in a shooting while they were doing a live TV report in Southwest Virginia.
A camera crew was caught in an active shooter situation Wednesday morning in Southwest Virginia. The incident was caught on video and happened around 7:30 a.m. in Moneta, which is located in Franklin County.
In the video, a woman is interviewing another woman about tourism when shots ring out and screams can be heard. The woman being interviewed, Vicki Gardner, executive director of the Smith Mountain Lake Regional Chamber of Commerce, was shot in the back and is in surgery, said Barb Nocera, the chamber's special projects manager said.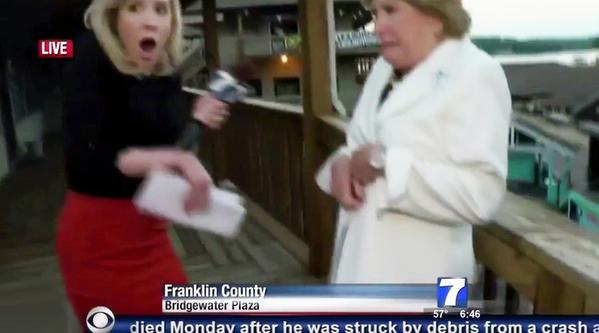 Alison Parker and Adam Ward were killed during a live news segment this morning in Moneta, Virginia, according to their station WDBJ.
ABC News reports that the Franklin County sheriff confirmed that it is considered an active shooter and the suspect, who is believed to be male, is not in custody at this time.
The active shooter was reported at 6:45 a.m. and now schools in the surrounding area have been placed on lock down, according to a Facebook post on the Bedford County Public Schools.
The shooting itself took place at Bridgewater Plaza, a recreational facility with shops, restaurants, a mini golf course and boat rentals.
The sheriff's office said it is dealing with the incident and had no further details. It unfolded at the Bridgewater Plaza. Several roads in the area were closed as a result.
In a Twitter message, WDBJ7 said law enforcement was on the scene and that one of its crews was involved. "This is all we know," its message said.
WSLS10 said police were searching for a person who is alleged to have shot "multiple people."
The shooting, according to their report happened just before 7 a.m. The TV station said three people were injured and the extent of their injuries was not known at this time. Schools in the area were said to be on a lockdown and authorities said they were looking for the alleged shooter, according to WSLS10.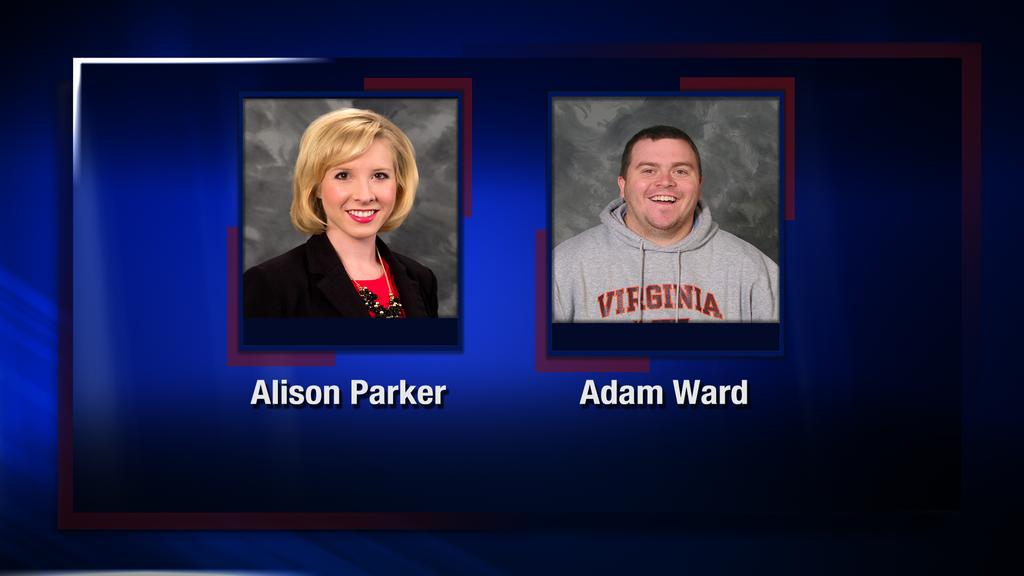 WDBJ president and general manager Jeffrey A. Marks went on air this morning confirming the two deaths and noting that both victims were in relationships with other staffers at the station.
He said it was his "very very sad duty" to report their deaths, and noted that the shooting is under investigation. "We have other members of the team with us today holding back tears, frankly," Marks said.
Marks said Parker was a graduate of James Madison University in Harrisonburg, Virginia, while Ward was a graduate of Virginia Tech in Blacksburg, Virginia.
Marks and the anchors confirmed on air that Ward's fiancee was a morning producer at the station who was celebrating her last day at work today before starting a new job. Parker reportedly brought in balloons as part of the celebration before going out for the fatal live report.
The FBI's Roanoke office, a satellite of its field office in Richmond, is sending agents to the scene, the agency said.
The station is owned by Schurz Communications of South Bend, Indiana.