The horror-comedy anthology will move from college to a hospital setting.
by Alex JS, editing by Adam MS
Fox is moving forward with a second season of Scream Queens.
Fox TV Group's chairmen and CEOs Dana Walden and Gary Newman used their platform at the Television Critics Association's winter press tour Friday to share the news. In doing so, they also announced that the anthology series will move from its college campus setting to that of a hospital as the forthcoming season's murder mystery will play out where some of the most fascinating and bizarre medical cases are under observation.
Despite heavy star wattage (onscreen and off-) and a pricey promotional campaign in the months leading up to Scream Queens' September premiere, the horror comedy from Glee and American Horror Story's Ryan Murphy, Brad Falchuk and Ian Brennan struggled to lure live viewers en masse. But what it lacked in live viewership it made up for in DVR, on-demand and online audiences, and Walden and Newman quickly began touting the younger-skewing series as "the model for contemporary viewership."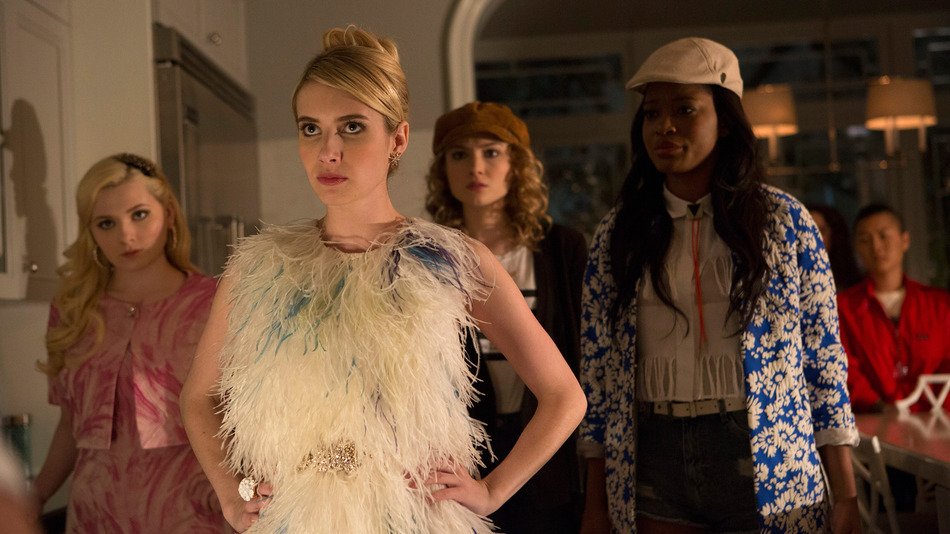 In fact, the series that Murphy's long pitched as "bubble gum splashed with blood" became the No. 1 new series on VOD and social media this fall. Once multi-platform viewership was factored in over several weeks,Scream Queens' same-day average registered a massive 167 percent lift, catapulting from 2.7 million viewers to 7.2 million.
Still, Murphy and Walden have had multiple conversations in recent months about how to broaden out the series for season two. In an interview for his Hollywood Reporter cover story in October, Murphy revealed he'd pitched an iteration that would feature a cast of all different age groups. At that time, he said some of season one's survivors would play the same characters in a new venue for season two.
Casting will be announced at a later date. And in the matter of that, people have been raising question whether or not One Direction's Harry Styles will be joining the show since now it's been officially renewed.
As you may remember Lea Michele did hint that possibility back in December last year. In a new interview with InStyle magazine, the 29-year-old actress said that she's already looking forward to co-creator Ryan Murphy's plot for season 2 of the comedy series, especially because it may involve her One Direction crush.
"I also heard a rumor that he may, I don't know if this is true, but [Murphy] said at a press thing recently that he is talking to a male pop star to come for next year," she revealed.
"If it's Harry Styles, everybody better calm down," she added. "I love One Direction. Everybody knows this."
Michele also noted that she has her own killer idea for the 21-year-old 1D frontman.
"I'm also thinking that he should be in the Wicked movie," she said. "He's our modern day Mick Jagger."
Seeing as Murphy cast Ariana Grande and Nick Jonas in the first season, Michele's guess doesn't seem too far off.
"Nick was so funny on the show this year," Michele continued. "Obviously, Ariana is hilarious. Ariana is such a great actress. Nick was just so funny with that Joaquin Phoenix beard. He's walking around saying everyone thought he was Joaquin Phoenix. So funny."
So will Harry Styles be joining the second installment of Scream Queens? I hope so. Let's wait for the official casting news in a later date then.